Day 6
October 15th, 2016
Lodge Motel
Ft. Garland, Colorado



The smoke smell just about got me last night, but I managed to survive long enough to wake up at 5am to be on the road by 5:30am.  Before leaving I checked the weather app.  "Another perfect day in store, warm, sunny, no chance of rain.  This has to be some kind of record."  It was pitch black dark when I left the parking lot of the motel at 5:25 to begin a long day of riding with a few stops along the way.  One of those stops will be Pritchet, Colorado.

I have a long history with this empty town on the Front Range.  I don't really know why, because it is just a typical ghost town on the Plains.  I've passed through thousands of them over the years, but I've seemed to have adopted Pritchett.  I first went through it in 2001, again in 2006, and now 2016.

Early morning on U.S. 160 East felt like 10pm.  A few flashing lights blinked in Ft. Garland as I made way through the sleeping community, while the headlights of the FJR glistened on the road ahead.  The 50 degree air temp felt cool.  My eyes looked far in the headlights leading the way as I scaned the road and berm for deer.  I went to the TPMS menu on the garmin to check tire PSI while they they were still cool, the full color read out read, "45.6 and 45.2."  About as good as it gets.  The extra PSI in the Pilot Roads still holding.
Gas was still good, half tank on the gauge.  Tight is the best way I can describe the Yamaha FJR.  Everything about it fits perfectly with whatever it is suppose to do.  The electronics are flawless, full of good info that I find essential.  Join that with the Garmin and I have instant access about the bike and the route.  

My custom route today begins West of Trinidad on U.S. 160.  I left Ft. Garland with the GPS in control on how I get there, but my pre ride map study told me only one way.

I rode almost a hour in the dark, my only company myself.   On the approach to La Veta Pass dawn begin to break.  I knew it to be the last of the mountains, when I crested it the Great Plains would lie before me.  It always fascinated me the Rockies have no foothills.  One minute you're in the mountains, next you're not.  On any tour West I've ever been on, I note when I clear the Rockies and start the long ride across the Plains.  On this morning I crested the Pass and could see the sun rising on the far off horizon.  Streams of light beamed up from the earth.  Beautiful.  I wanted a picture but had no safe place to park the FJR to grab one.  I dare not stop near the shoulder in the diminished light for fear of being run over.

The air grew warmer as I came down out of the mountains.   Air temp gauge on the Yamaha rose, 51, 53, 54, and leveled off at 60.  I dialed up my speed from 61ish to 70.  "I can see now, and the road is flat with great visibility of the berms."  So it was time to ride.  I went by Lathrop State Park, I camped there in 2005 when I was riding West.
​
n Walsenberg the city was moving slow on this Saturday morning, and as I looked at the town riding through, I was glad I spent the night in Ft. Garland.  Yesterday I thought I might over night in Walsenberg, if I couldn't make it to Trinidad.  U.S. 160 joins I-25 in Walsenberg and I took it South to Trinidad.  At last in the open, I put the FJR on 80mph and hit the cruise.  A few miles later I bumped it to 85.  I could still see the mountains off to my right as I rode South.

In Trinidad I left I-25 and stayed on U.S. 160.  Gas was on 2 bars, "that ain't near enough to cross the Front Range," so I pulled into a nearby Shell station and pulled out my Shell card.  I picked up a text from my brother who was back in Alabama with his Concours.  He advised he had a great trip.

The day was cool with high clouds.  I pointed the Feejer due East on U.S. 160.  It would be a long ride from here to Kansas, through miles of flat , open prarie, and grasslands.  A nice tailwind pushed me.  From past rides I knew there was nothing of any significance for the next 150 miles.  A smattering of outposts, and one flashing light town.  Gas can be hard to find, but I had enough for at least 250 miles.

Speed limit was 60?  Can't remember, but doesn't matter, I set the cruise on the FJR at 80, leaned back on the Motofizz with the screen up, and settled in for the long scoot to Kansas.   But I forgot one thing.  The highway is rippled in many sections, with the increased tire PSI and ESA shocks set on Standard +5, the 1300 rode especially harsh.  The bumps jarred me and rattled my fillings.  Everytime I hit one I went , "Ugh."  "The suspension, I need to adjust!" I had forgotten I could do that. I geared down and came to a stop and went to the menu.   I scrolled to "comfort +4."  I never ride with the preset on comfort, but I tempered that setting with the +4.  The Yamaha has a almost infinite amount of settings to wade through.  Every rider should be able to find the right setting for the situation.  I found it on this morning.  After resetting the ESA the FJR was much better and absorbed ripples without transfering it to my spine.  The difference was dramatic. 

I overtook a few cars, a few trucks, and a couple of farm machines making their way to different fields.  Farmhouses were few and far between, and so far off the highway you needed a telescope to see them.   A few tumbleweeds blew along the highway.  I glanced down to my displays and noted water temp stood steady at 163 F. and well over 100 miles so far.  "By the time I get to Pritchet I will be over 200, a good morning."

"How cold it must get here in winter," I thought as I looked around from inside the Shoei at the landscape zipping by.  Nobody was looking on this Saturday morning so I bumped the ACCL switch on the cruise to 90 mph.  And that is why I ride sport touring bikes.  The Feejer made 90 seem like a reasonable speed.  At that speed it is turning over about 4800 rpm with plenty of extra on standby.  My mind stayed on the cold weather theme, "there is nothing out here to impede the wind, it will send wind chill numbers far into the double digits I bet."

After a long ride I made it to Kim and knew Pritchett was not far off.  "I wonder what the tennis court looks like?"  I would soon find out.  The 85+ plus cruise acrosss the Front Range had put the FJR on half tank, despite the tailwind.

A series of right angle turns guard the town.  I knew that, so when I came to them I realized I was there.  I wanted to spend a little time here taking pictures, and riding among the cluster of houses on the small grid iron.  It had been almost 10 years since my last visit.  Where did the time go? That does not seem possible.  It feels like only last year.
Pritchett sleeps in Southeast Colorado.  Living on life support she has been hanging on by a thread for how long I don't know.  Long before I first came here in 2002 I supsect.  I've never met anyone who lives here.  Why?  Because I've never seen anyone to quiz.  The town is like something out of the Walking Dead.  Nobody in a front yard, walking the old business district, at the school, in the post office, or anywhere. else.  Maybe I missed it, but I've never seen a place where a joker couldn't find a place to buy a loaf of ​bread. 

​A grain elevator of some kind operates in Pritchett, or at least I think it does, well it ​looks ​ like it,  I can't confirm it, because never spotted a person there either.

​On this day the old stores, that boarded up long ago, still stand guard on Main Street.   I idled down to the infamous tennis court, or what use to be.  I was shocked to see the tennis court was converted to a much more useful basketball court, and recently.  It had nice new goals and a new surface.  I had the question in 2002, I had it in 2007, and I have it today-who the hell plays tennis in Pritchett?  They felt the need to construct a public tennis court?  So hands from the nearby ranches, at the end of day, or on the weekend, loaded up in their F 150s, wearing tennis clothes, came into town and had them a tennis match??  Someone came to their senses and made the tennis court a basketball court.  Now that I can see.  The town does have a basketball legacy, a sign on the East side notes the Pritchet Pirates won the class A state basketball championship in 1975.

​So with no further delay here's the latest Pritchett report.  Some old and some new.
​
 

​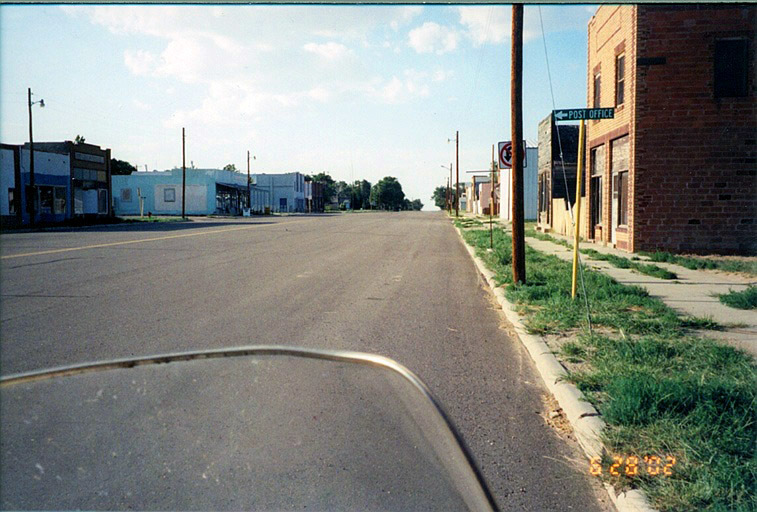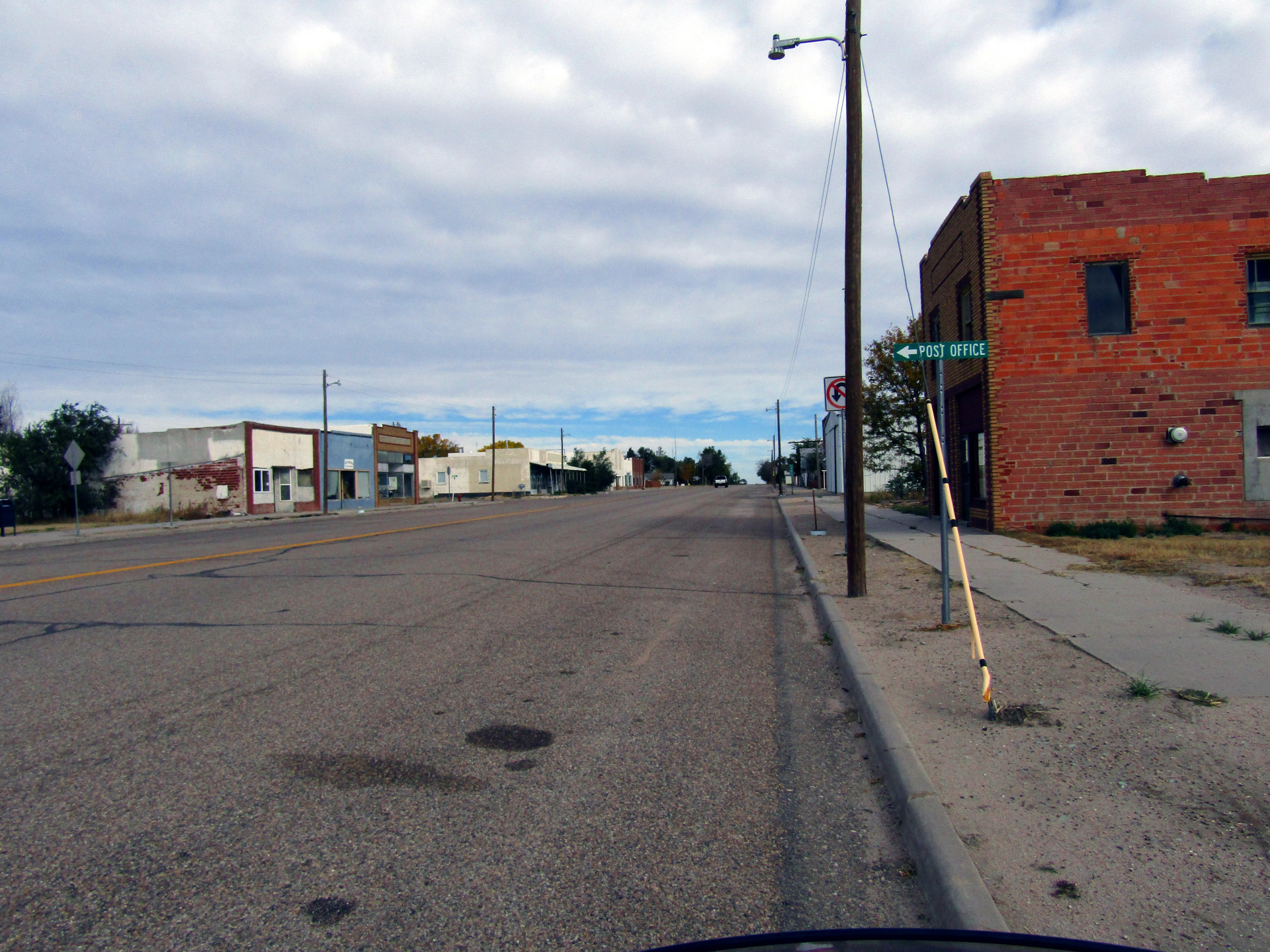 ​        ​From the West Coast Tour 2002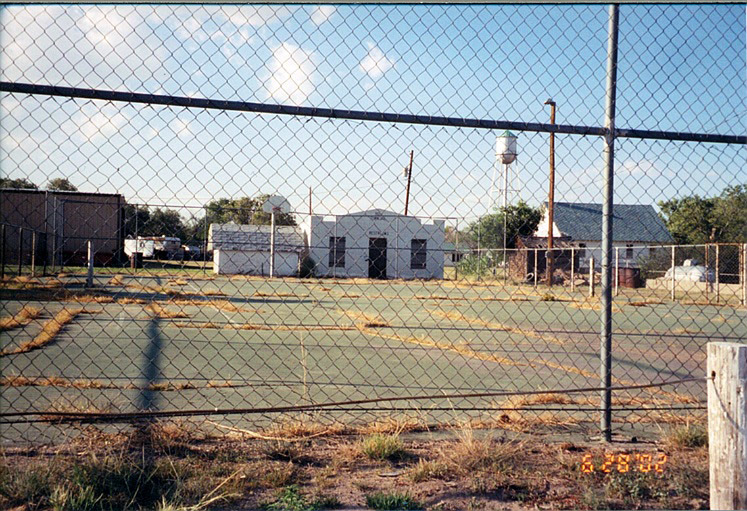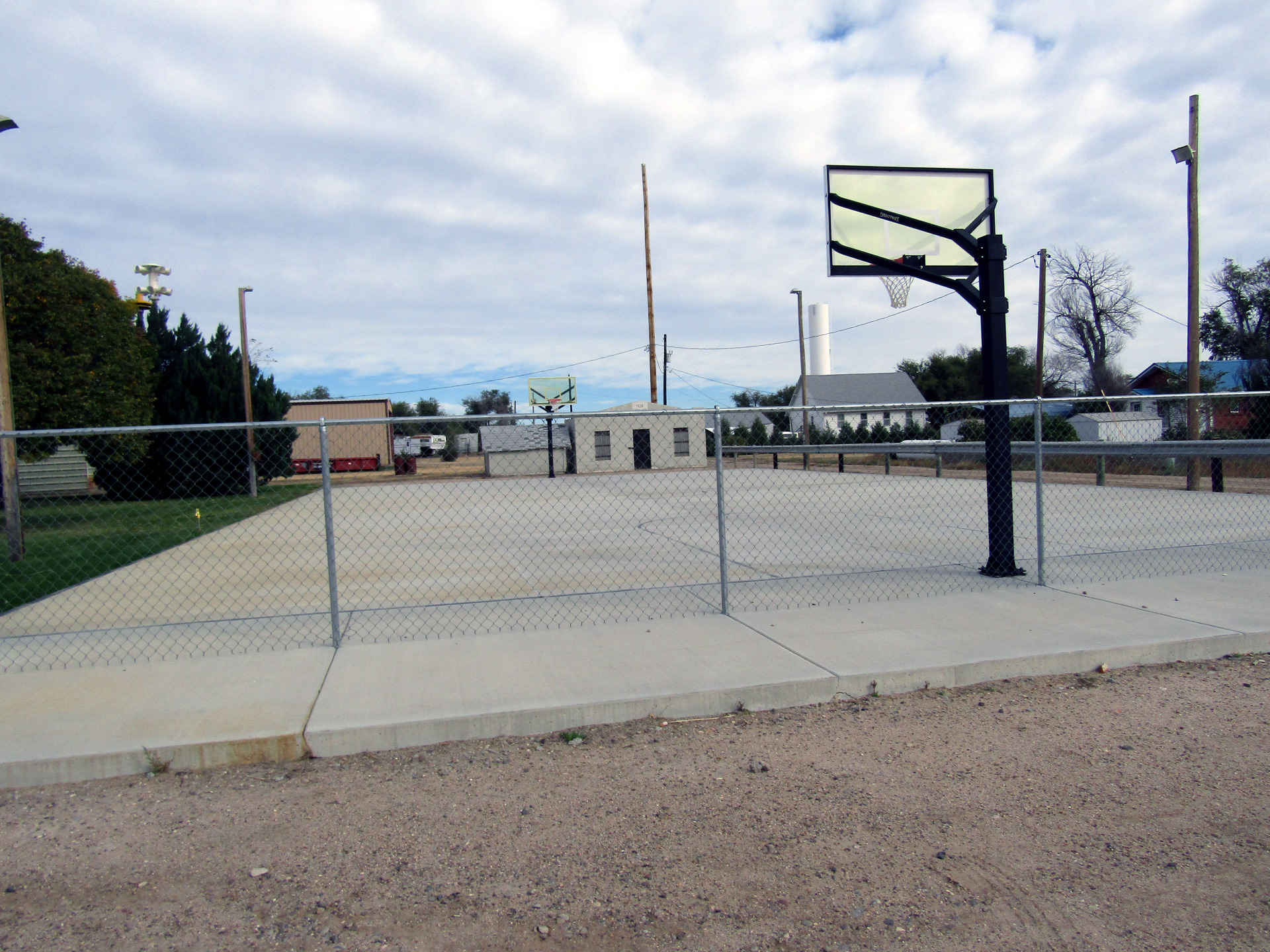 ​2016
​                                                                                                                                    Note the water tower has been replaced by the white cylinder
​  ​​in the background.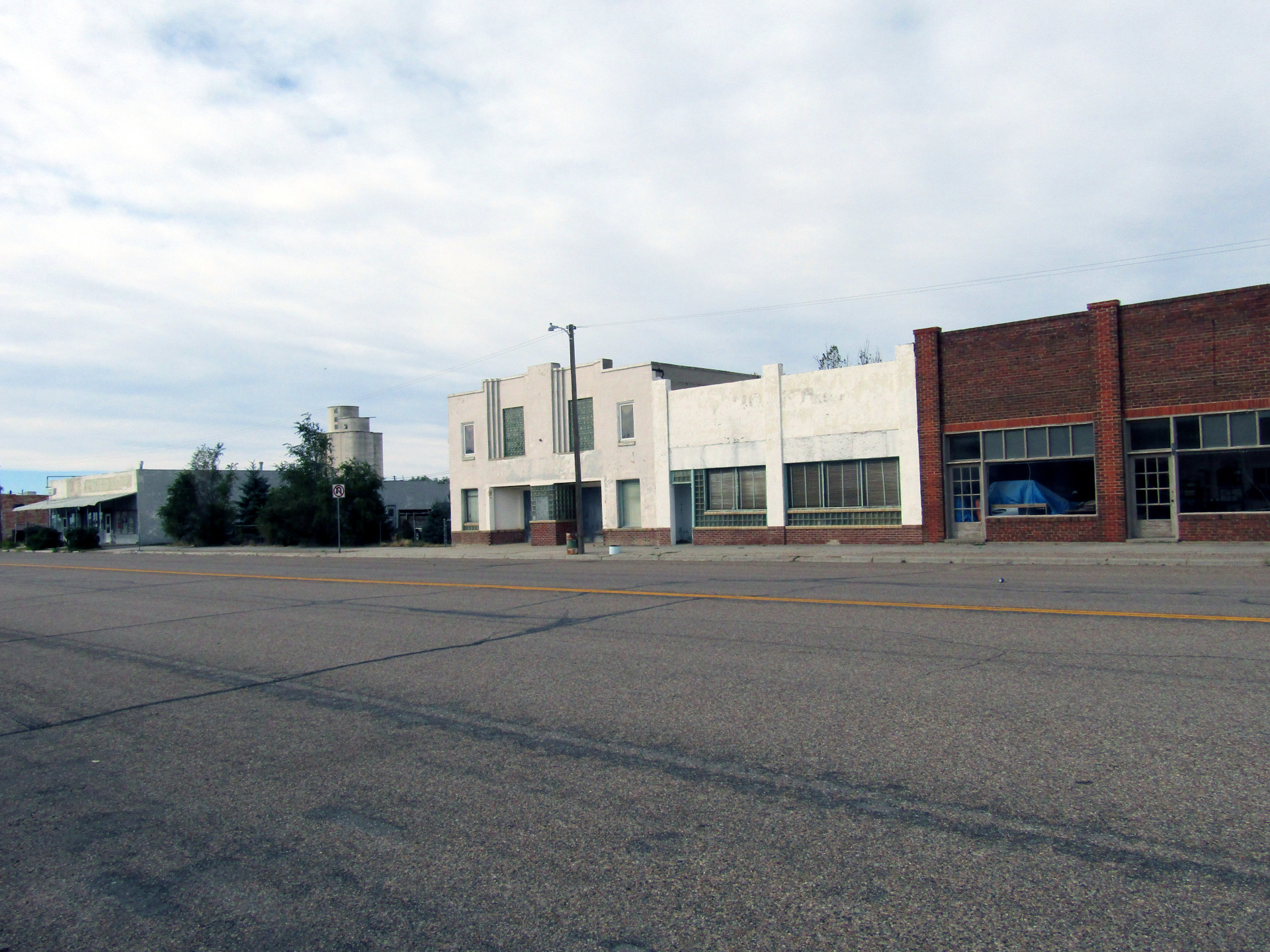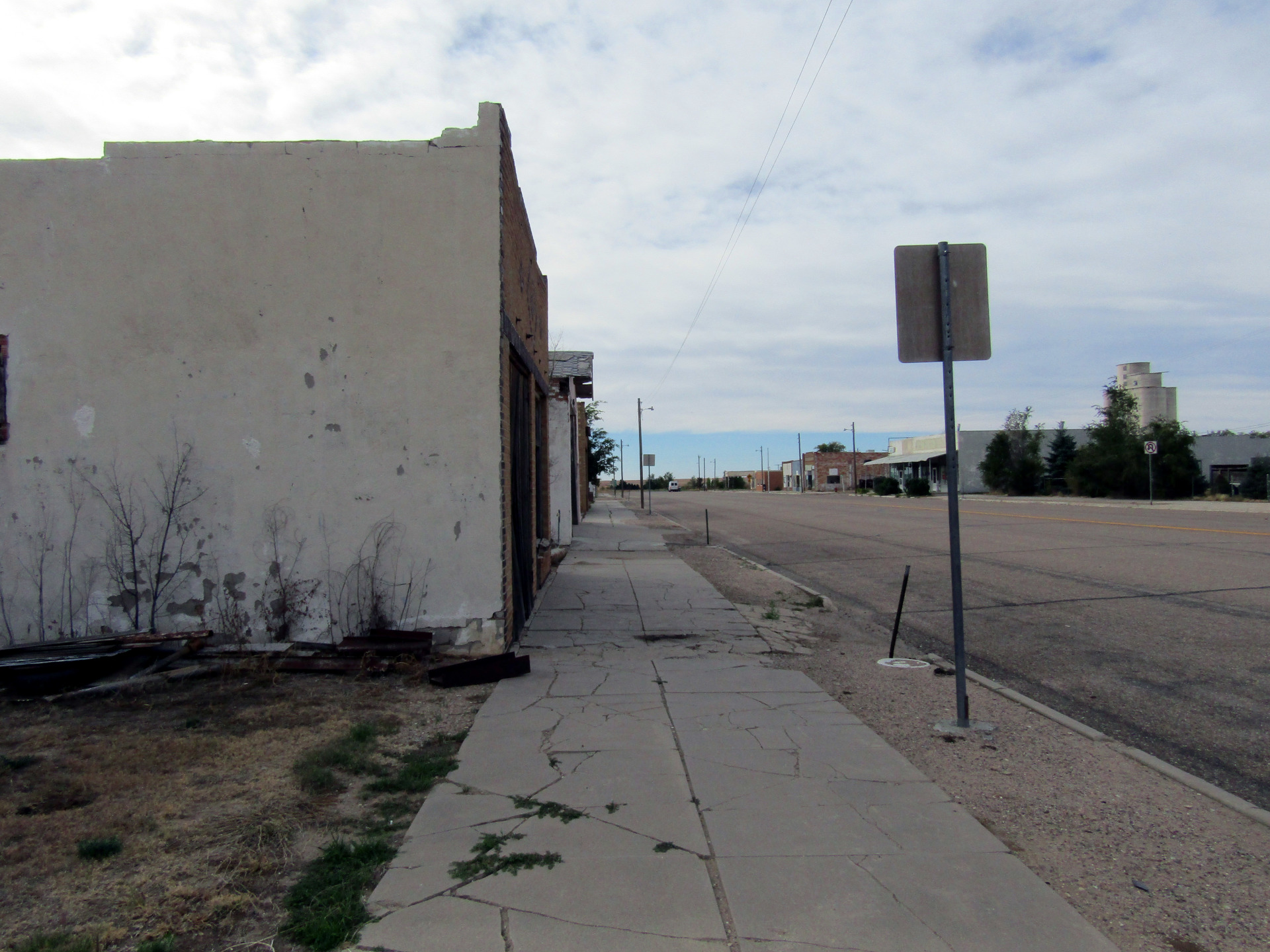 This looks like a old movie theatre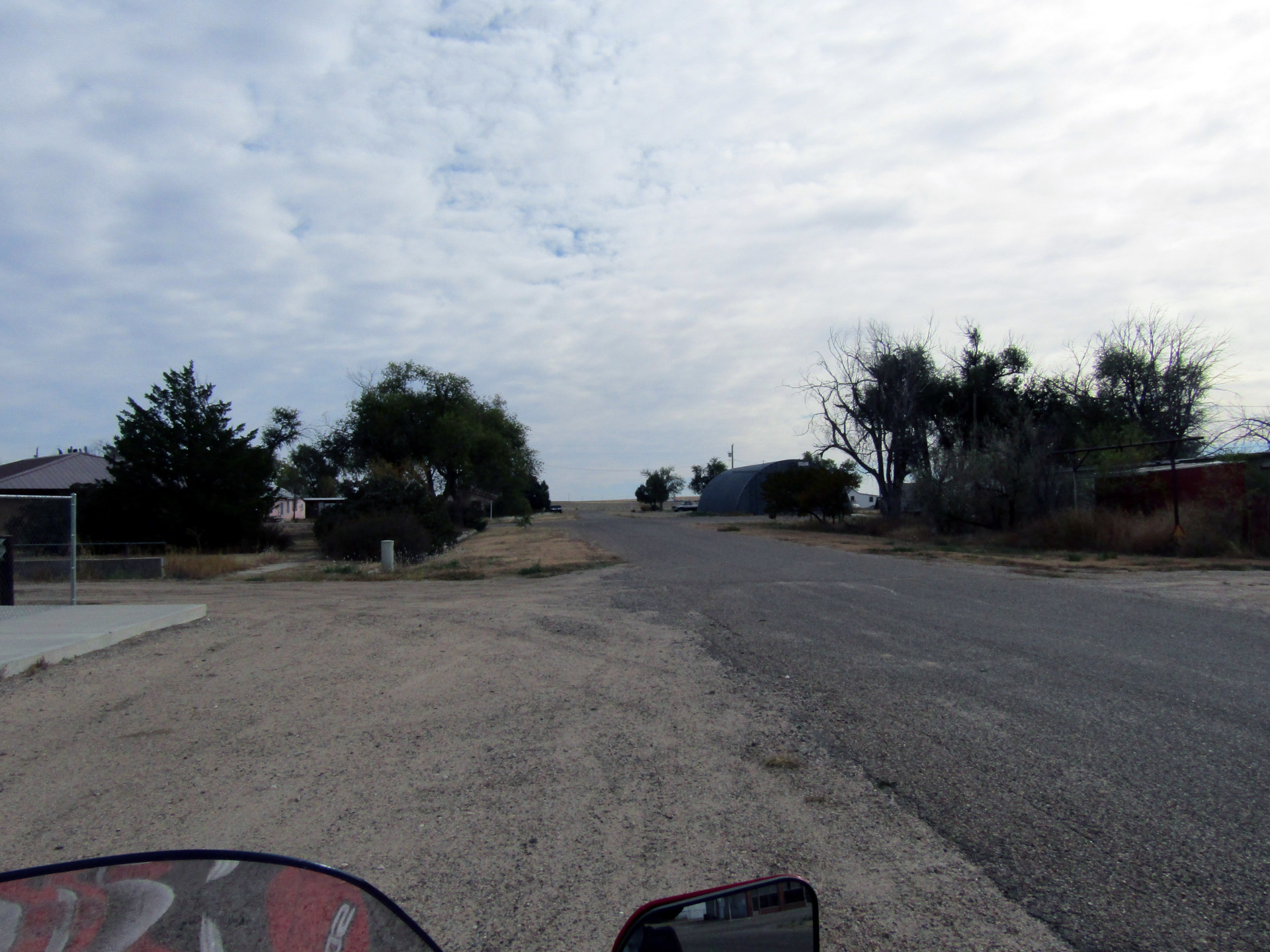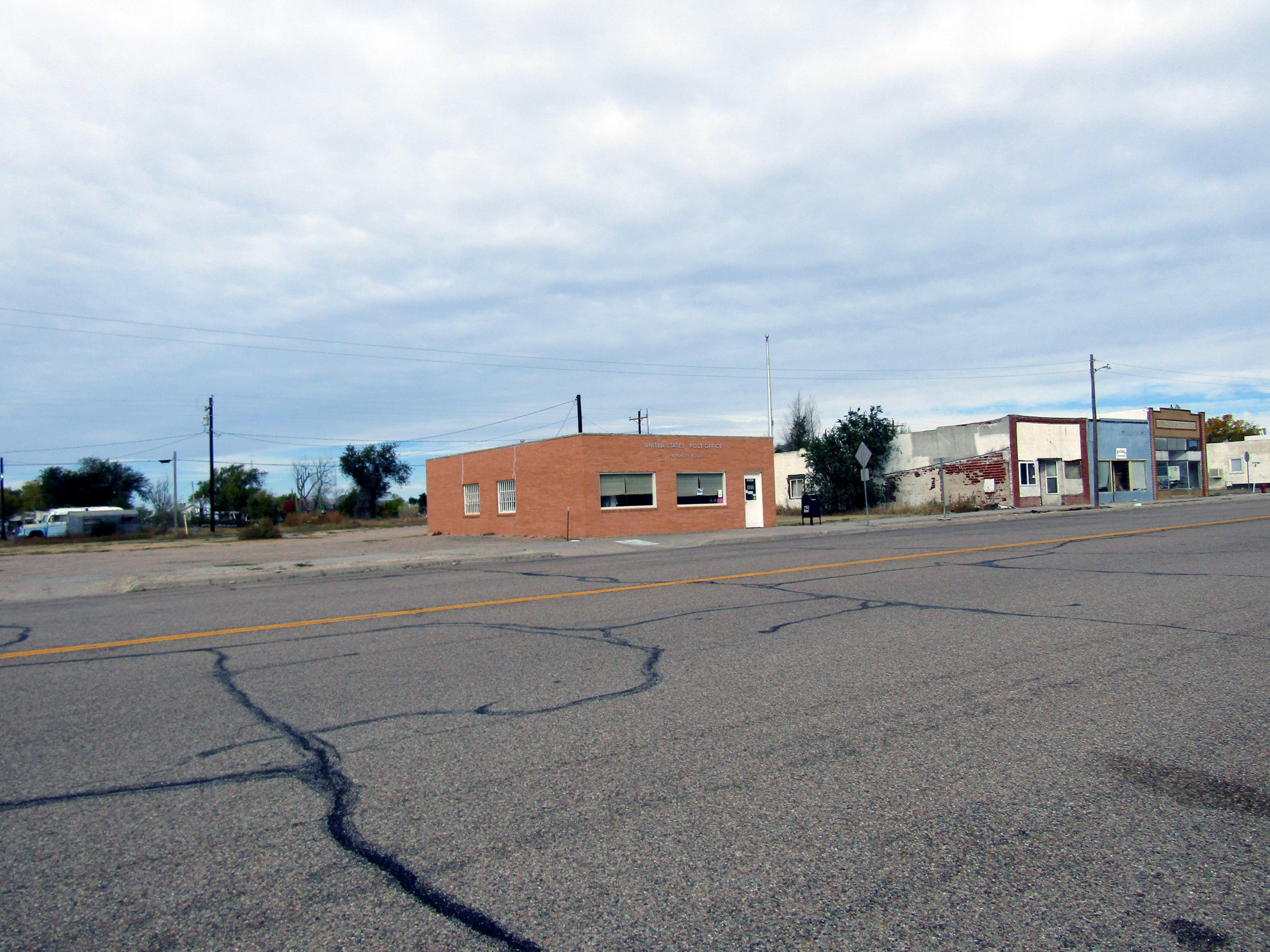 A block off Main Street you find this.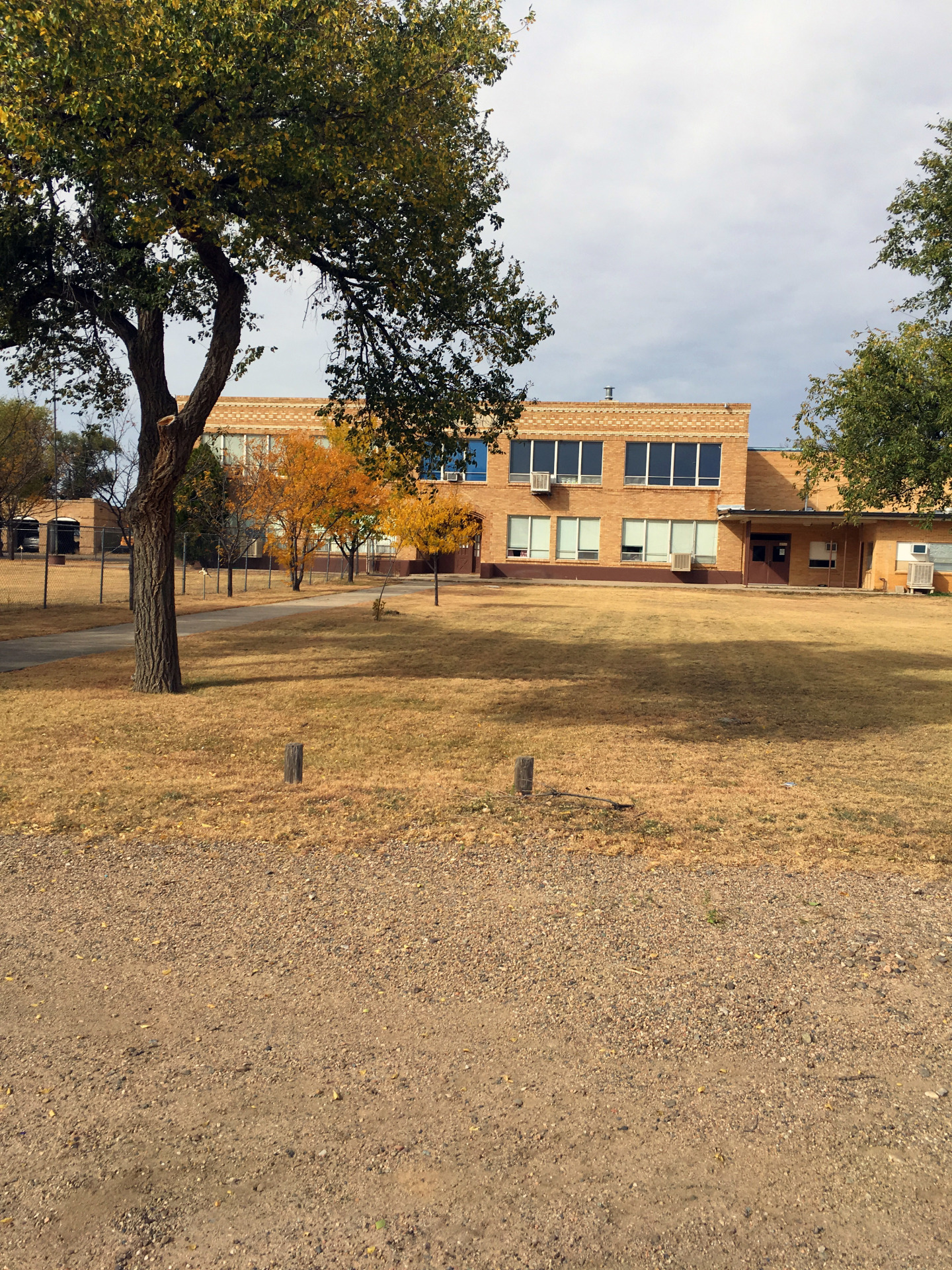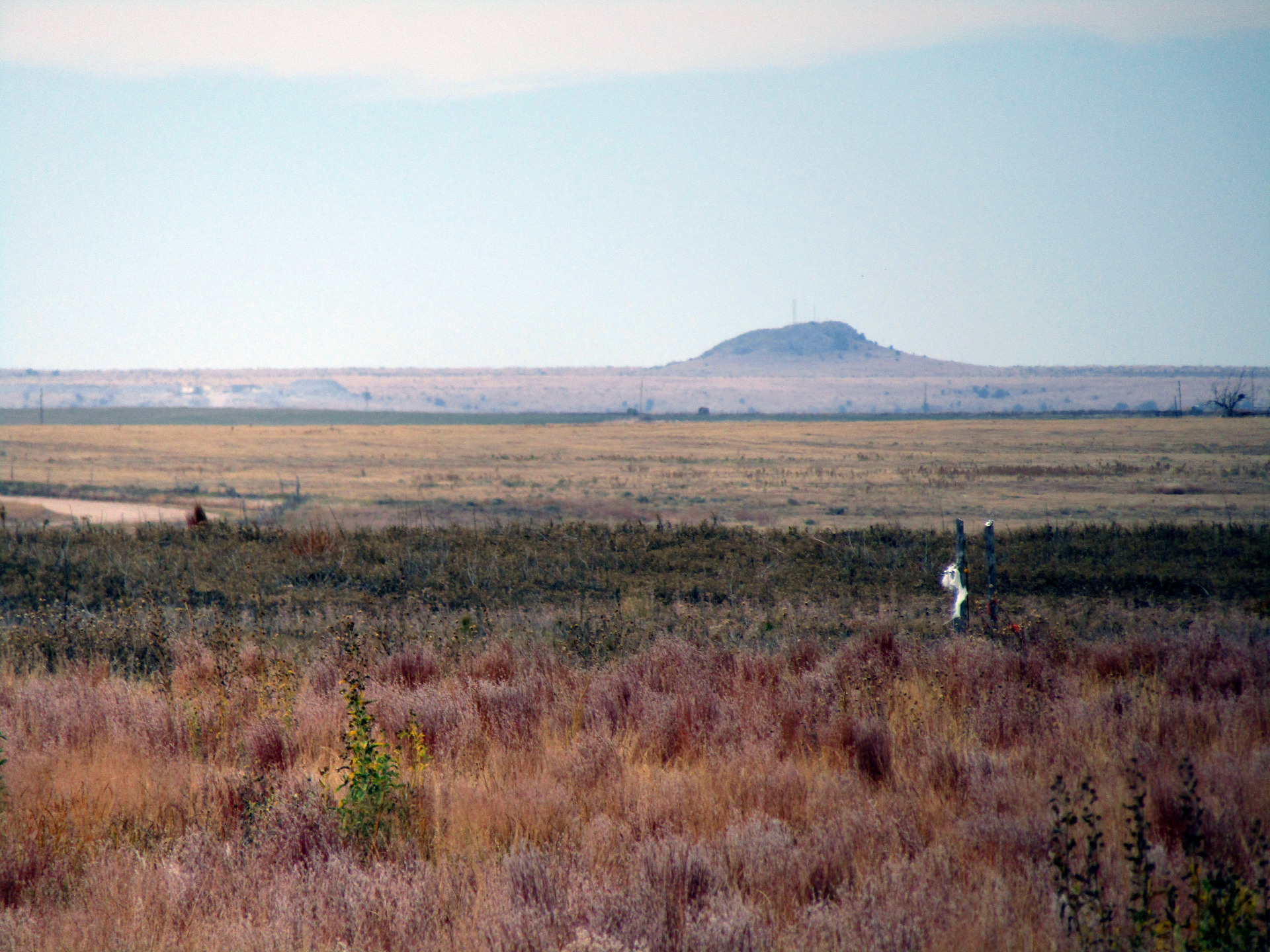 ​​ Somewhere on U.S. 160 Las Animas County, Colorado
​
At the crossroads of U.S.160 and 287 I found a large con store so stopped in.  The place was busy but I managed a Subway sandwich and a Mountain Dew and a table in the sun to sit on.  "Gonna take a early lunch," I called Debbie-

​"yeah I just left Pritchett, and trying to recuperate from all the excitement."

​"what's Pritchett, a good motorcyle road?"

​"LOL not hardly, its the capital city of the Front Range,  (sarcasm) I got lost trying to navigate through it"

​"They make stoves in Pritchett?"

​ROFLMAO "never mind"

​When I finished laughing we caught up on how things were going.  All was good back in Prattville.

​A heavy set lady, wearing tube socks, a stripped shirt over denim shorts, walked up to me after pumping gas.  Her hair was pulled back with a white band.  "You're from Alabama?"

"Yes m'am"

​"What brings you here?"

​"Pritchett"

​"Ain't nuttin in Pritchett"

​"I take it you been there"

​"A few times, on the way to somewhere else"

​"lets just say I had some business in Pritchett m'am"

​The conversation ended soon after that, so I geared back up.  I vented the Klim coat and pants, took off my jersey, and went to summer gloves in the now 80 degree climate.  I looked over the atlas I kept in the motofizz to get the big picture the GPS couldn't give me.  I wanted to see what towns lie ahead, and verify the custom route I create so long ago wasn't lying to me.

​The 1300 bristled with excitement when I hit the starter and proceeded to finish off Colorado.  At the state line the highway makes a slight dog leg and next thing you know you're in Kansas.  One of the least glorious state crossings you're ever going to find.  Naturally a grain elevator sits nearby by.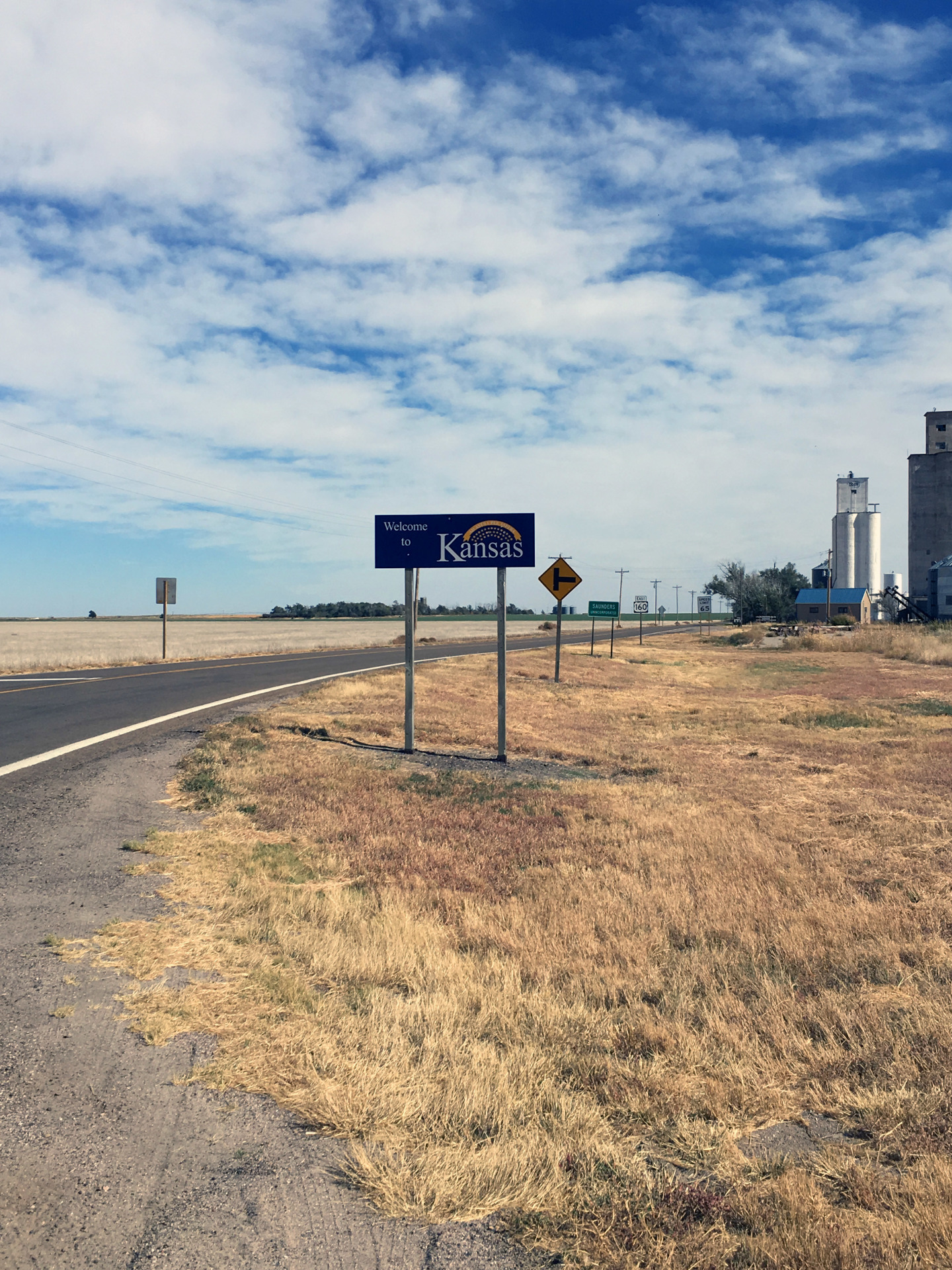 "Naturally a grain elevator sits nearby"

​
My butt didn't feel any better in Kansas than it did in Colorado.  It was getting sore and stiff again.  The pattern seemed to be it was ok the first half of the day, and then punish me the last half.

​The route remaind 160 into Kansas, but soon after I veered off on U.S. 56 and the road took a more northern tack as I headed to Dodge City. it had been on my list of things to do for too long, but today I'm going to cross it off.  I wanted to see the place where so many of my western heroes roamed.  I'd been on this road before riding West,  I've done enough long riding in America anywhere I go will find me someplace familar.  I love riding these backroads.

​The wind was still behind me, a good thing.  Not long after my lunch stop my butt rebeled.  "I just got back on the road 50 miles ago, this sucks."  I stood up on the pegs a few seconds and it made the next 40 miles tolerable.  Diverting to Dodge was going to add 50 miles or so to the ride.  My goal today is Wichita, which will give me a chance to make East Missouri tomorrow, and from there home. 

​With the gas tank low, but not on reserve, I was unable to find a Shell station in Montezuma.  In this part of the country you might not find gas between the far out spaced towns so I play it safe.  I took in 13.62 dollars 4.2 gallons of -91octane, local gas, and got back on the road.  Two cattle trucks loomed up ahead, "I'm not riding behind all that, the only question am I gonna take both, or go 1 and 1?"  With the road clear I took both and by time I came abreast of the second truck, I was doing 110 mph.  Just that easy on the FJR.

​On the ouskirts of Dodge City I came off custom route and put "Front Street" in the GPS and went right to it.   What I found was recreated western town.  Literature said the recreation was close to accurate of the original Front Street, taken from old photos and plans found in the courthouse.  The order of the stores is accurate.  I went in the gift shop and bought a ticket.  A cute young lady was working the counter.
​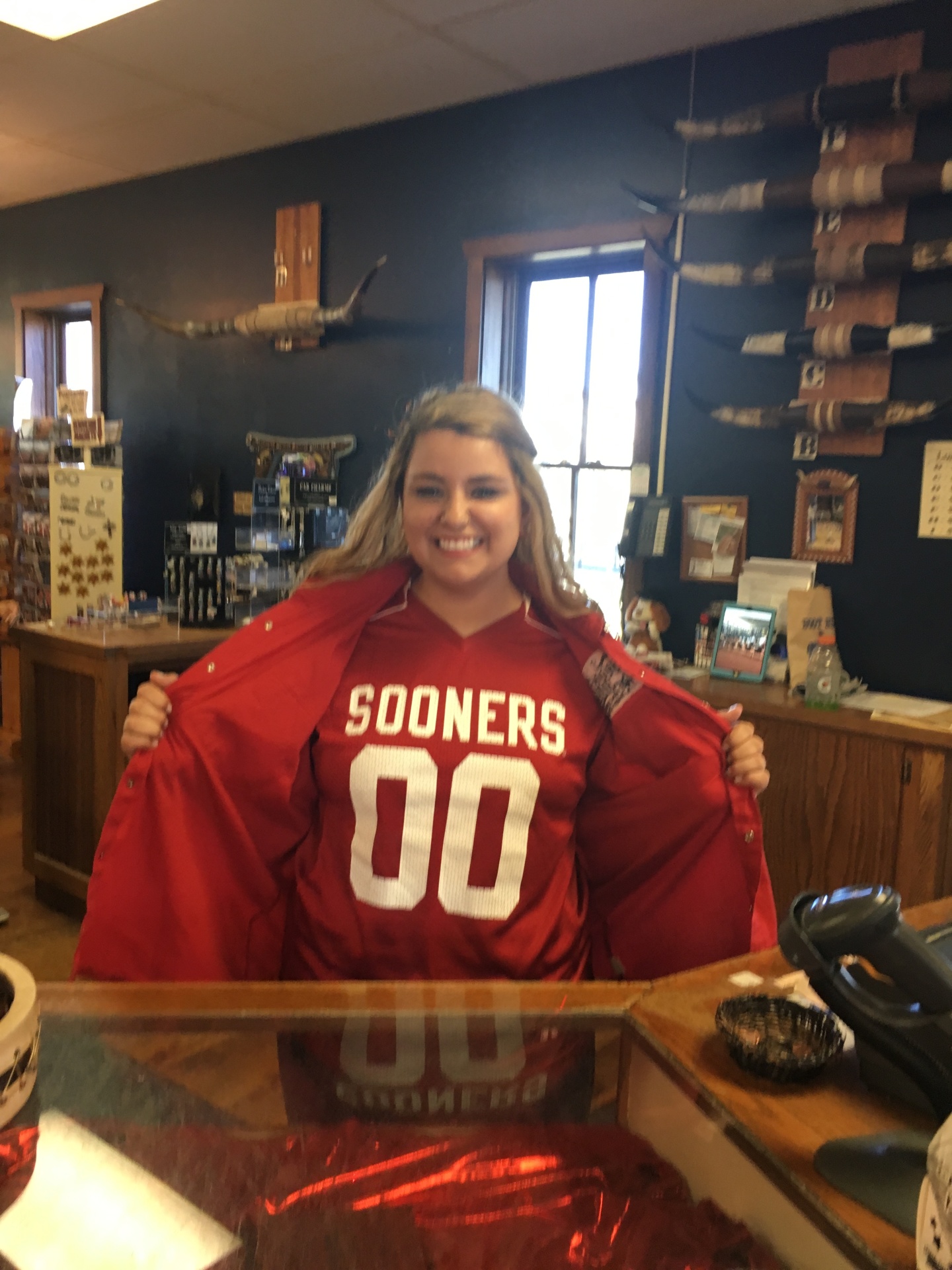 ​
"How much is it?"

​"9 dollars"

​"dadgum"  I got my card out.  "Here ya go, I feel like a big spender today."

​She smiled and asked, "if you wanna see the movie it's about to start"

​"No thanks baby,  don't really have time."

​"Where ya from?"

​"Alabama"

​"I knew that, you just have southern behavior"

​"southern behavior?"

​"you know what I mean, I can't explain it, just different"

​"Is that good or bad?"

​"oh its good"

​"In that case, thank ya m'am"

​"ohhhh see what I mean"

​She asked me if I was a Alabama fan.  "Of course, since long before you born."  Then she opened her coat and blurted, "GO SOONERS!"

​"I''ll forgive ya.  Do me a favor baby, y'all have shot glasses?  "Yeah"  PIck me out a good one and I'll pick it up on my way out.  I have a friend that collects them, she wanted me to bring her back one from this trip.'

​"and I bet you have "friends" all over the country"

​"LOL not hardly baby, she works with me."

​I took the walking tour.  It was neat to walk the area Wyatt Earp once hung out.  The original Front Street was a few blocks over, but the recreation is close enough you get the idea.  It was here I realized I'd left the Canon on my bike.  "The Iphone will have to do."  It does well, but not like the Canon.  "I'm not going back out to the bike to get it."

​
​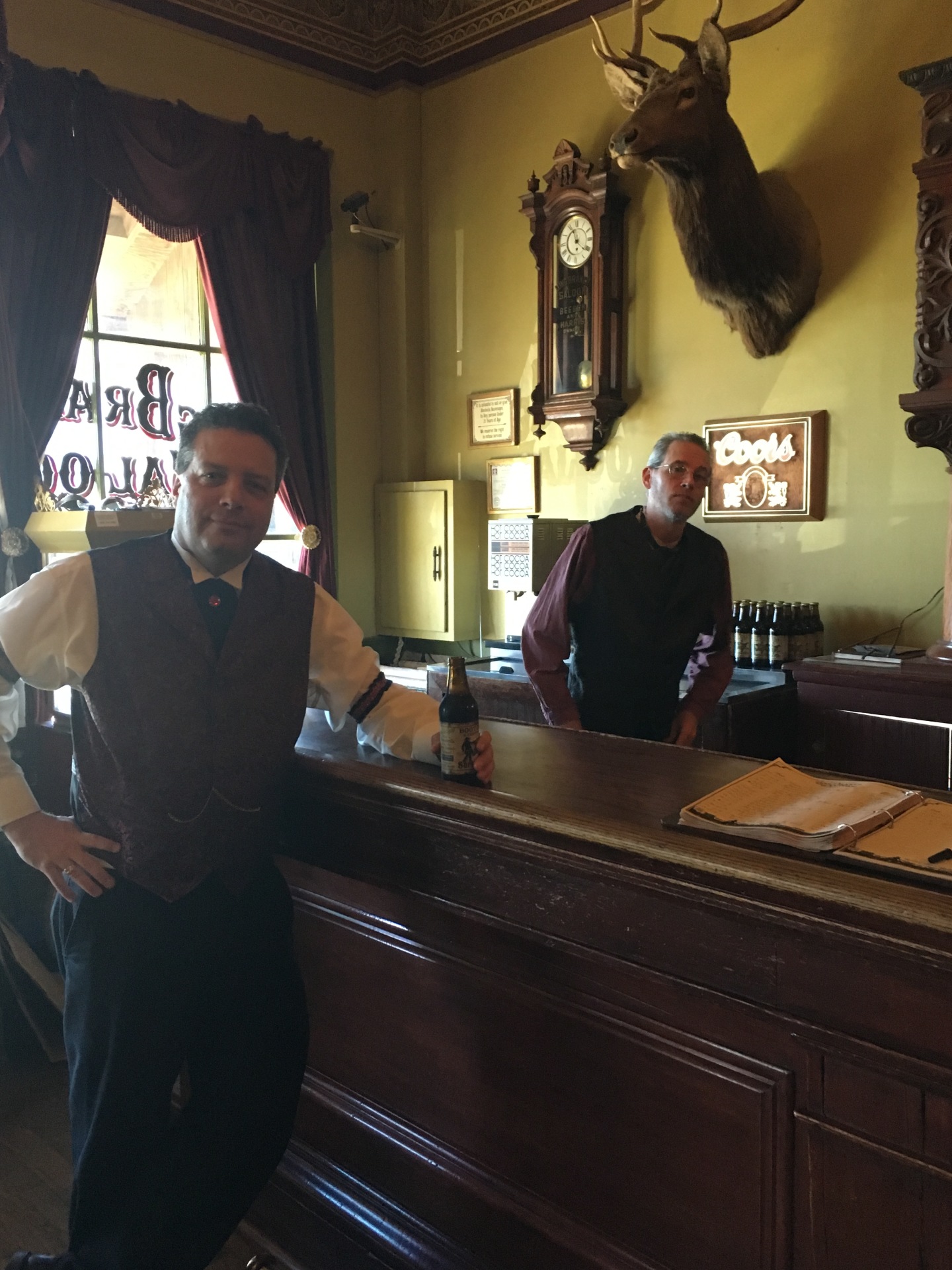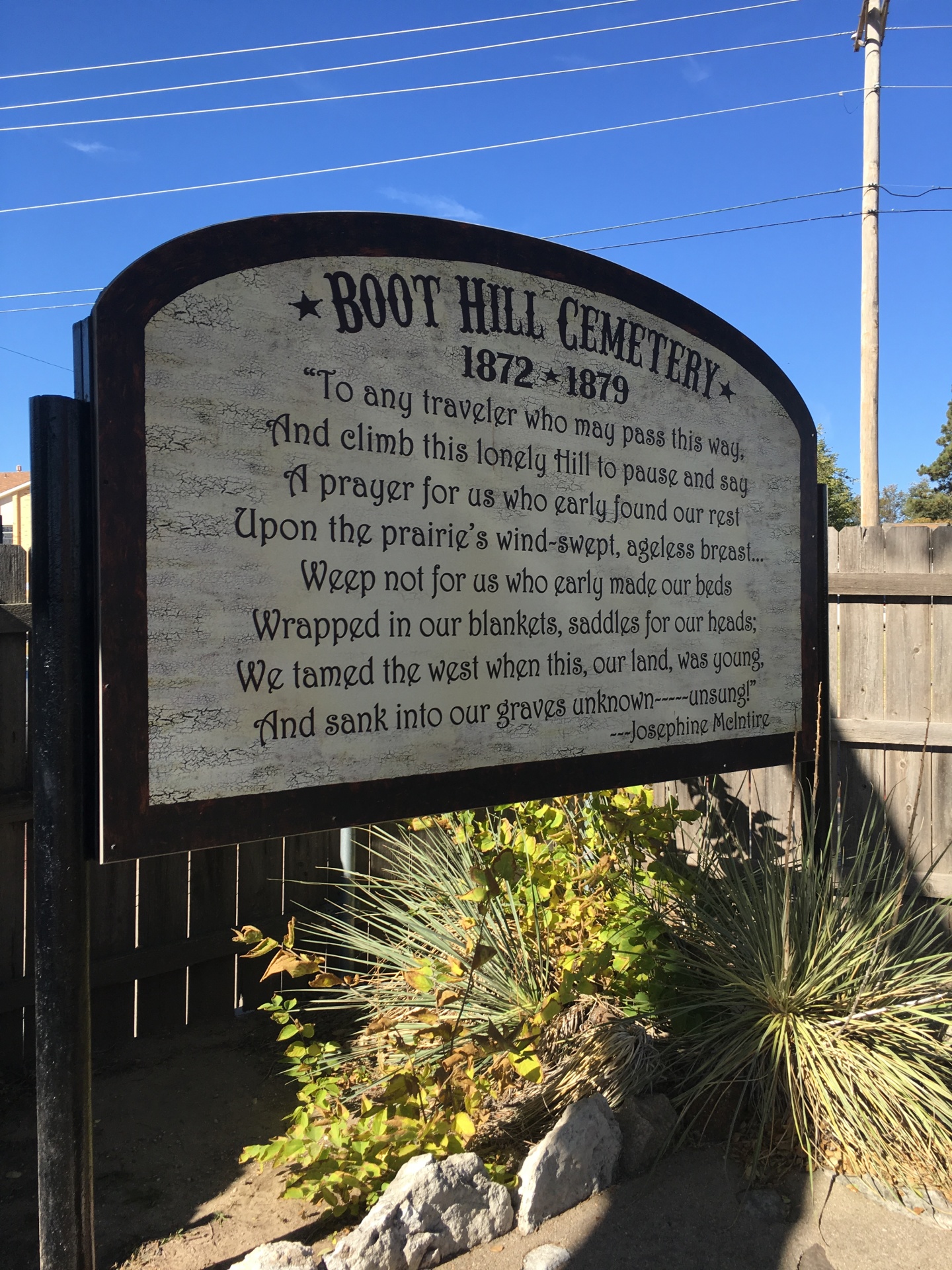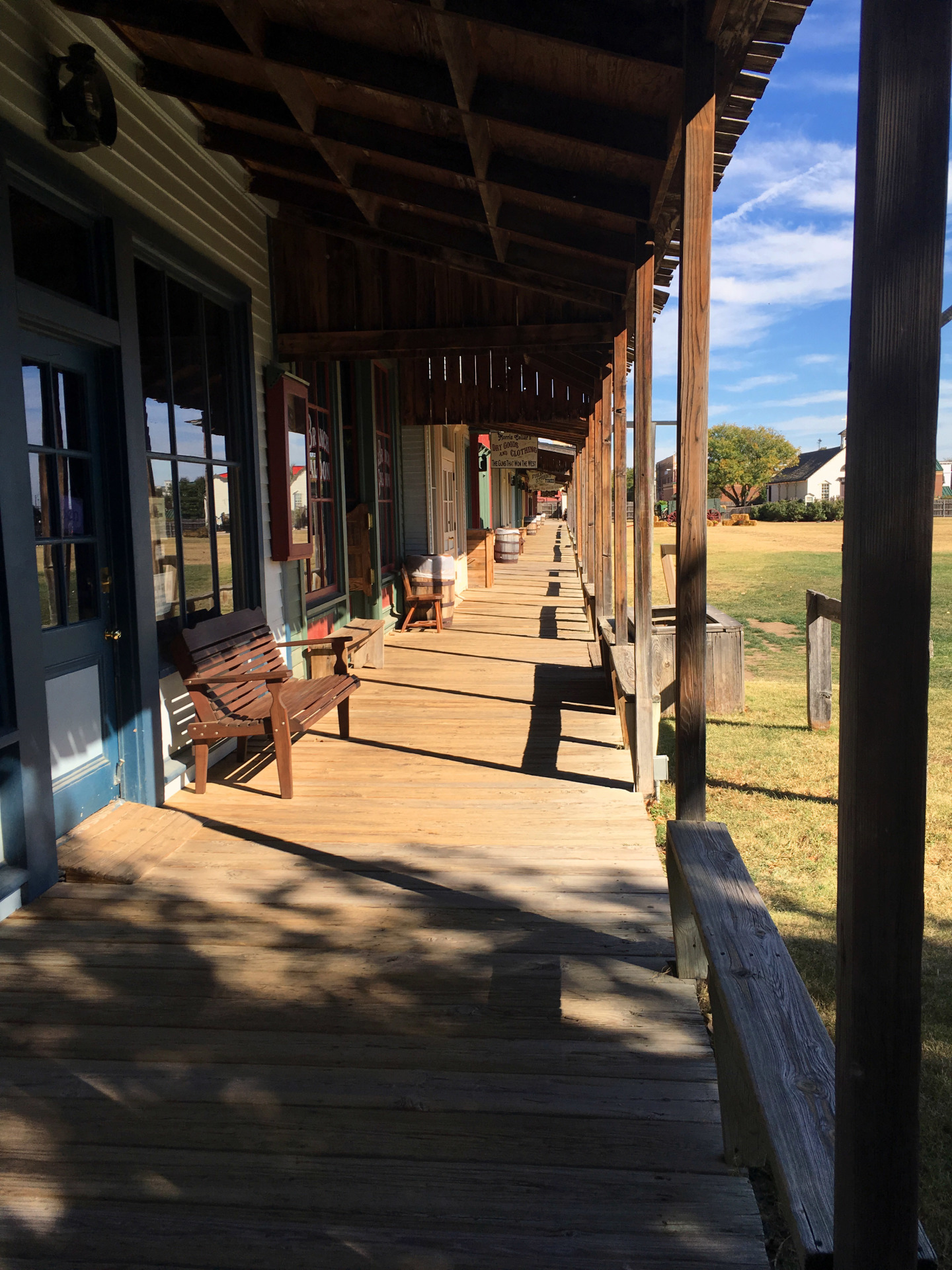 ​
Boot Hill, is actually a short walk up behing the town.  No one famous is buried here.  A few drifters, and a couple of poor souls that were hanged.
Strolling Down Front Street

​​
Finished the walk tour I exited through the gift shop.  "Did ya find me one baby?"  "I did, what ya think?"  As she held it up.  "Splendid, how much?"

"12 dollars"

​"Dang, not that I'm cheap or anything, but ok"

​"she'll like it"

​"she better"

​I said good bye, and  "saddled" back up.  It was late afternoon and I needed to get to Wichita.  Alabama was playing Tennessee today so I checked the score.  We were winning.  That made me feel good.  "Long way to go though."

​On the way out of Dodge City I pulled into auto store parking lot to and asked the Garmin to find the Motel 6 in Wichita.  My route popped up in a few seconds and I was on my way.  The zumo sent me to U.S. 400 and I rode east, the wind was now a annoying headwind, and sometimes crosswind.  It swirled all over the Feejer, and snapped my head back a few times.

​I rode the 60+ miles into Pratt hard.  My butt was bothering me and it made for a bad ride.  I can't tell y'all much about the ride between Dodge City on U.S. 400 other than it was the worst 60 miles of the tour, and I just wanted to get it over.  I rode it non stop.

​Pratt felt like the promised land.  When the Mcdonalds came into view I immediately bolted for the entrance.  My butt was killing me.  
​​
When I pulled my stiff legs over the saddle to dismount my rear end went  "ahhhhhhhh."  I bought a cookie and drink and plopped down in a booth.  It was warm outside so the AC felt good.   I checked ESPN for the Alabama score.  We had a nice lead and was salting the game away.  "Sorry I missed it."  I sent Debbie a text-

​"Taking a break, closing on stopping point, call tonight"

"Ok becareful"

"I will"

​I went back out to finish off the last 90 miles.  "This break will make my butt good for the next 50 miles, after that I dunno."  Riding West, the lowering sun cast my shadow directly in front.  At 80 mph, in a routy cross wind, the Shoei GT is still a quiet helmet, and earplugs made it even more so.

​In Waterloo 400 turned 4 lane divided and it was off to the races.  My butt was sore but tolerable, so I kept pushing.  I set the cruise and leaned back on the Motofizz and that eased my butt discomfort.

​I was passing through Goodard when I saw the Rodeway Inn motel with a nice price on display.  Wary of what I might find in Wichita, I took the sure thing.  Goodard looked a nice play town, "I'm gonna call it day, this is a nice place, and a Catholic Church across the street."   Fifty-five Visa dollars got me a nice room, ground floor.  I ended the day with 519 miles.  "Pretty good day."

​Unloading went quick in the fading light of a Fall afternoon.  Keep with the routine I cleaned off the fairing and screen of the Yamaha.   I also checked the oil with the bike on the center said in the level parking lot.  This crankcase of oil had 2000 miles on it before I left.  Its full synthetic Mobile 1, there was no need to change it before leaving.  This oil is good for 15k miles or 1 year, and that's what I do.  To change it anymore often is a waste of time and money.  Thats what the Honda gets, and it has 110,000 trouble free miles.

​I went in and took a shower and called Debbie.  From there I took a short stroll down the street to get some ​​good pizza, not like that in Durango couple days ago.  Thin crust with 3 meats.  While waiting for my pizza I made notes and reviewed pictures.  Other than the fact my rear end was in full revolt with the FJR seat, it was a good day.  I had 2 slices left, that I boxed and took back to the room, that when I entered felt like a ice box.  Left the AC on 68 for some reason when I left the room. 

​Facebook and the internet kept me busy while the TV was on.  I managed to stay up till after 10pm before passing out.