Day 2
October 11, 2016
Martin Creek State Park
Somewhere in East Texas


​
It had been a lackluster night, but I still didn't want to leave my tent.  I needed to be on the road at 6am but when my phone alarmed a 5:30 it was still pitch black outside, so I rolled over and tried to nap. 

At 7:15 dawn began to creep through the woods.  "I can see now, better get moving, gonna be a long day."  I broke camp and loaded the Yamaha.  It was after 8 when I told Danny and Halle goodbye.


"Good luck Guy"

"you too my friend."
​
​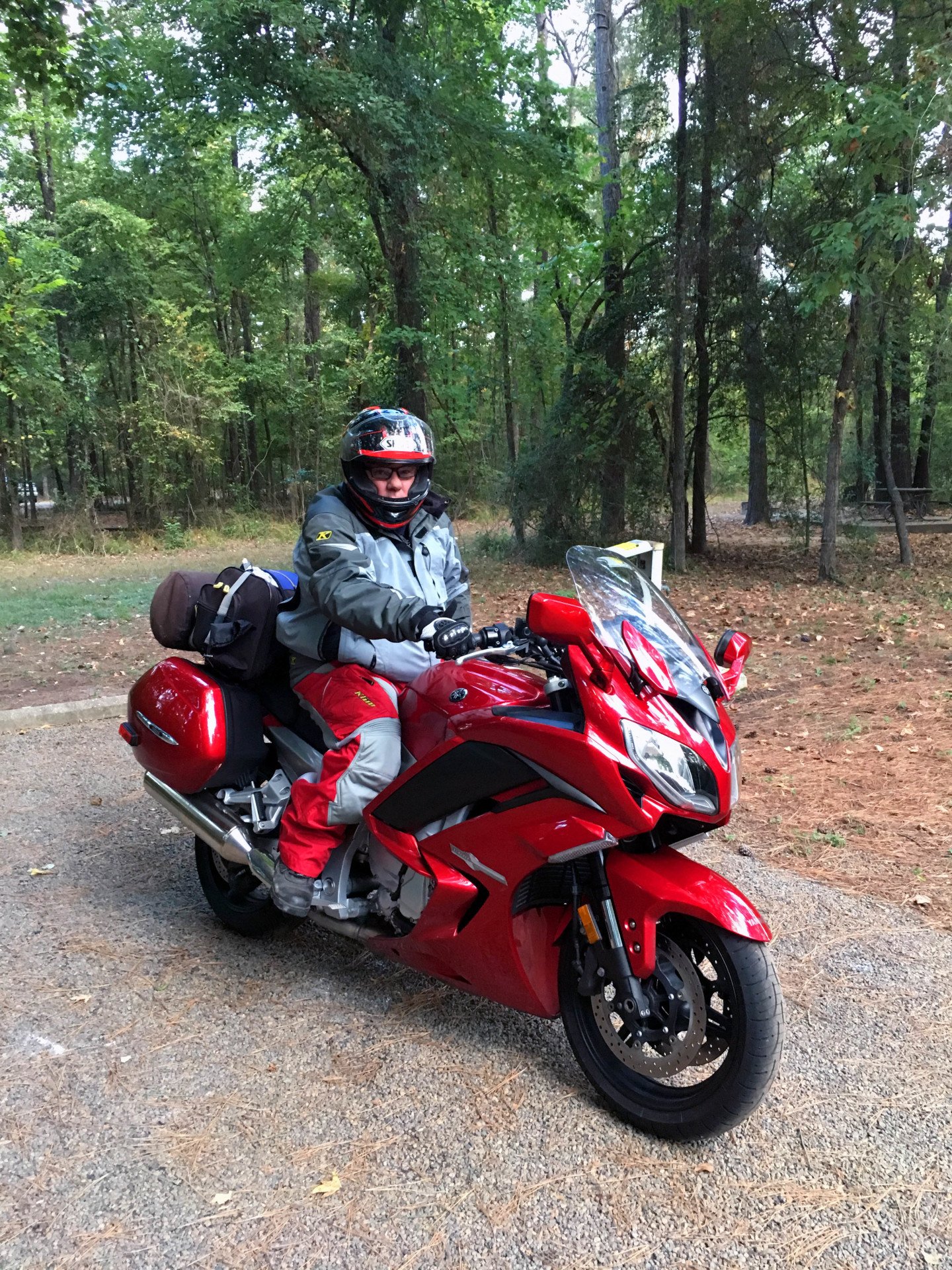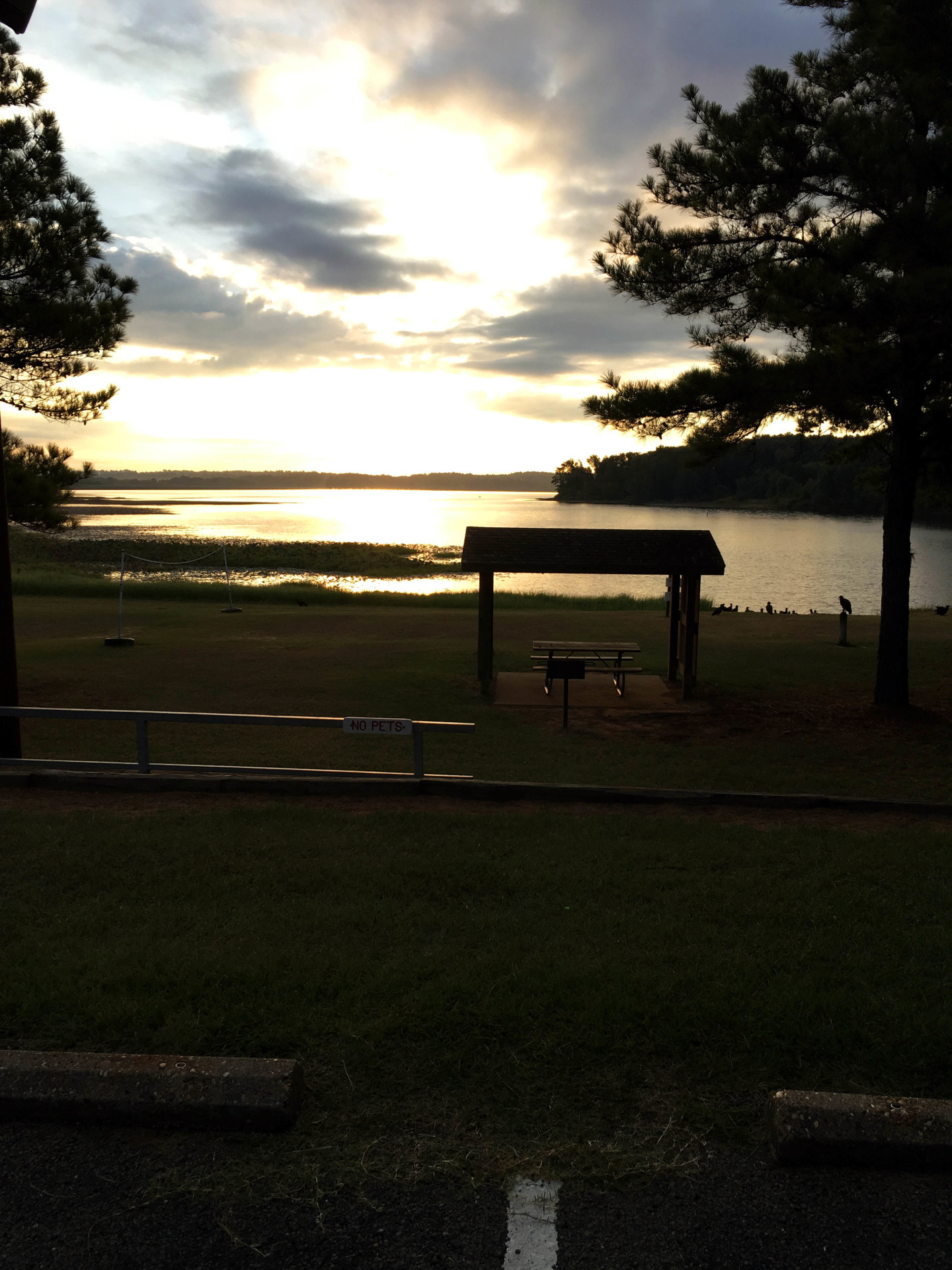 ​       Morning View at the campground

I was already behind.  "Man this is a late start, for what I have in mind."  I brought up the custom route for today, which didn't even start to somewhere near Forth Worth.  I'm going I-20 to Dallas and from there back roads to Amarillo.  I dreaded the Dallas metroplex.  Not much experiene there for a reason; I avoided it.  But on this ride I was sure the GPS was going to route me through the worst of it.  I thought of staying south and loop around the back into Forth Worth, but the GPS said, "no, go this way."

The zumo asked if I wanted to be auto routed to the starting point and I reluctantly said, "yes," and turned the navigation over to it.

I rode out of the park and was directed over a series county roads to SR 149.  Weather was cool and sunny but would warm to the low 90s by days end.  Once again no rain anywhere.  I picked up I-20 at Longview and brought the FJR up to cruising speed, and streaked to Dallas at 85+.  Distance riding is not so much how fast as consistency, meaning keeping the stand up.  I've never been one to worry about the miles, or having to absouletly have to be somewhere, or the day is meaningless.  "If I make Amarillo that would be good, if not, well ok."

The sign said Dallas was 140 miles, "on I-20 that ain't gonna be a problem," as I passed lines of cars and trucks.  Gas was good to somewhere in Dallas, so I didn't stop.  It's a waste of time to stop for 2 gallons of gas y'all unless you're somewhere you can't find any ahead.

Near the Benton exit I shot by 2 state troopers at 86 mph and they didn't bat a eye.

The reserve light fired off.  I rode a few more miles before honoring it at a Shell station in Forney.  After filling up I went to a nearby McDonalds for a restroom, snack, wifi, butt break.  I had knocked down about 135 miles and was on the outskirts of Dallas, and contemplating what was next.  I'd been on the road 2 hours.  I wanted to make it to Forth Worth without worrying about leaving the interstate system which I knew to be vast and confusing in and around Dallas.  

I was putting my trash away wearing a PFD retired T shirt when a man came to me and asked, "sir, where's Prattville gonna be?"

"That's gonna be in Alabama sir"

"Oh ok"


It was time to get back on the road.  The 390 was in the cradle with the route highlighted.  "I hope you know what you're doing Zumo.  Into your hands I commend my spirit," as I mounthed the Feejer, and set out to conquer Dallas.

Just like I thought, the GPS took me right through the city.  It was the craziest road ever.  Road construction everywhere with all kinds of lane shifts.  But the Garmin did well with its excellent software featuring lane assist.  I was always in the right position to make my turnoffs.   The road narrowed down to two skinny lanes, with a wall just a few feet to my left.  I followed a line of cars at 75 under a maze of overpasses, exits and bridges.  At one point I saw unfinished overpasses hundreds of feet above me.  Road crews were covered the roadways.  "You couldn't pay me enough to walk around out here depending on orange cones to keep me safe."
I was in a line of cars at 75 mph, bumper to bumper, the road dipped and curved while under 2 bridges.  It was scary, but I knew I'd break into the clear soon.  It was tough, all out riding going through the metroplex.    My goal is SR 199 out of Ft. Worth, it would take me across West Texas.  Clear of Dallas things settled down going into Ft. Worth.  I had to pick up 199 near downtown and creep through business traffic.  It was bad.  I"d say it was 50 miles from here back to my McDonalds break in Forney.

It was slow going out of Ft. Worth, but eventually the land opened up, and I felt like I was getting somewhere.   After all, I'm going to West Texas.
  As I rode west I contemplated the day ahead.  It was already mid morning, approaching lunch even, and I had little to show for it.  I was now in open country, the only thing slowly me the occassional small town.  I trimmed the screen down to halfway so I could get a mix of air and less turbulence.

By time I arrived in Jacksboro I'd put a nice dent in the day's ride.  The town had a active mercantile area, and a hot sun was bearing down, even if it was mid October.   I noticed a sign for hamburgers and went looking for the place.  I saw a delivery guy working a store and pulled in to ask.

"Hey where's that hamburger place?"

"down the street on the left"

"Is it pretty good?"

"oh yeah"

 
I piloted the FJR down through the downtown and found a quiet unassmuming structure that once was a house? Name of this local gem is Herds. A few cars and pick ups were parked hodgepodge in the dirt parking lot.  After parking the FJ where I was sure no one would back over it, I went inside.  A row of old school desks and a few outside picnic tables, as fancy as you get at Herds.

​
​
​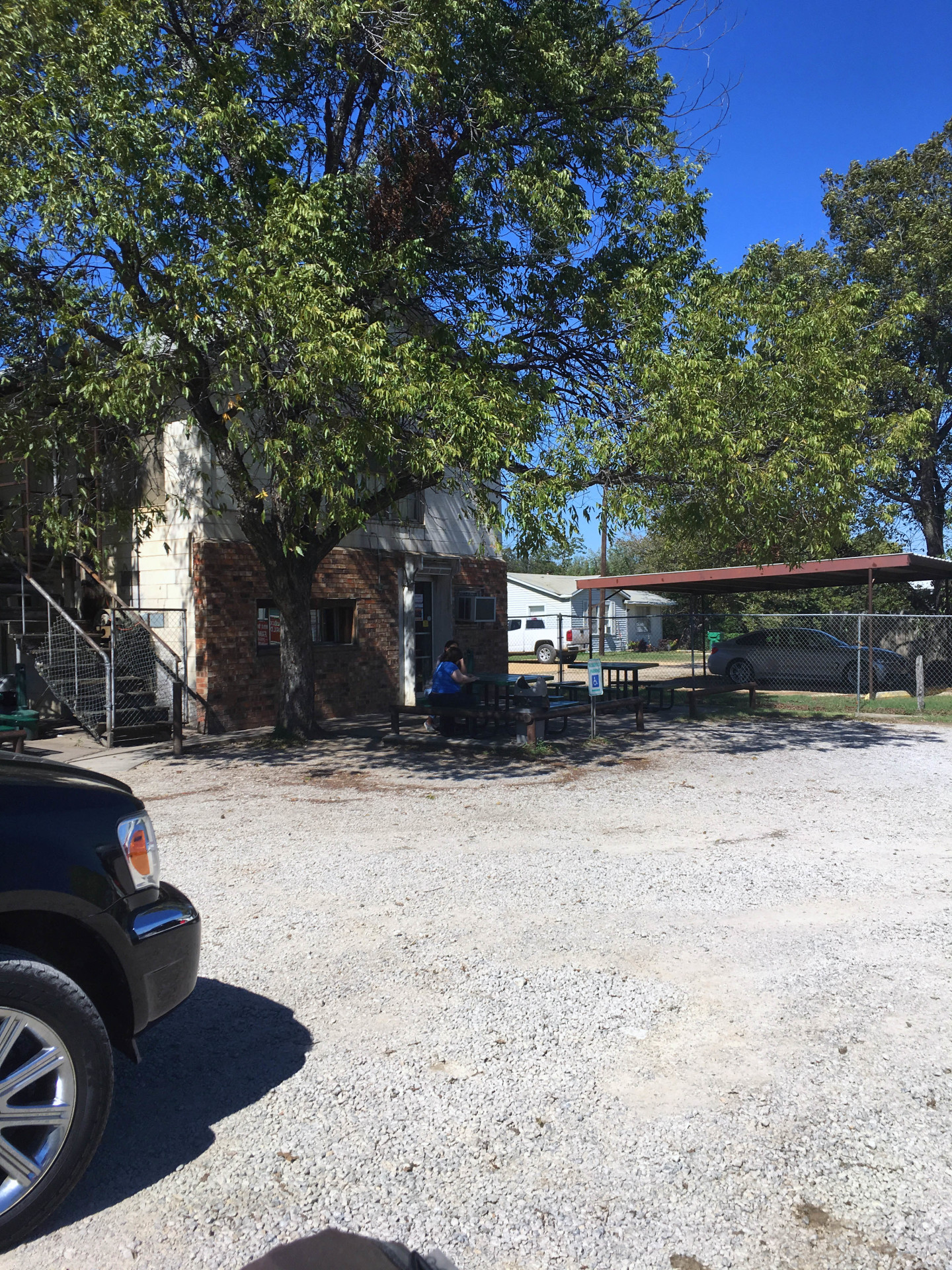 They handed my hamburger in a sack and I took my place with the locals at one of the school desks.  You paid for your order and took care of your own drink and chips.   One of the all time best hamburgers.  A deputy took the desk beside me.  "I saw you're from Alabama, what brings you this way?"
"nothing really, just riding"

"Man that must be nice"

"Yeah its pretty neat"

He picked up his hat and said, "reckon I best be on my way"

"alright young man, be safe"

I reported in to Debbie via phone conversation.

Gas was on 3 bars, but skipped topping off.   "I'm good"

North of Jacksboro I left SR 199 for 114.  The land was a big contrast from that of the urban sprawl of this morining.  West is sparsely populated and not a lot to see, but I was still having fun.

I obeyed the speed limits till I was away from Jacksboro and then got down to business at 80 mph on the 2 lane 114.

The miles ticked off slow on 114 but the gas didn't.  Quicly I was on 1 bar,  I wasn't overly concerned, but I was looking.  "Gas at first pump I come across."   A sign noted Seymour was 15 miles and I felt better.  "I know I can do that," and picked up the pace.  With the bike on reserve I pulled into Shell station in the middle of town, and filled up.

I noticed a F150 pick up at the pump ahead of me with a Alabama tag.  He had a camper shell thing in the rear of the truck.  A "retired firghter" sticker was over the plate like a stable light.

Then, in a case of stunning small world, I saw I knew this man.  In such a situation you question yourself.  "Nah this can't be anyone I know.  I'm in the middle of no where."  Set aside how vast this country is, just think of the emptiness of West Texas.  Seymour is not on the way to anywhere, it is not a tourist mecca where people from all over gather, like Disney World.  No, you might as well be on the moon.  But still this man called my name.  "Guy??  Guy??  Is that YOU?"  He approached me slowly as I was returning the nozzle to the pump.

I looked at him.  "I know you, but I don't know where from.   Help me.  You served in the Montgomery Fire Deptarment?"
"yes, yes.  I'm Gerald, we were in a haz mat class way back in the late 80s."  Now I recognized him.  We were in a week long school at the state fire college.  Because our departments are close proximity we had a common thread so we hung out that week, in school and each night at the motel.  I recall he was a good guy.  We had fun and stayed in contact with each other after the training, but then drifted apart.

"man, what are YOU doin here,?"  he asked.

"Just riding seein the country, on my way to Amarillo.  You?"

"On the way to Utah."
His wife stepped out of truck when she saw us talking.  He introduced us, he had forgotten I had previously met her when invited me over to his house one afternoon, several months after the class.

"What year did you retire?"  I asked.

"1995, you?"

"2005"

We spoke for 15 minutes, but then it was time to head out.  He took a job with the state when he retired from the MFD and last year retired from it.  Now he just travels the country with his wife.

"Look here becareful out there."

"I will Guy, you too."

"For sure."  On that I geared back up, and mounted the FJ.  I tipped my hand to him, and rode off.  For the next 10 miles, I thought about this encounter as I streaked across the Plains of West Texas.  

East of Guthrie, SR 14 melds into U.S. 82 West.  The same U.S. 82, that if I turned and went East, would take me all the way to my house.

Guthrie is a small farming community in the sea of the Great Plains.  A scattering of stores and houses clung to the edge of the highway.  The local high school played 8 man football, a common thing in West Texas.  Not much is in Guthrie but the folks there don't need much.  Good salt of the earth people.

I remained on 82 West leaving Guthrie, and found myself in a manageable headwind.    Off the sedate state highways, traffic picked up, but nothing I'd call busy.  The sun was bright, and I kept the dark shade down on the Shoei.  The Dakar pants have nice vents across the thighs.  The breeze blowing up my leg was most welcome.  I'd rate the Dakar pants a excellent choice in hot weather riding.


I was looking forward to a nice steak at the Big Texan on my arrival in Amarillo.

Most of the next 200 miles was on cruise control, coming off only to pass through the small towns.  The riding was good as I went pass a few hills and sandy canyons.  I followed the custom route I made many weeks ago in my study.  I left 82 for SR 70 and the riding grew better.
​ 
​
​
​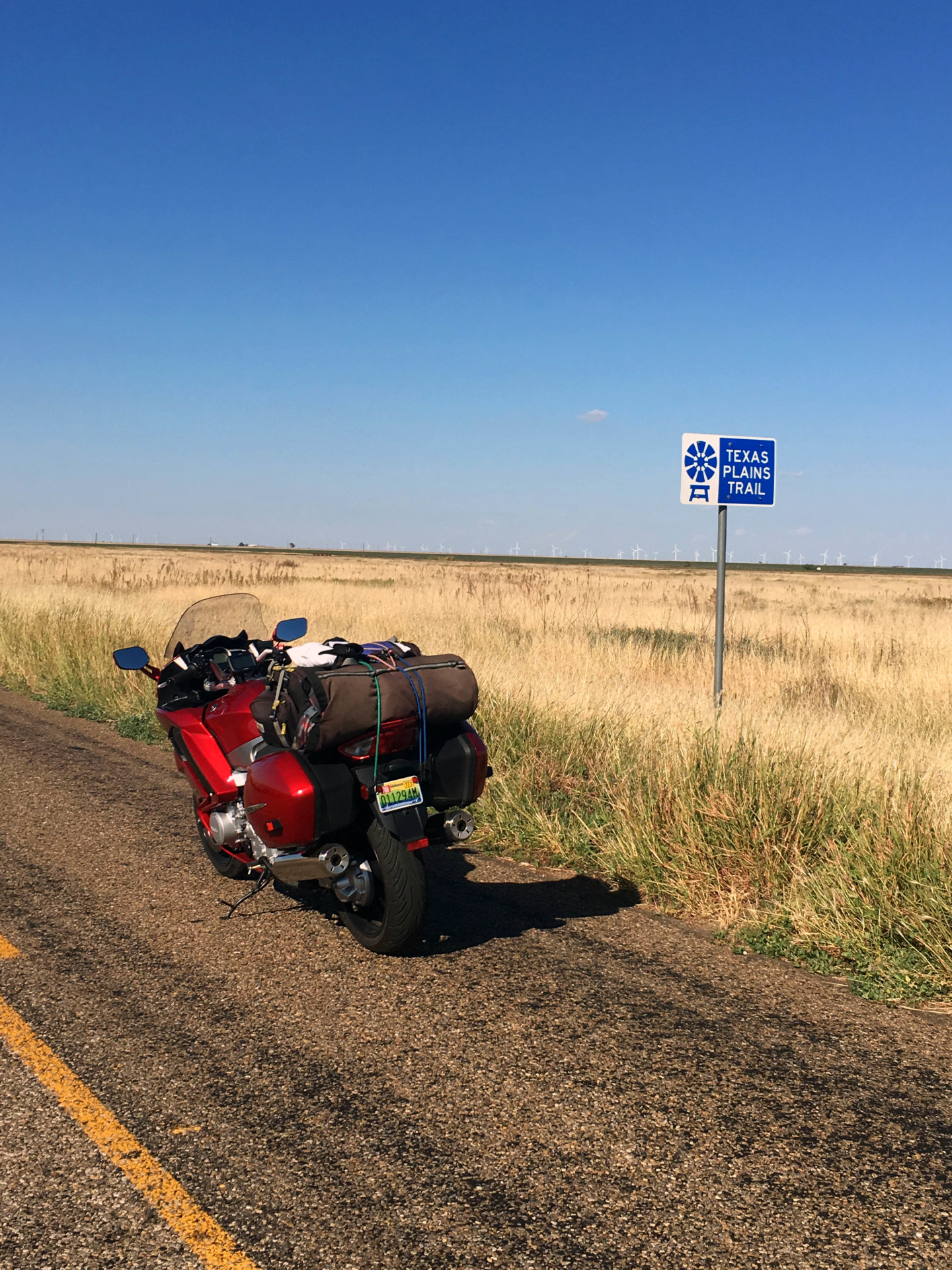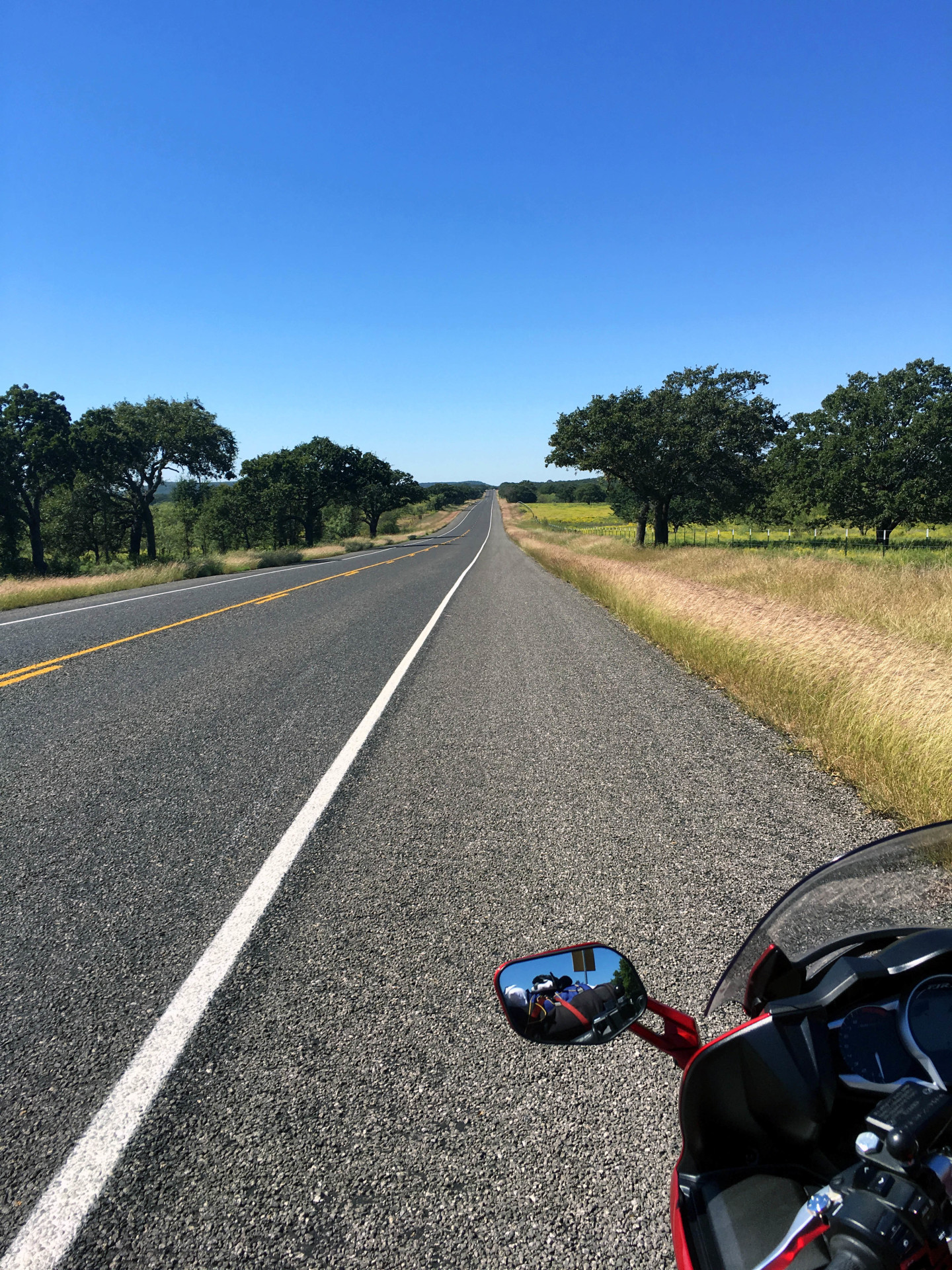 The Plains of Texas
​
Windmills dotted the landscape.  The were huge and looked like alien space ships.  Their blades turning slow in the West Texas winds.  Cotton fields made me feel like home but out here they went on for miles and not just a few acres.  I rode north among the tall grass and crops.   The afternoon was waning, "It's gonna be dark when I get to Amarillo, I'll eat first and then find the Motel 6 I know to be there after supper.
​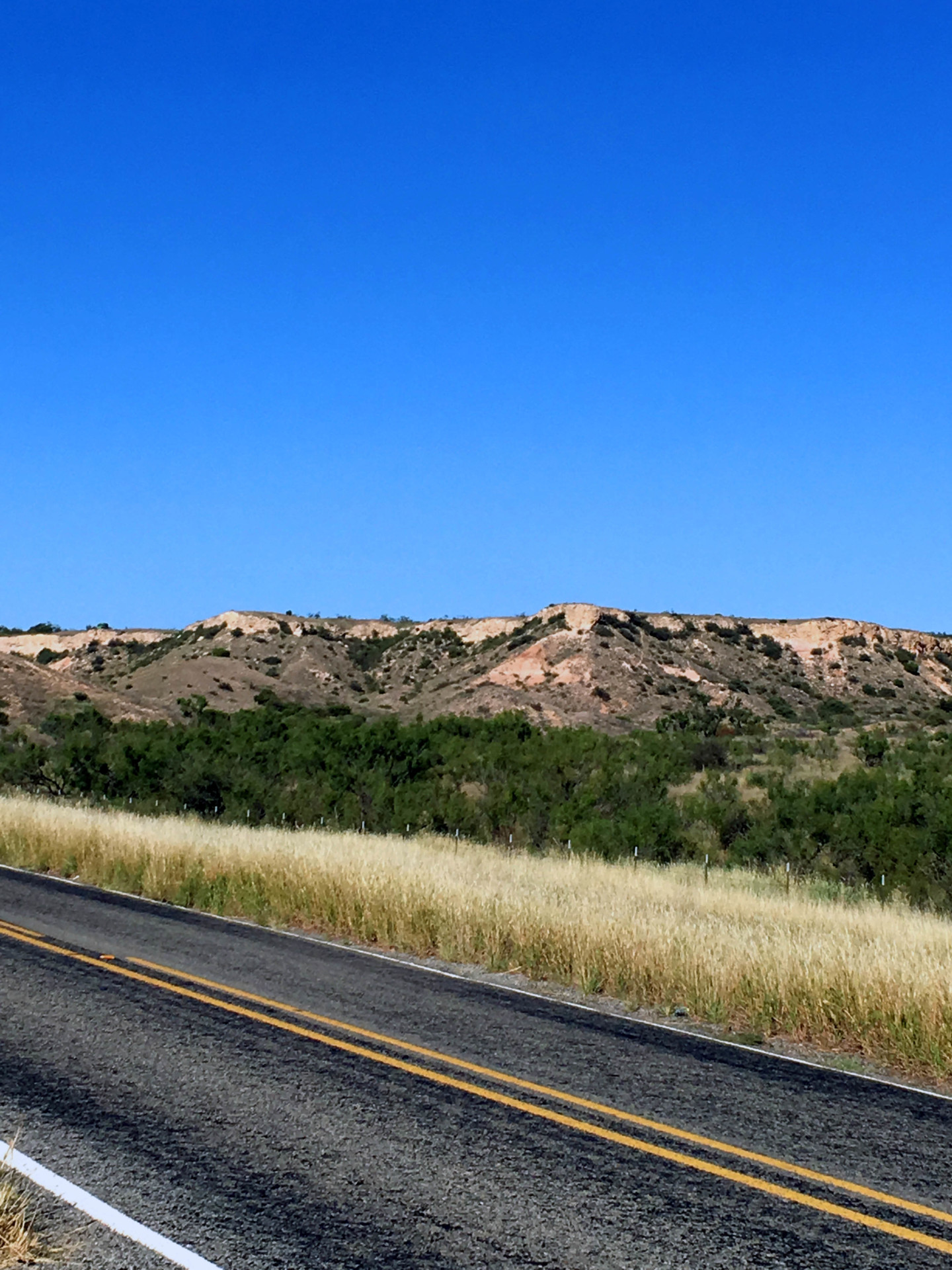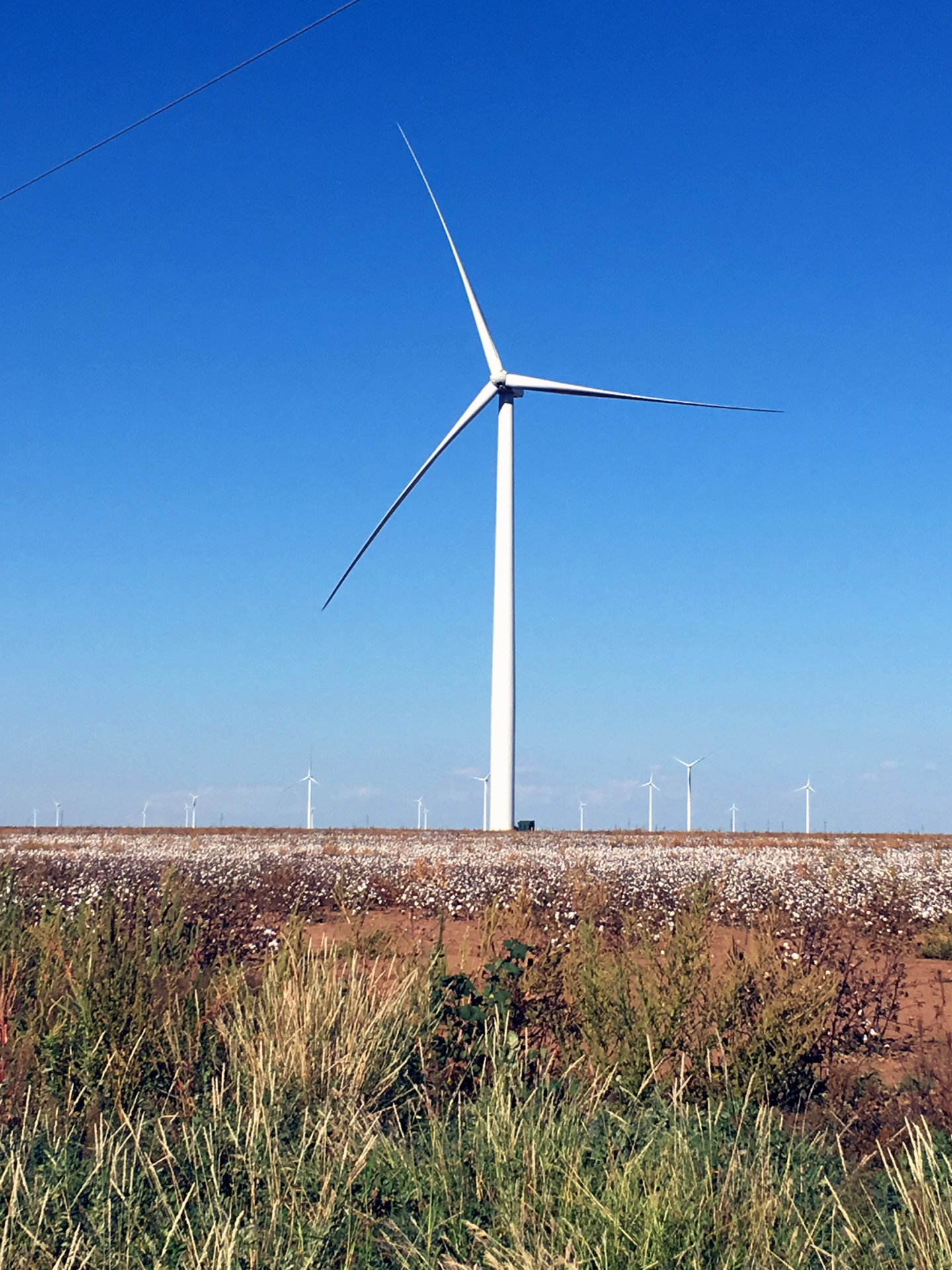 ​                       Somewhere on SR 86

Its no reflection on you, but that server right yonder woulda been nice."

The waiter laughed, "I'm sorry, I'll just hafta to make it up with excellent service"

I was seated near a 2 couples from New Jersey, who were driving  old route 66 as much as they could.  They were definately out of their element.  One of the ladies asked me.

"That is your motorcycle out front from Alabama?"
"Yes m'am"

"ohhh you southerners are so polite.  We love Texas."

Their NJ accents called them out easily in place with a 200 people.

We talked till our food arrived and I advised to seek Hackberry, Az on old 66 not too far from Kingman.

"you been there?"  The man asked.

"oh yeah, if you like 66, lots of stuff about the old highway there."

They told me they were going to stop at Carhenge in the morning.  It's funny how that place has become such a roadside attraction.
​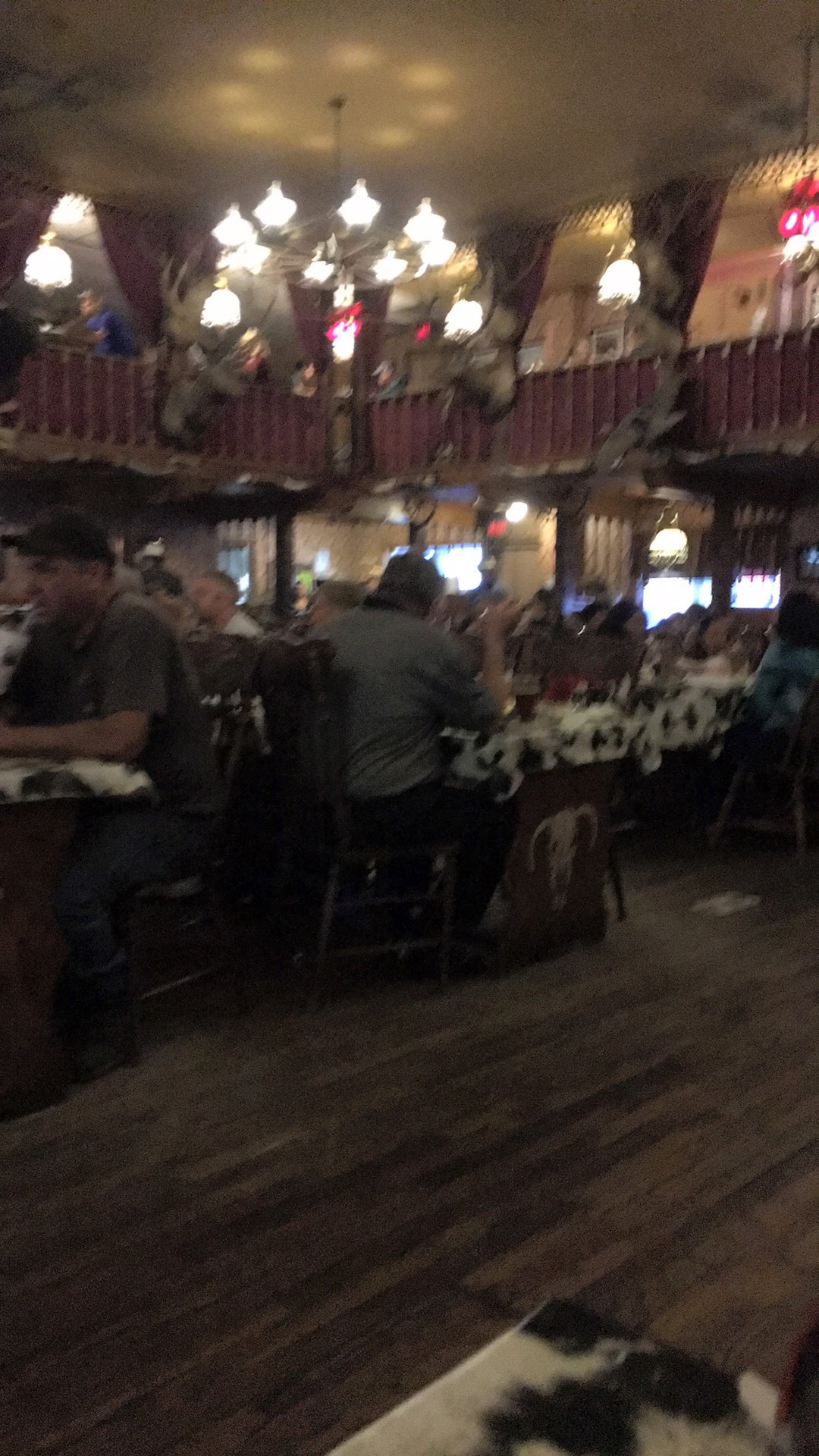 The scene at the Big Texan
Just like 2007 my NY strip was excellent.  You can't beat Texas for steak.  Another table nearby had 4 young men that looked to be in town on some kind of work project.  Possibly oil rig, or roadwork.  One of them was eating a 32 oz steak.  The thing was HUGE.  I couldn't imagine the 72oz.

I rose from the table and left my waiter dude a nice tip.  His service was excellent.  Not being cute, he has to earn his money the old fashioned way.  I nodded at the NJ table.  "Ladies, y'all have a good trip, remember they're to tryin to kill ya out there."

The Motel 6 had rooms, just none on the bottom floor.  The 60ish lady that checked me in asked if that would be alright.  I said, "yes."  I gave her my ID, she noted I qualified for the senior discount.  With check in completed, I went to my bike to move it down.  "I'm I really that old??"  I thought as I threw my leg over.  It is hard to believe I was 45 when I started Long Riding and here I am, still at it.
It took 2 trips but I got msyelf inside.  I rode 608 miles for the day.  I was tired and skipped cleaning the FJR.  "I'll do that in the morning," and vowed to get on the road earlier.

The shower felt good and I tried to watch TV but way to sleepy for that.  I set my phone alarm and went to sleep.


Day 3- Amarillo By Morning
J