​
Riding Gear
 
Riding Pants and Coat-  Riding gear can basically be separated into 2 categories- textile and leather.  The former can have many variations such as Gore-Tex, poly, and other synthetics.  My advice?  Buy, and use the best gear you can afford.  It will save you money in the long run.  Buy motorcycle specific gear.  Anytime I tried to use something that was designed for another activity, I often ran into trouble with it.  For instance gloves.  A good pair of riding gloves comes pre curved, with gauntlet style closures to keep out drafts, as opposed to Wal Mart hunting gloves, that are too thin, and stiff.  A non curved gloved will put your throttle hand to sleep rather quickly.

In the textile/leather debate, I prefer textile.  It is more versatile, and flexible for long riding.  Leather does not do well when its cold, wet, or hot.  It will give the superior protection in most every circumstance of get off.
 
Your riding gear should protect you from the elements and mishaps.  Make sure you have padded knees, elbows and shoulders.  I've used the Aerostich Roadcrafter since day one.  First the one piece, and a few years later, I moved to the 2 piece.


I've logged over 200,000 miles in Roadcrafters, in every kind of condition imaginable, and have been thoroughly satisfied.  If you dream of doing what I do, I highly recommend the Roadcrafter ensemble.  


While not entirely waterproof, (no outfit is) it does a very good job in combination with a fairing bike.  In really hard downpours there is some seepage in the crotch area, but not anything significant.  It has a lot of pockets, and I use all of them.   The unit has some of the best ballistics in the business, thankfully I've never had to test their prowess, but my years in the fire department taught me what works and what doesn't.


I went to the 2 piece because of the versatility.  I like being able to take the coat off and walk in just pants.  Just like the 1 piece, the 2 is slick in the wind and not bulky, that is an important aspect to me.  I suggest sizing up one size in all riding gear to accommodate layering in cold weather.  Speaking of which, when its cold, I'll add a sweatshirt under, insulated vest, or heated gear, depending on the day.


The Roadcrafter is vented across the back and under the arms, but still hot in summer when you're not moving.  I don't have a problem with hot as long as I'm in motion.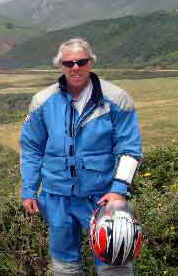 You can read all about the Roadcrafter at www.aerostich.com 

Update 2016-  My Roadcrafter finally just gave up.  Zippers were broken and the suit had faded badly in the last 15 years.  It was pretty much wore out, and knew it was time to upgrade.  I shopped the Roadcrafter and was taken aback at the 1500 price tag to play.  I decided to shop, and if I found a nice alternative I'd go with it.  When I entered long riding 15 years ago, Aerostitch was one of the few players.   Since that time many have joined the market.  In steps Klim.
I shopped around and saw many of ADV guys wear Klim gear so I thought I would give it a try.  Klim makes a array of different gear for different needs.  Sport Touring, ADV riding, dual purpose, and dirt.  

I went with the Overland coat, and Dakar pants.  I understan Klim offers a matching Overland pant, but upon its arrival I didn't like it.  Yes, it was very functional, it was just personal taste.  I sent it back and asked for the Dakar pants which I liked from the get go, with its red and gray trim.  If nothing else they looked good.

The pants are geared for ADV guys.  But they not only looked better, but the fit was improved.  Padded knees and leather insets, zipper pockets where needed, and vented legs!  Who says I can't ride with ADV pants instead of sport touring?  Nobody. And I've been a happy camper.  The Dakar are not as well lined as the Overland, but thats Ok, I'd rather have the vented legs, because I ride 90% in warm/hot weather.   The Klim is a one time deal.  Slide down the road in it and its a goner.  But that's ok, half the price of the Roadcrafter.

Just for kicks, I completed my new riding gear with a Klim Mojave Jersey to wear under my coat.  Why?  Because it looks good with Dakar pants when I have my coat off.  Plus it adds padded elbows and shoulders!  No, you can't wear the jersey alone, but its not made for high speed get off, but as long as you have the coat on, you'll have that padding and the pads on the jersey.  The jersey is made for off road desert riding so it wicks persperation nicely.  

So my gear is a hybrid of Klim.  I believe there are good ideas for sport touring in ADV gear, perhaps I'll start a trend?  Why not a sport touring jersey with a turtleneck in winter and pads?  Not only is the jersey functional but looks good when you're off the bike.

Size your coat 1 size up to accomdate any extra layers of clothes in used in cold weather.   If you ride mostly in hot temps (like me) go with light colors.


You can read about the Klim gear here.  The vendor is Motorcycle Superstore.  I can rate the vendor 5 stars.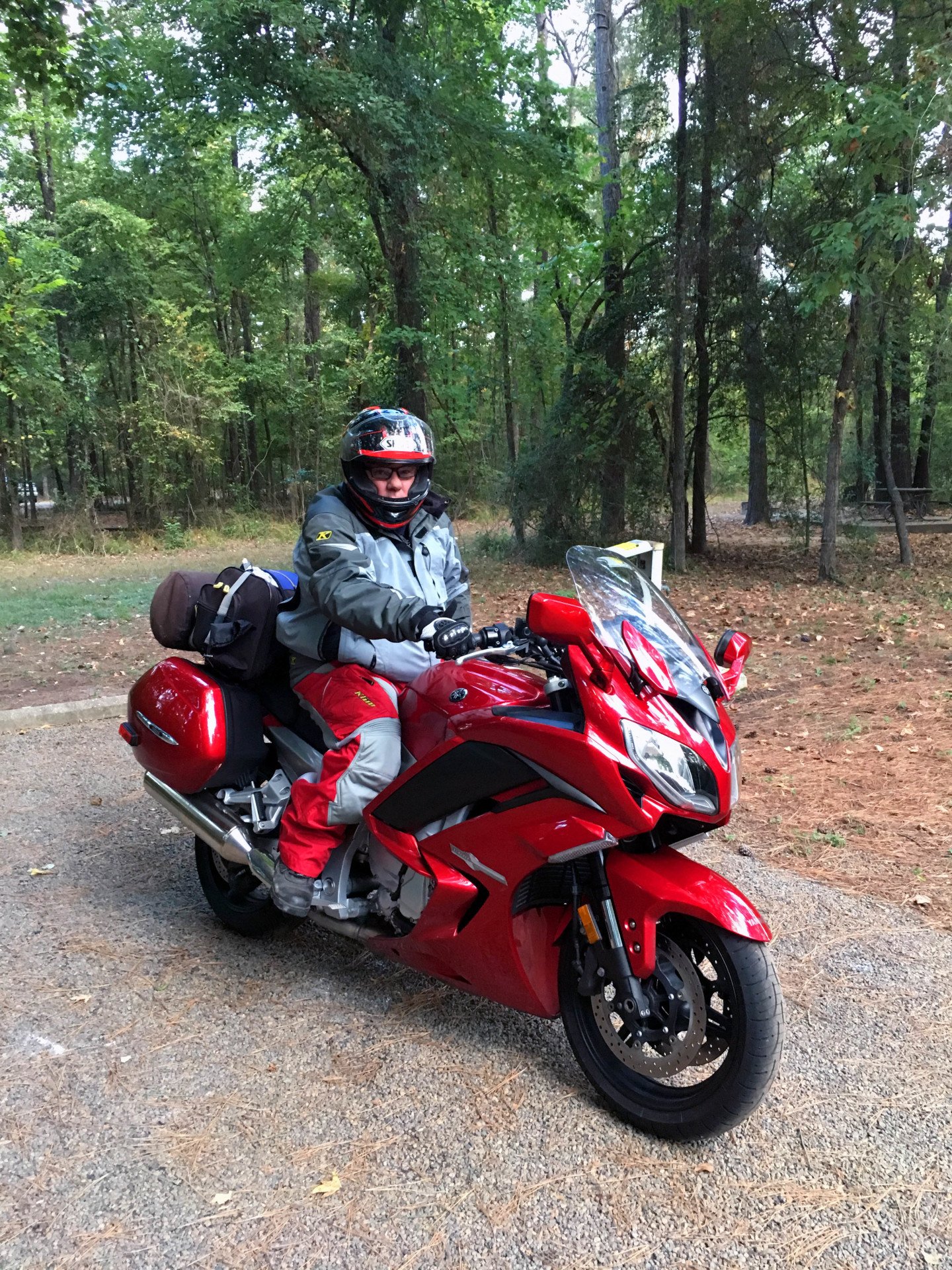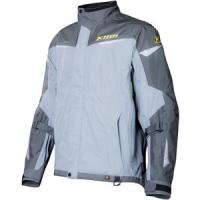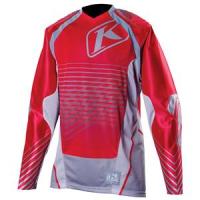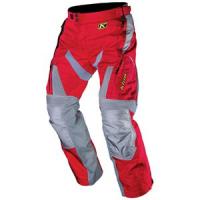 All decked in the Klim Riding Gear.


There are many kinds of helmets to choose from, both vendor and style.  I wear the Arai Vector.  A full face model from one of the top tier manufacturers.  Arai's are big time lids, and command premium prices.  Will they protect your head any better than a JC Whitney catalog hat?  No, but the difference is in the fit, finish, and comfort.  Arai makes a plush, quiet helmet, with user friendly shields and ventilation.   Cheaper helmets will do the job, just not at the same level as a Shoei or Arai.


I like full face for the level of protection, the open 3/4 helmet leaves a lot of unprotected area.  The full face is also more aerodynamic and quiet.  It is slicker in the wind so cuts out a lot of wind noise.   The full face doesn't work for those who are claustrophobic about having their head closed in.  I wore breathing apparatus in the fire department for hours on end, now that was really closed in, so this is not a issue for me.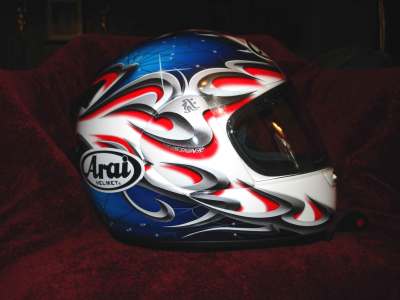 ​
I was returning from the Blue Ridge in 2008 when a strong wind blew my Arai Astral from the seat of the 1300, damaging the shield mechanism.  I was left with a shield that wanted to stay down, or up, but I could no longer change position on the fly.  I was due to replace the Astral soon, so I stayed with it for another year.  It was very annoying not being able to close the shield tightly, and having it half hang off.
​​

Early 2010 I replaced the broken Astral with the Arai Vector, the most recent incarnation of the Astral.  It best fits the long oval type of noggin, just as the Astral did.


When a guy buys a Arai, he's about to pluck down some serious cheese, so I thought I'd add these thoughts.
I like tight fitting, form to the cheeks helmets.  My first Arai was the Quantum, but it fit my head too loosely so I replaced it 2 years later with the Astral.  I dislike a helmet moving without my head, and I don't have that problem with the Vector.  Also the sock like fit of the Vector is more quiet.


The interior of the helmet is plush and comfortable, but the lid is hot on like days.  It does have vents to move air through the helmet but they are not very effective.


The vents on the shield to clear the shield of fogging are.  The unit has 2 vents over the eyebrows, and a vent on the chin bar.  These work well, but on cold, wet days, you might still need to crack the bottom slightly to fully clear the shield.
Fit and finish are typical Arai-excellent.  I was glad I waited a year for closeout prices and picked up the Vector for 349 dollars, including shipping.  A great buy.  I tend to replace helmets every 5 years.  Not that they quit working, but by then I just want something new.


 The vendor wasMotorcycle Superstore - Motorcycle Accessories and Motorcycle Gear, I do business with them on a routine basis, and can recommend them.

While talking about helmets, I use ear plugs.  I simply can not ride without them.  I use the thickly foamed high db units.  I buy them at Walgreens.  Ear plugs easily add a couple hundred miles a day to a ride.  They greatly reduce the fatigue that comes with lots of wind noise.  The constant, high frequency river of wind  going by, has a negative affect on hearing, and those bad affects are cumulative.  Meaning even short rides without protection add up over the years.  It is the nature of hearing loss.  I know.  My last hearing test in the fire department put me at a 5-8% loss, mostly due to  being exposed to sirens and bells early in my career, when no one paid much attention to such stuff.

Later in my career we were equipped with headsets with radio speakers.  They allowed us to talk to each other and the dispatcher while at the same time protecting us from the siren.  Do your hearing a favor, where protection, and don't worry about not hearing anything important, you will.

​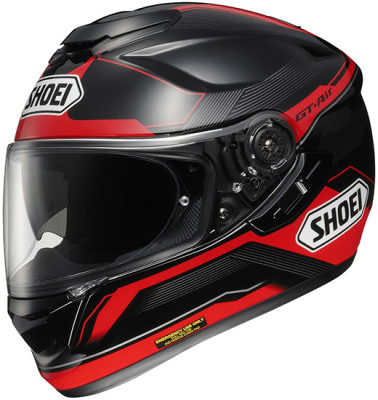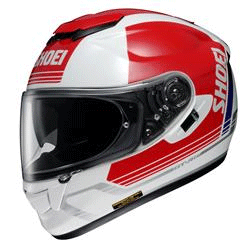 Update Oct. 2017-
A few weeks ago I purchased a GT Air Decade to add to my collection of helmets. I also had some practical motives to add a new helmet.  I really like the GT Air, fit and function are top notch.  The black GT air now sports the Sena com system.   I don't ride with other riders often, so most of the time I'd rather not have the unit attached to my helmet.  My idea is just to leave the Sena on the black Shoei, and break it out when I ride with my brother, (Which is every once in awhile).   Removing the unit and back on is a hassle, so I solved the problem.   
​​
 I recently took delivery of the helmet above, (same color) not that I needed a new lid, I just wanted to try something different, and lock in a upgrade.   Most of my long riding career I've been a fan of Arai Helmets, but I saw this new Shoei on display at a show and was intrigued by it.  I touched it, and looked it over.  I put the lid down and walked off, but it stayed with me to the point I had have it.
​​

The GT-Air is the first specifically designed helmet for the sport touring market, and it shows in the units functionality and operation.  It has all the stuff sport/touring riders demand and even a few items you didn't know you needed.  It is well thought out and designed.  Nothing has been left out that I can think of.


First, this helmet is ultra comfortable and quiet.  The padding is generous and I have no pressure points, but what most impresses me is the quietness of this helmet.  With ear plugs I only hear the low range ruffle of the wind passing by.  With my adjustable windscreens high (RT and ST) I might as well be in a sedan.  The shield on the GT has a excellent seal around the eye port.   I ride with the shield up and always have.  I like the wind on my face, it makes me feel connected to the ride.   If you prefer total isolation this helmet will suit you well.  The shield also stays where you put it.  I've had a problem keeping the shield up while riding on the Arai, I don't have that issue with the Shoei.


You can tell Shoei did their homework in the wind tunnel, and that also contributes to the quiet nature of the helmet.  It has a rear spoiler and indents to smooth the wind in the front.  It is very slick in the wind.


I thought the tractable sun visor would be kind of gimmicky and not something I would employ.  Wrong-it works very well.  The unit has a slide bar on the left that will retract the visor up or down.  It works smoothly and flawlessly.  It reminds me of a fighter pilots shield.  But mostly it looks COOL, when in place.  The sun visor is UV rated and not just a tinted clear screen.


Ventilation is clearly superior to that of the Arai I currently own.  I don't know about the current Arai units as mine is 5 years old, but what I have seen, it doesn't appear Arai has upgraded their system recently.


Fit and finish are perfect.  It is a great looking helmet as you can plainly see in the pic above.


Is this helmet better than my Arai?  Yes.  It has more features and just as comfortable.   
The GT has emergency release, longer chin straps, a more adjustable interior, and a pin lock shield if you want to cover the main shield.

This video will cover the helmet much better than I could.


Shoei GT-AIR Journey Helmet - Motorcycle Superstore


The only issue I have with the helmet is with my glasses.  I wear wire frames that are bowed out, and sliding them on after strapping the helmet sometimes tricky.  The Shoei fits my head snuggly (my preference, tighter the fit=less noise) and I sometimes get a pressure point behind my ear.  I think I can solve this with a less thick check pad (available) or glasses with flat, plastic arms.  But then again, there's always lasik surgery.


Yes, this helmet commands a premium price, quality always does.  If you're just a casual weekend rider, you probably don't need a 600 dollar lid.  As I mentioned in the Arai review, a cheaper helmet will protect your head just as well, but what it won't do is deliver the comfort, quality, and other extras like the Shoei.  On a 3 week cross country ride, the features of the Shoei come to fruition and make the ride better, and THAT is why you pay the extra bucks for THE BEST.

Gloves are those items you seem to shuffle around a lot, and I confess to having a thing about them, kind of like my wife and shoes.  I have a pair for ANY climate I might find myself in.  Gloves are a important part of your protective gear, do not treat them as a after thought.  I've seen what happens to hands and fingers that are not well protected.  When you fall off something, the first thing you do is put your hands out, when you do that on asphalt, you peel flesh from fingers like a banana.  I've seen glass shards cut tendons and other muscle fiber.  Buy good gloves with the proper ballistics. 


My gloves breakdown as follows: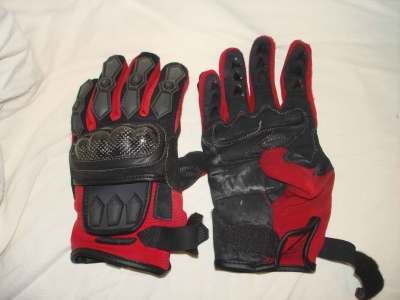 AGV textiles- In hot weather I prefer the breathe ability  of textile gloves.  Textile gloves allow air to circulate around your hands and up the sleeves of your coat.  I make sure my gloves have the proper knuckle, palm, and finger protection.  Because I ride so much in hot weather I wear these gloves a lot.  For sure these gloves are less protective then leather, but they will still spare you a lot of pain in a get off.  I also have this glove in white.
​
​

 


​​
AlpineStar Leather Sport- Not sure the exact name of these Alpinestars, but they are made of leather with hard padded knuckles, finger joints and tips.  The palm is entirely of leather.  Leather sport gloves (the kind used by sport riders) offer the most protection, the reason they are favored by racers.   I wear these gloves as much as I can, but the weather needs to be in the 50-80 degree range.  They don't breathe when its hot, and the unlined interior is too cold when the temp drops below 50.  Over the years I noticed these gloves stiffen in cold weather making them difficult to remove.  I suggest sizing up at least one size when buying leather gloves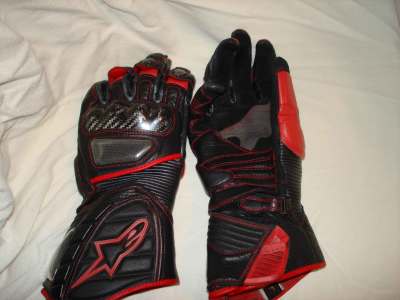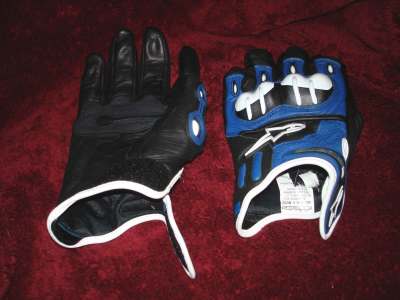 Alpinestar Octane S-Moto-
I bought these second pair of leather gloves because I have 2 bikes, and wanted a pair that matched the Honda.  These gloves are basically the same as the units above, with a shorter gauntlet, making them easier to take off and on.
​
Alpinestars SPX Air Carbon- I recently took delivery of these leather gloves by Alpinestar.  The SPX are leather gloves, with the short gauntlet.  Not that I really needed a new pair of leather gloves, but I wanted a short gauntlet and I mostly liked the red and white color theme.  Three of my bikes are red and so is my Klim riding gear and I like to look good going down the road.  Carbon Fiber knuckles, padded fingers and leather palms.  Leather gloves provide the best protection and I wear as much as I can.  These gloves work well when the temp ranges from 45 to 73 degrees.  That means in Alabama I can only wear them 3 months of out the  year LOL.  But on long tours I West I deploy them almost everyday.  These gloves run very small.  I have small hands and just barely get my hand in the gloves.  They were very tight till I got them broke in.  Presently the fit seems to be ok.  Not sure of the long range durability on this model, but previous Alpinestars are still going strong after several years.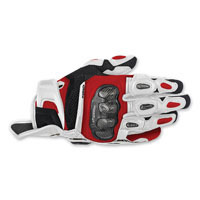 Joe Rocket Ballistics- I've had these gloves since the first day I rode the ST 1100 home.  These are the gloves I go to when the temp dips below 50.  Not all that thick, but they are lined, and water resistant.  They also have a thumb squeegee that comes in really handy.  Both of my bikes have heated grips, and these gloves work really well with those kind of grips.  Thick winter gloves, reduce the effectiveness of the grips, but the Ballistics allow a nice feel of the warm grips when cold.
​​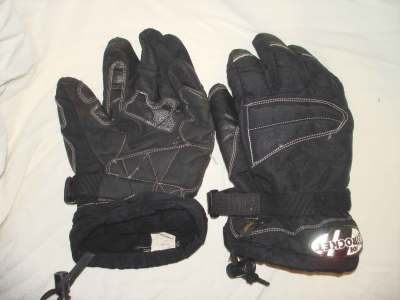 ​​
Joe Rocket Blizzards- The go to winter glove.  These are mostly leather with vibration resistant gel in the palms.  A nice gauntlet for cinching out drafts.  These gloves are water resistant, but in a prolonged, cold rain, you might get wet.  When the temp dips into the 20s, about the only thing that will work will be high out put enclosed heated gloves.  I'll be honest, I'm NOT going to ride when it gets that cold.  I've had these gloves a number of years, and when temps are in the 30s, they are quite effective.  I suggest sizing up at least 1 size when buying gloves, and 2 is not a bad idea for gloves of this type.  Tight fitting gloves are less effective on cold days.