Day 5
August 25th, 2014
KOA Campground
Estes Park, Colorado​



I was awakened in the early light by the pitter patter of rain on the Eureka.  "Rain again?" I reached for the Iphone and brought up the weather map using the 4G connection, the campground's WIFI was pitiful, and couldn't load the graphic intensive app. 


A large swath of rain was coming over, but I was south of the main body.  Only problem it was right where I wanted to go today-Cheyenne, Wyoming.  The Accuvue Weather app has highways and Cities on the radar so you can see precisely where the wet stuff is.  Riding north was out of the question, I'd have to get to the Badlands another way.


My faithful therm a rest, veteran of countless camp outs and miles, all the way back to 2001, was dying.  It was no longer holding air.  I noticed I might as well slept on the ground last night.
 
The Rand McNally came out next.  "I'll ride due east, put some distance on the rain, then turn north into Nebraska." The hole in the top of my tent starting leaking, and rain was dripping in.  There was no need to wait out the rain, if I'm going to get wet, might as well go out and break down camp."  I crawled out into a light, but steady rain, and was thankful not to be further north, it looked really nasty over there.  Just like the radar said, East looked good, but I'd have to ride out of the rain curtain.
I sorted my bedroll first to keep it dry, and then the tent.  The New Hampshire guy had a cover over his table so took the Motofizz there to keep it dry while I packed a few things.  I booted up the GPS and put in "Sterling, Colorado." A place I passed through before out on the Front Range.  The city is due East and the GPS would take me there quickest route.
Packed and ready to go, I sent Debbie a text-


"On the way to SD"


"SD?"


"South Dakota"


"Oh ok, I just got to the office.  Long ride today?"


"pretty much, lotta prairie between here and the Badlands"


"I thought you were in the mtns?

"

"not for much longer, cool and damp here this morning. I better get goin"

"Ok, find me at lunch?"


"ok"

I turned the switch on the FJR and the panel light up, and when I pressed the starter button, it sprang to life instantly.  I put the phone on charge, and reset the trip meters.  I made my way out of the tricky camp site trail and hit the road.  The Zumo directed me to US 34 East.

Gas was good for 200 more miles.


I splashed down 34 in a steady rain, and I was on cold side.  Temp was in the 50s, but the wetness made it feel colder.  On a good day 34 would be a great ride through the canyons and out of the mountains, but today it was a foggy, misty, damp ride, and no leaning was possible on the many curves.
  
Cold and wet, I passed on a few good photo ops.  When chilled I don't feel like stopping.  I turned on the electric grips, dialed them up to 5 on a scale of 10 for warmth.  It was the first time I ever had them on.  They worked great, and I clung to them  like the proverbial drowning man to the life buoy.  I could feel their warmth through the leather gloves and it made all difference.  I pulled the shield down on the Shoei and tracked up the sun visor.  Removing the tint made the skies seem less sinister.


The 1300 plowed through the morning mist past houses built on the banks of the Fall River.  A yellow sign stood by the roadside. "In case of flooding climb to higher ground."  Now would you need a sign to tell someone that?  Folks in the area that slow?  A few miles later I broke out of the rain.


The road deposited me in the morning commute of Loveland, and then Greely.  It was painful.  I was thankful to break out and return to the Front Range, where I quickly dialed up to 75 mph.  Glancing to the north, I could see all the rain I was missing.  Nothing replaces good intel.  I quickly dried out and feeling warm again, I turned the grips off.


Speeding along the Front Range I passed a historical marker sign.  I slowed and skipped down off the highway to check it out.  I had found Dearfield, or what was left of it.  The marker noted a group of freed slaves made their way West, and asked the state for a plot of land to settle on.  If granted it would be held "dear to them."  Thus the name.  In the early 1900s about 200 people lived and farmed here, but it quit raining and the community dried up and died.  All that is left now is a old house/store building, and what looks like some kind of barn.  I saw a few more old buildings of the ghost town down a dirt road.  I passed on riding to them.  I took a few pictures and moved on.  Dearfield is but one of the thousands of abandoned places/things a long rider will pass on a back road ride through the Great Plains of America.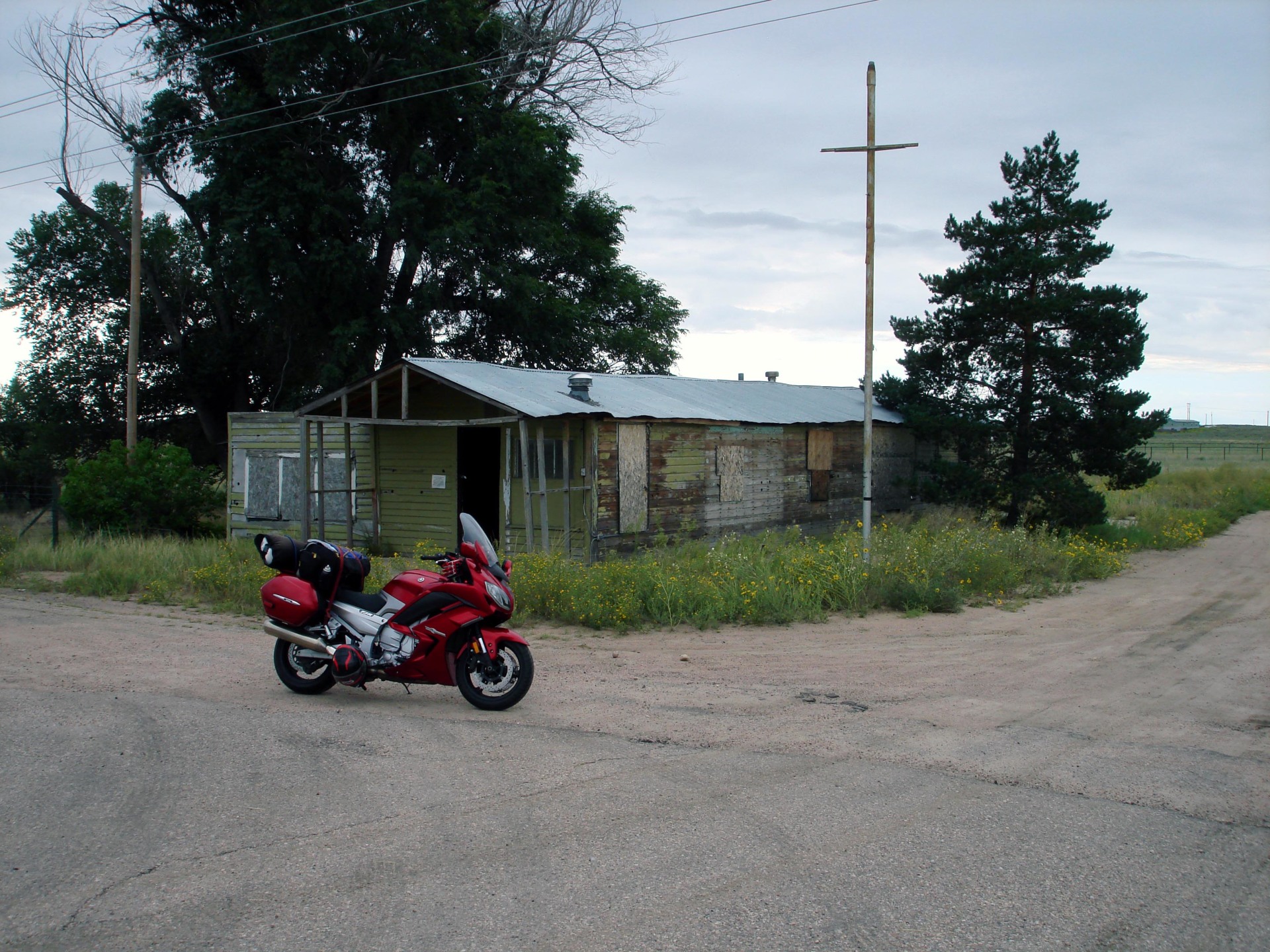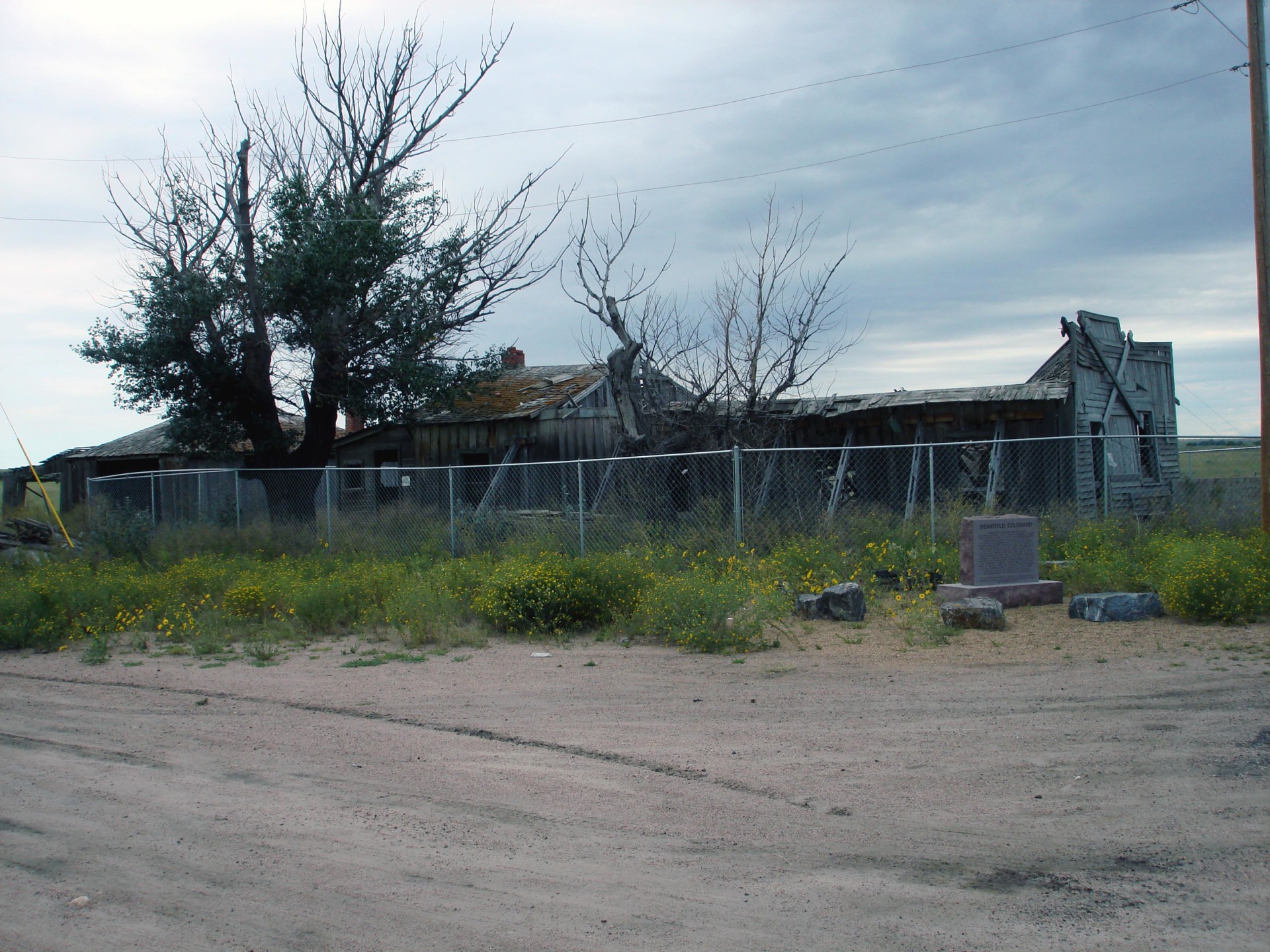 ​More of Deerfield, Colorado
Ghost Town on the Front Range
I pulled up to the highway to leave Dearfield, and noticed a state trooper had a joker pulled off quarter mile to the east.  "Man I know that sucks for that guy."
US 34 merged with I-70 a few miles later.  I took the Fort Morgan exit when I saw the McDonalds.  I'd been on the road over 2 hours with only a hundred miles to show for it.  It was slow going through the canyon in the rain, and Loveland and Greely weren't exactly open riding.
Instead of a Oatmeal cookie I got hash browns and a drink then settled into a booth.  I brought my atlas and GPS in so I could see what my next move needed to be.  I knew I had to turn north in Sterling City, I just needed to see what the options were.  Looking at the atlas really only one way to go.  I put Alliance, Nebraska in the Zumo.  "My planned route to the Badlands passed through Alliance from the West, from there I can pick up my custom route the rest of the way."
Feeling good about my new plan, I called Debbie and had a real chat.  I also sent a few messages and answered  emails.
It was a productive break, but it was time to get back on the road.  I left Fort Morgan on I-70 East, intent on some serious riding.  As it so often does out here, the wind picked up, but it was at my back.  I-70 was mostly empty and I put the feejer on 90, set the cruise, suspension on soft, screen up, and leaned back on the motofizz.  And that's how you fine tune a ride on a modern motorcycle.
Skies were now partly cloudy and I patted myself on the back on the route change back in Estes Park.
At Sterling I left I-70 for SR 113, a lonely, empty road to Nebraska.  I had 3 bars of gas in Sterling, and skipped a fill up, but out on SR 113 I quickly grew to regret that.  The high speed cruising swiftly knocked it down to 2 bars, and soon it was 1 bar flashing in the middle of nowhere.  "Man this ain't good"  I dropped down to 60 mph, and brought the screen down to be slick in the wind.  Even with all my experience at calculating distance and geography, I had forgotten the great distances in the West.  How you HAVE to have a grasp of map scale when looking at a atlas. 
 
On and on I crept, looking for anything that looked like a gas station.  "Shoot, I'm gonna run outta gas out here!," I said.  A sign showed up, "Peetz Ahead."  I didn't know what that was, but maybe it was some kind of community.
​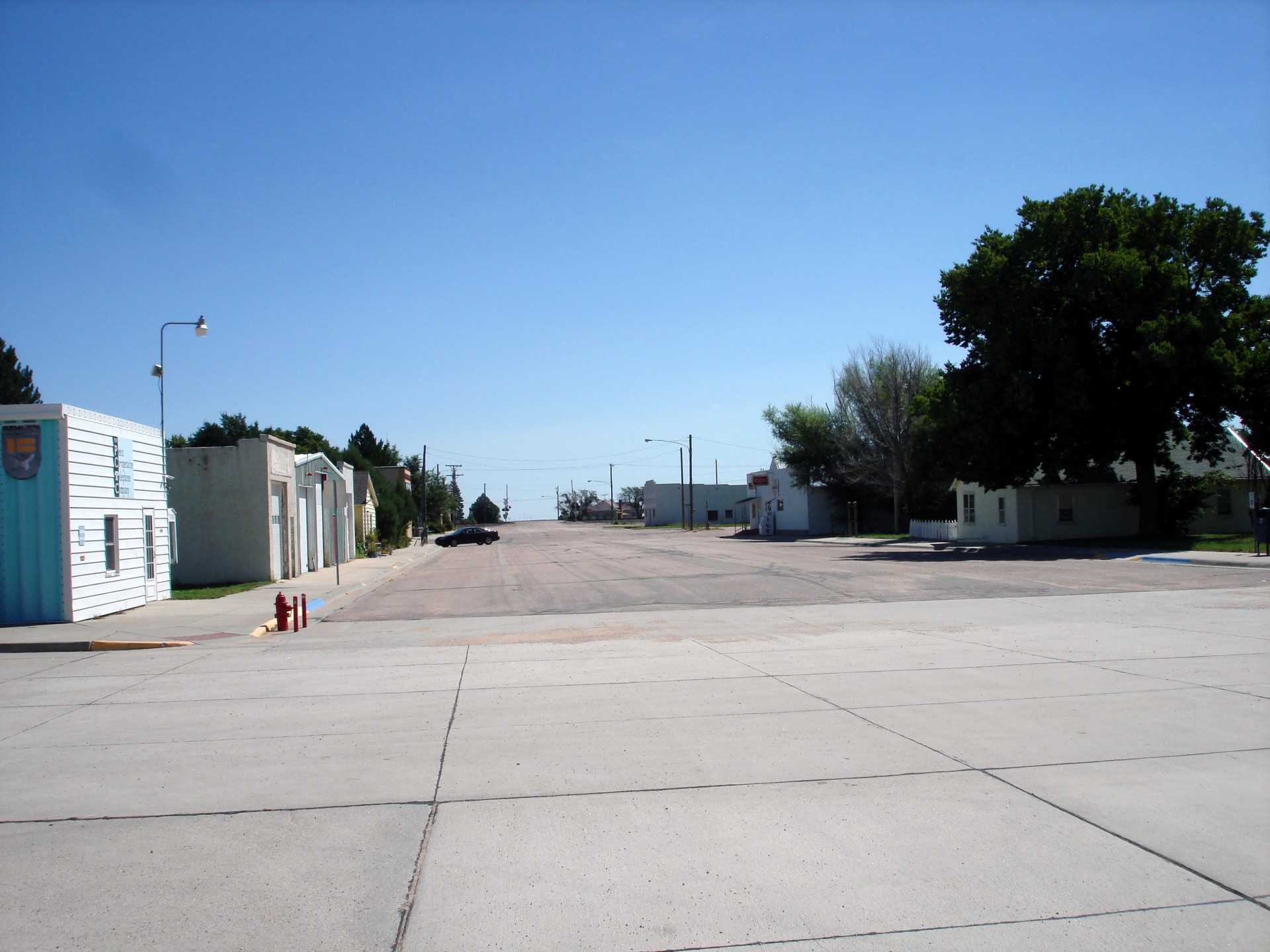 The Bleakness of Peetz, Colorado
Peetz was a cluster of closed down buildings along 113.  It didn't looking promising, but then I noticed a farm ag thing down a side street and idled down to it.  The thirsty FJR was on fumes.  It had a gas pump!  No pay at the pump, and only 85 octane, but I'll take it! The wind whistled through the quiet town, but there was nothing for it to move in Peetz.  No loose paper, leaves, cans, or banners. I went inside and saw a young man on a stool near the counter.  I'm not sure what kind of store this was, all kinds of parts and stuff were on hand.  I asked the the guy on the stool, a straight talker if I ever met one-

"I pay you for gas?"


"No sir"


"No?"


"The guy minding the store had a errand to run"


"In Peetz???"  What kind of errands does a guy do in Peetz?"


"who knows"


"When ya reckon he's gonna be back?"


"no idea"


"how come??"


"he didn't say, and I didn't ask"


Seeing this was going nowhere, I backed out with-


"well look here, I'm gonna pump 10 dollars and leave the money with you"


"that'll work"


He wasn't rude or anything, he just spoke to the point.  I guess that's a good thing.


I put my 10 on the counter.  I didn't want a tank full of 85, and I feared water in the gas, so I just pumped enough to get me down the road to a REAL gas station.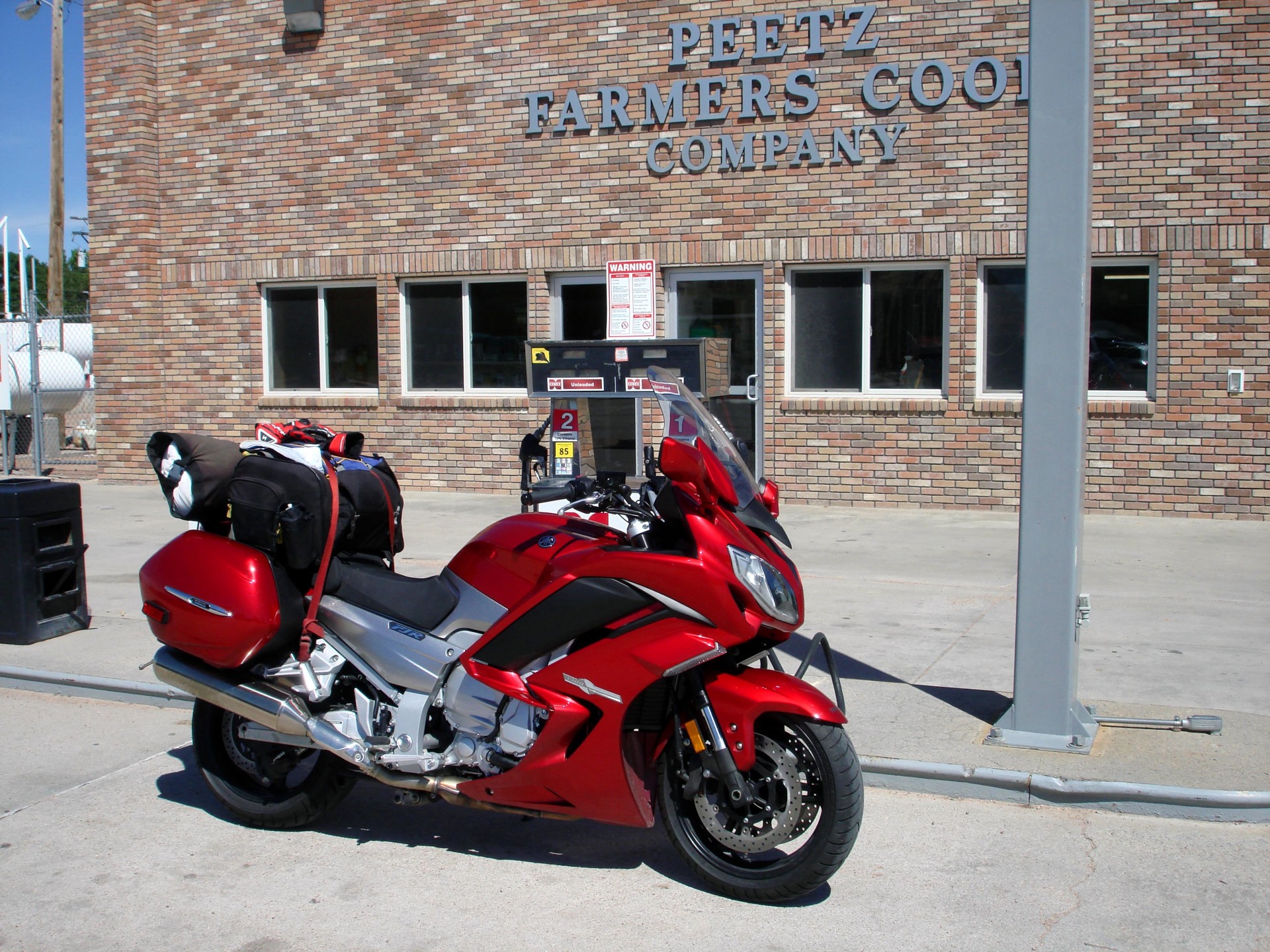 ​
Peetz is s prime example of towns on the Plains that die slow, and die hard.  I passed through a thousand of them on this tour, one of the unique reasons I enjoy riding the Plains, when many don't.

I pulled out of Peetz and crossed into Nebraska on SR 19.  It was a good ride into Sidney.  The sun was out, ambient air temp on the FJ sat on a pleasant 77 degrees.  The road pulled pleasant thoughts from my being.  When I'm riding its impossible to be in a bad mood.  


In Sidney I stopped for lunch in a Perkins.  I was glad to eat a formal sit down lunch for once.  "Don't know what I'll find in Badlands area so better get something good." I ordered up the pork chop dinner.  The lady who served me was from Georgia, and said I made her feel like back home with my southern accent and demeanor.  


I asked-


"so how'd a southern girl wind up in Nebraska?"


"My sister came here, and a year later she wanted me to come."


"and here ya are'

"and here I am."  What kind of bike do ya have?"


Yamaha sport-touring bike"


"I once dated a guy that had a Harley"

"What happened to him?"


"Wife found out"


"Ohhhhhhhh"


The food was good at the Perkins.  I called my brother and before asking how I was, he asked about the Feejer.  A true rider.


"How ya like the yamaha so far?"


"Best bike ever been on"  

I rode out of Sidney on US 385 North and prepared for a long ride through Nebraska.  My original route had me passing through Scottsbluff, I wanted to see the National Memorial there about How the West was Won, but the rain changed all that.

Speeding north on US 385, I came to understand what lures me to ride the Great Plains-the solitude it offers.  I can ride for hours alone with my thoughts.  In Alabama I try to mimic what riding out here does to me, how it transforms me into a state of hyper keen.  When you're alone on a fine motorcycle for hours and miles, with no talk radio, 300 song playlists, cell phone, and 100 satellite presets, you can lapse into a different mental state.  There are no roads in Alabama that can do that, they are too crowded and not long enough.  I know but one road in Alabama where I can ride 25 miles without stopping for a traffic light or sign.


In Alliance, the purple line of my custom route appeared, I would now be guided all the way to the Badlands.  For sure it was not the most direct route, but it would be the most interesting.  I spotted the restaurant where I ate lunch in 2007 (or was it 2006?) on my way to Mt. Rushmore.  So many miles, tours and years ago.  Any cross country ride I go on nowadays will have overlap.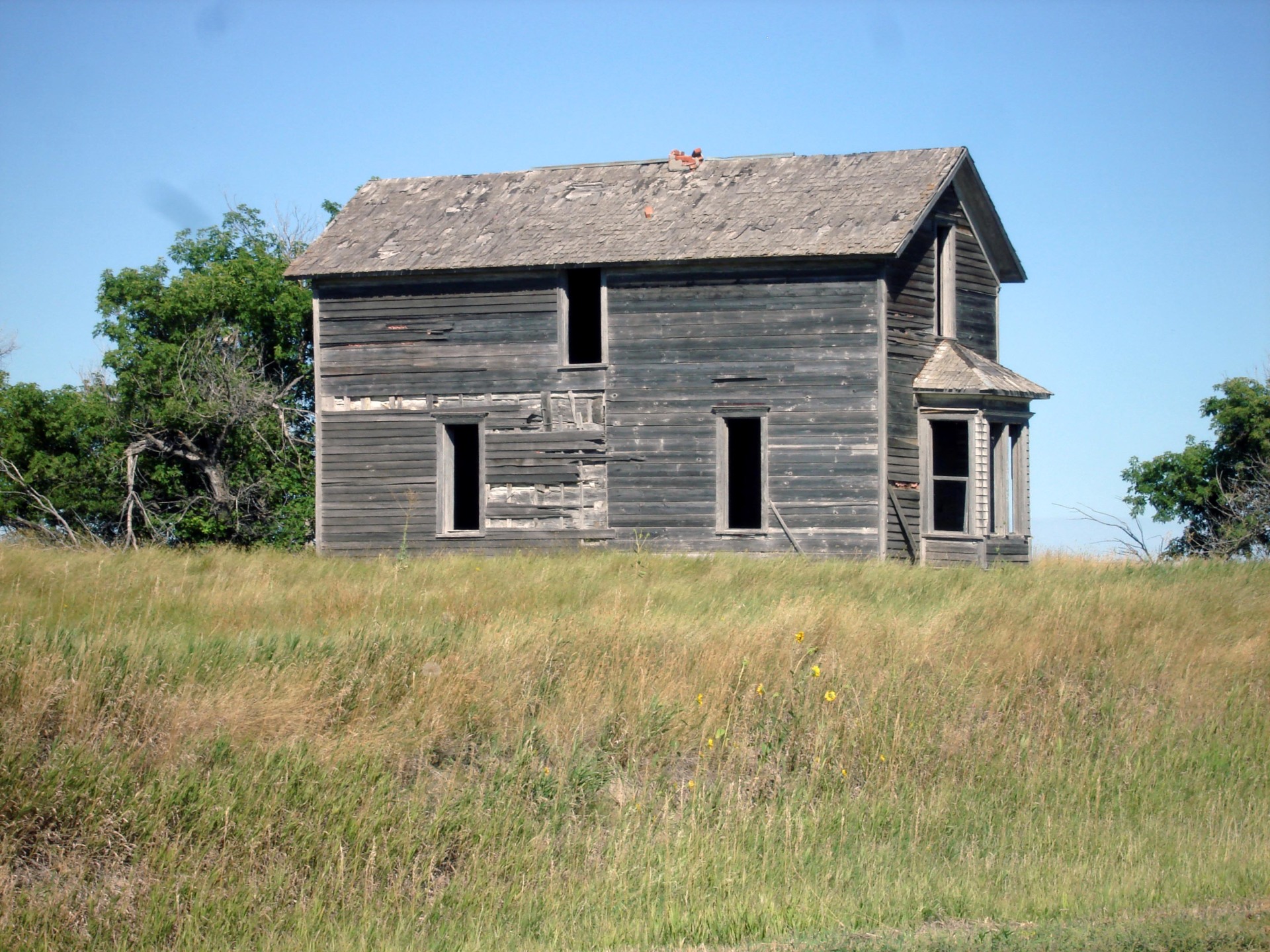 These abandoned homesteads on the Plains are everywhere.  When I think of the Plains
 I recall these images of forgotten homes and land.
​​

I jogged over to SR 87 out of Alliance and kept riding north to South Dakota.  It was more good riding.  I had the highway to myself.  It was on this route I found the Carhenge of Nebraska.  I guess they didn't want to be out done by the guys near Amarillo.  Now that I've seen both, I think Nebraska is a notch better.  At the carhenge parking lot I called Debbie, and sent her a picture.
​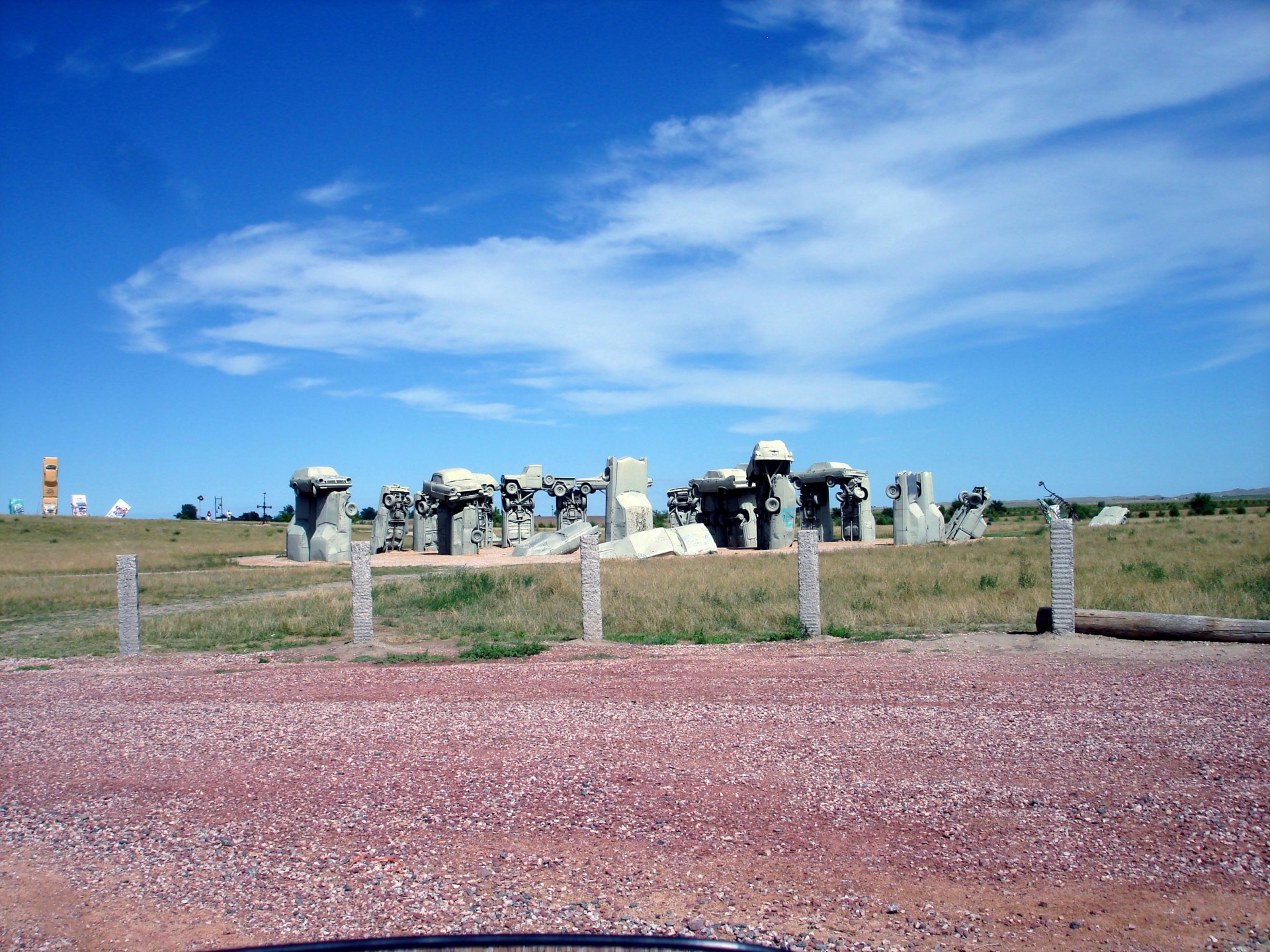 CarHenge.  Alliance, Nebraska
"What was that you sent a pic off?"
​

"It was carhenge"


"what does it mean?"


"nothing, some guy saw one in Texas so he built one here just to see how many jokers he could get to stop"
"is that a train I hear, or the wind?"


"the wind, always blows on the the Plains, you get use to it"


I explained I'd be in the Badlands before too much longer, and would call later. 


SR 87 joined up with SR 20 and I went East a few miles before breaking off and returning north.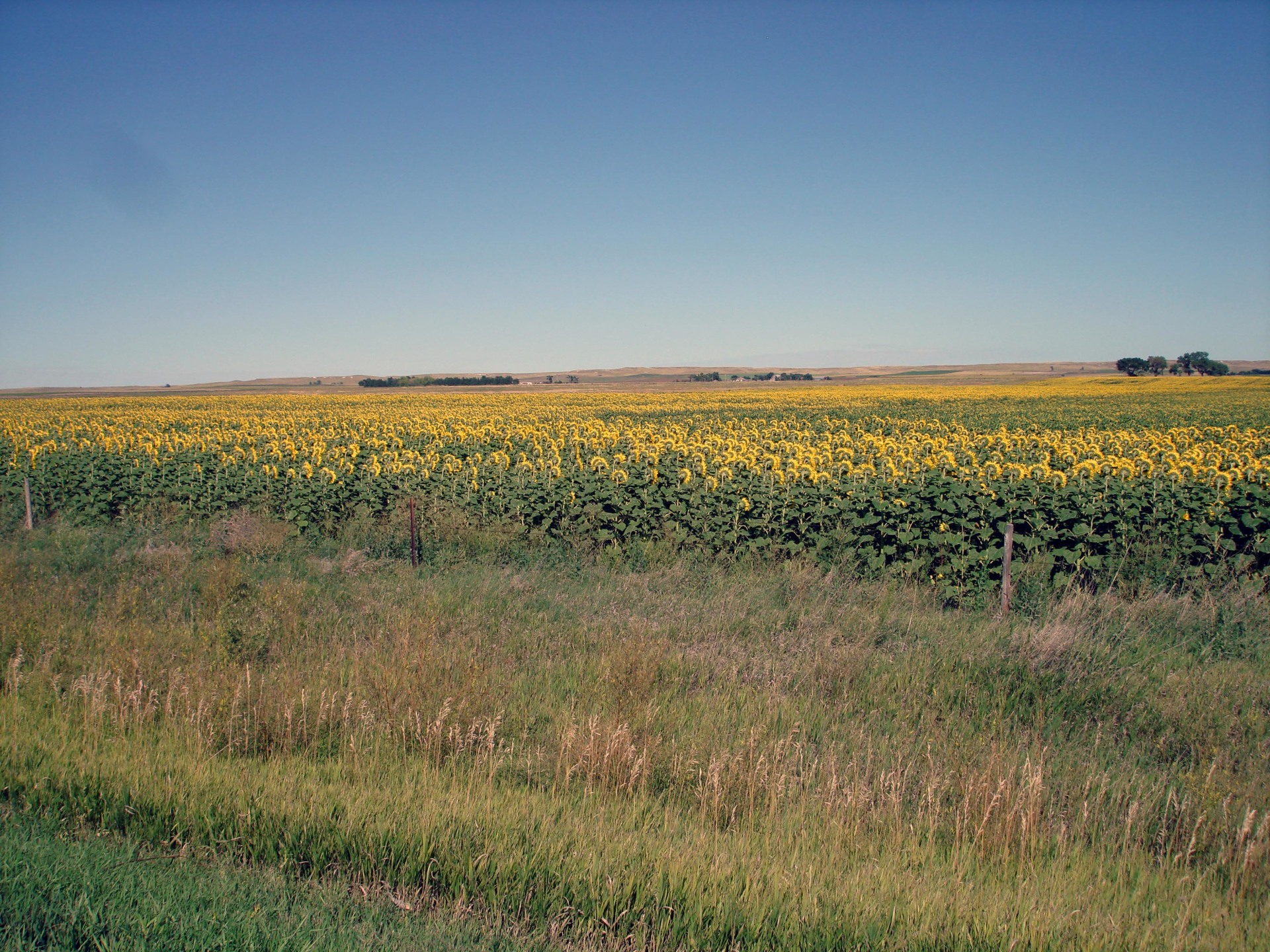 ​South Dakota, Sunflowers
The Pine Ridge is a huge Indian Reservation in South Dakota.  It is the first thing you come to when you ride into South Dakota on 87.  Right away things change.  Run down houses, some with a dozen junk cars on the property are everywhere.

The shiny red Yamaha was in stark contrast to everything on Pine Ridge.  I became self conscious about it, Kind of apologetic?


I went to Tribal 27 and tracked north to the Badlands.  It went by the Wounded Knee Memorial and Monument, but I didn't stop. Coolant temp on the FJ dropped into the 150s when the air temp dipped by cool winds of the High Plains.
" I should get to the Park with time to get some pictures and riding in."  My gas dropped to one bar about the time I thought that, and went to flashing a few miles later.  I wanted to avoid gassing on the reservation, but it didn't look like I was going to able to do that.


The wind kicked me around on 27 but I'd seen worse.


At the intersection of of tribal 27 and 2, I found a store with gas pumps, but turned right on 2 and kept going.  "I better not try it, the computer says I have 43 miles to empty, that's too close."  I turned around and went back to the store.  It took 3 swipes to get the card approved.  I pumped in over 5 gallons, so yes, it would have been very close, because I saw not one thing between here and the Badlands.


The final 40 miles to the park had magic in it.  I piloted the 1300 over rolling hills of pasture land.  The scent of fresh cut hay added another sensory dimension, and the afternoon light of a late summer sun cast the land in a glow.  I could see the Badlands off in the distance.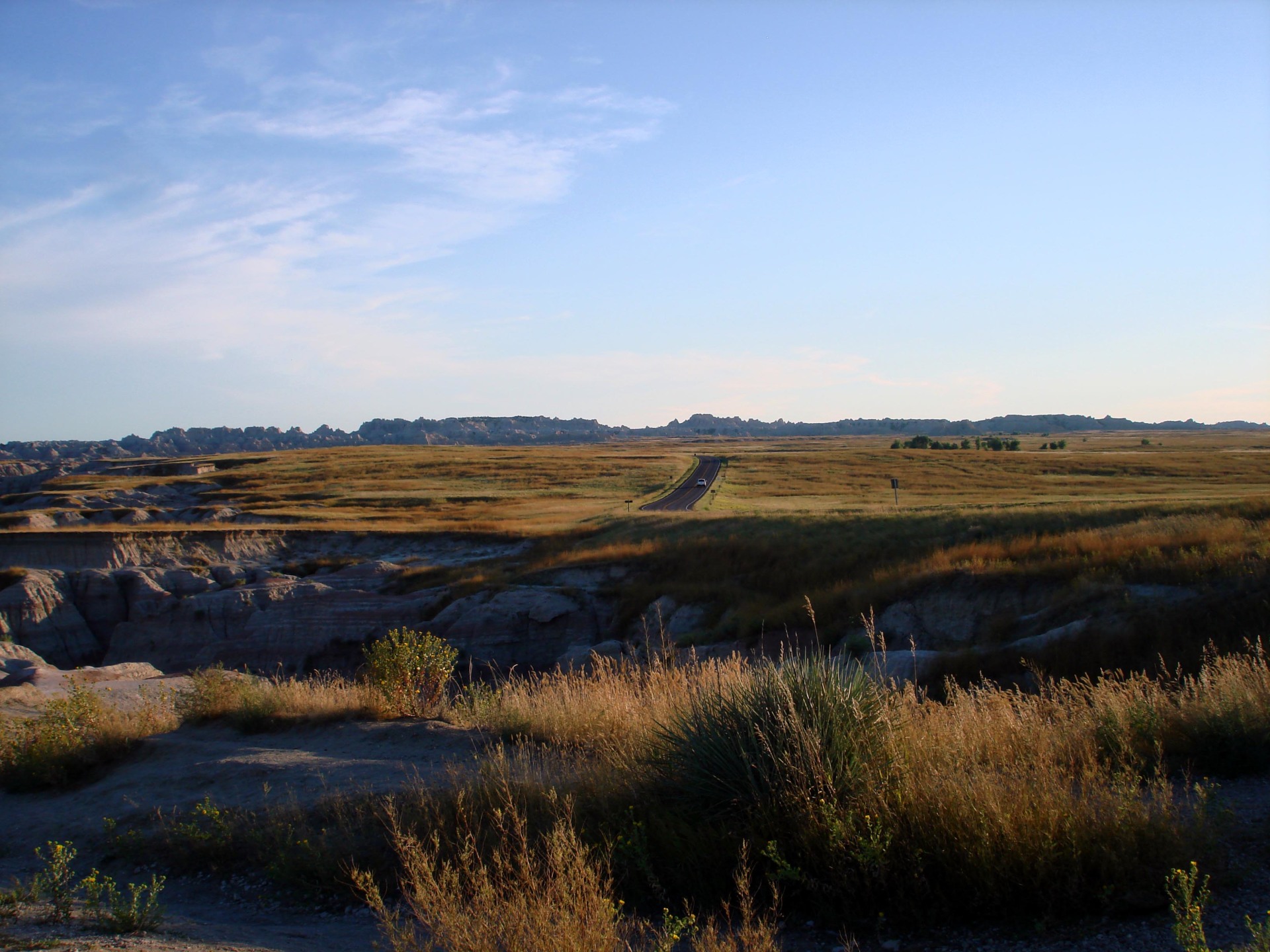 "and the afternoon light of a late summer sun cast the land in a glow."

I wasn't sure where I was going to pitch my tent, my first thought was one of the campgrounds in the park, but that would mean no showers, so when I saw the KOA just outside of Interior, I went in.  I wanted to get my campsite settled and go into the Badlands and take care of what I came here for.

The chalky dirt road led me to the office where I went in and paid a more reasonable 22 dollars, tax and all, for a great campsite.  Mine was in the back under trees and grassy.  


I shut the FJR off after a 477 mile day.  It was good.


Unloading my stuff I noticed my Rand Mcnally was gone! I had it under the bungee cords because it really didn't fit anywhere else, but also made it easy to get to.  "I'll find another at some truck stop down the road." The constant wind must have pulled it out, and now its out there on the prairie somewhere.  I rolled out the therm a rest so it had plenty of time to air up.  Tonight would confirm it was leaking air.


My tent was wet and I wanted to set it up early so it could dry out.  I got my campsite sorted out in about 20 minutes and took off for the Badlands, about 5 miles away.


The FJR really felt good with no touring load.


No one was taking entrance fees when I came to the gate, so I got a break and saved 10 dollars.  The park is not all that big, and I was pretty sure I'd get to see everything I wanted before dark.  I noyiced it was a good decision to bunk at the KOA, the campground looked crowded.


I posted up my Garmin Camera and captured some nice video as I rode the park.  The rock formations guarded the road as I rode to the first turnout.  Again, another lady commented on the the 1300, "that's a pretty bike."
The following pictures will tell the story of the Badlands: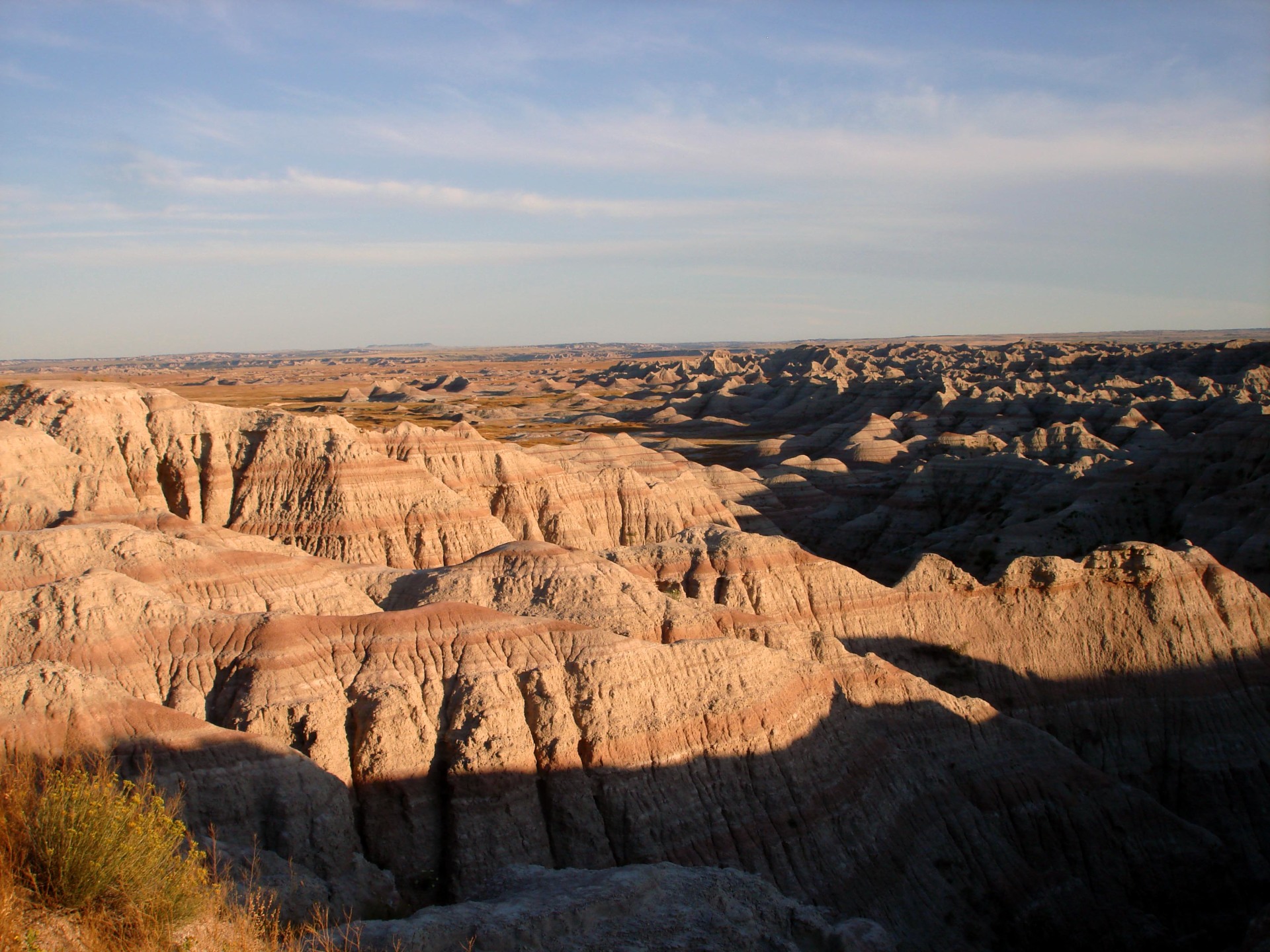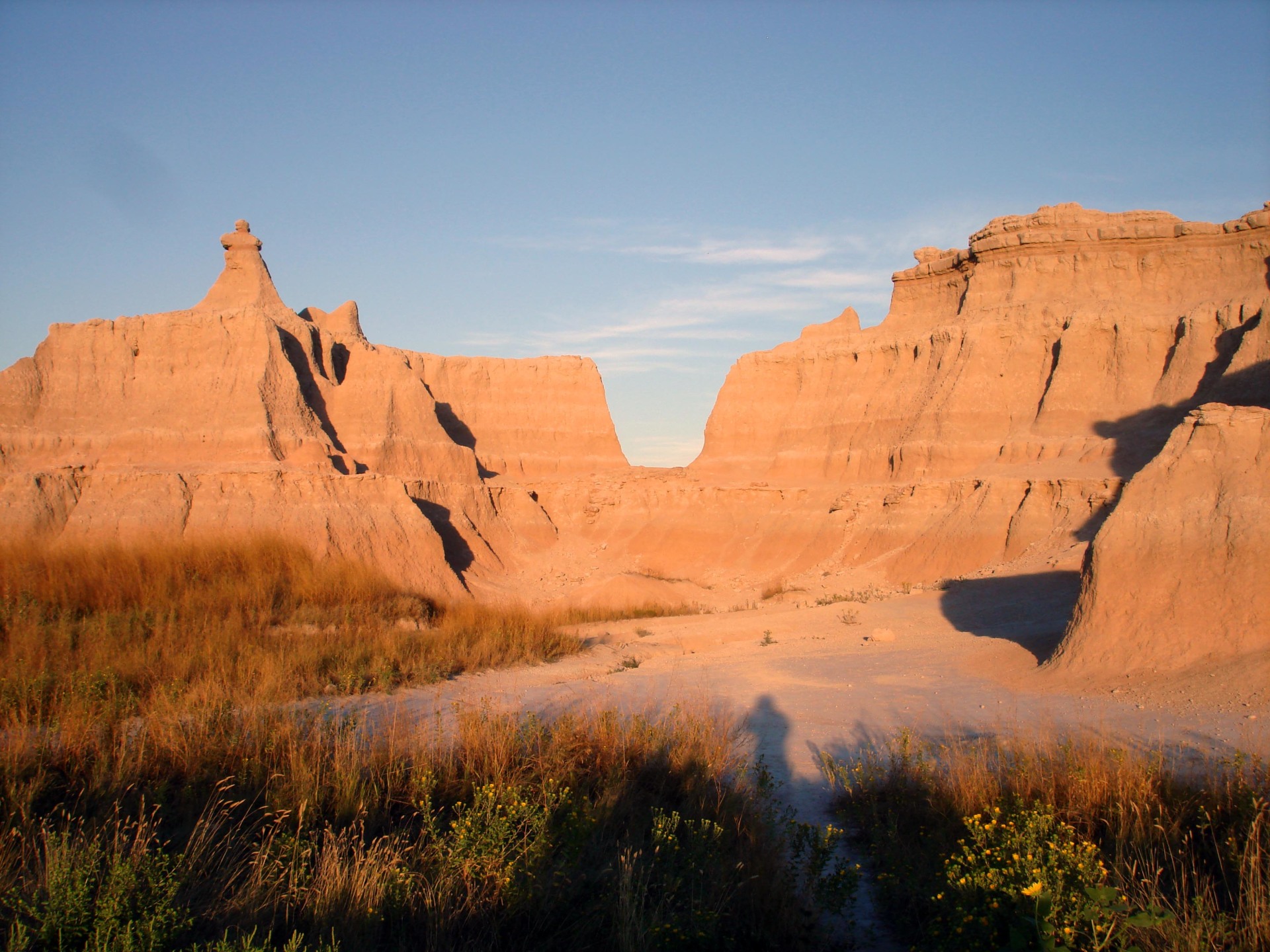 The Rock formation known as the "Window"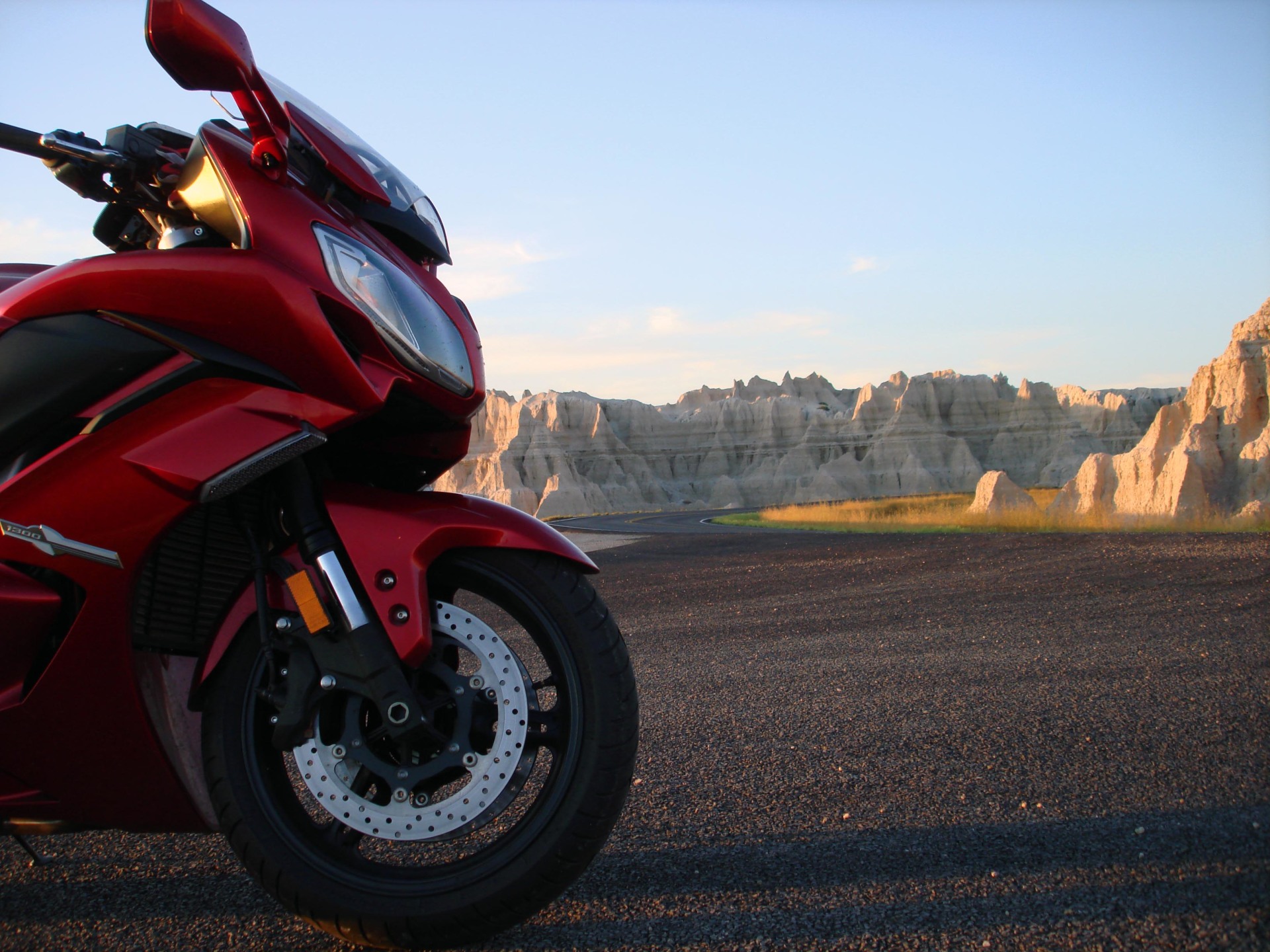 ​       The FJR and I waiting for the sunset.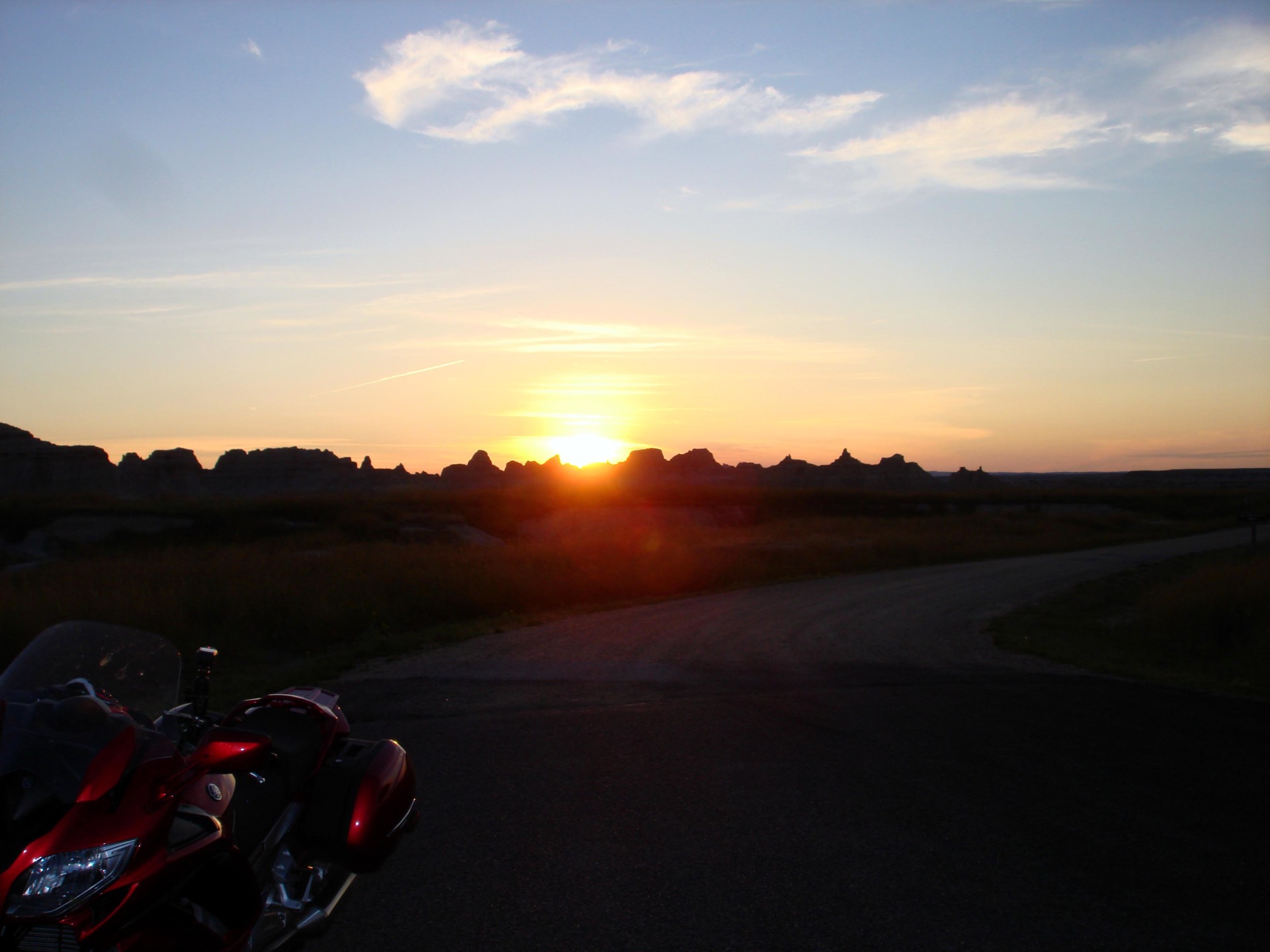 ​   The sun slips down on the FJR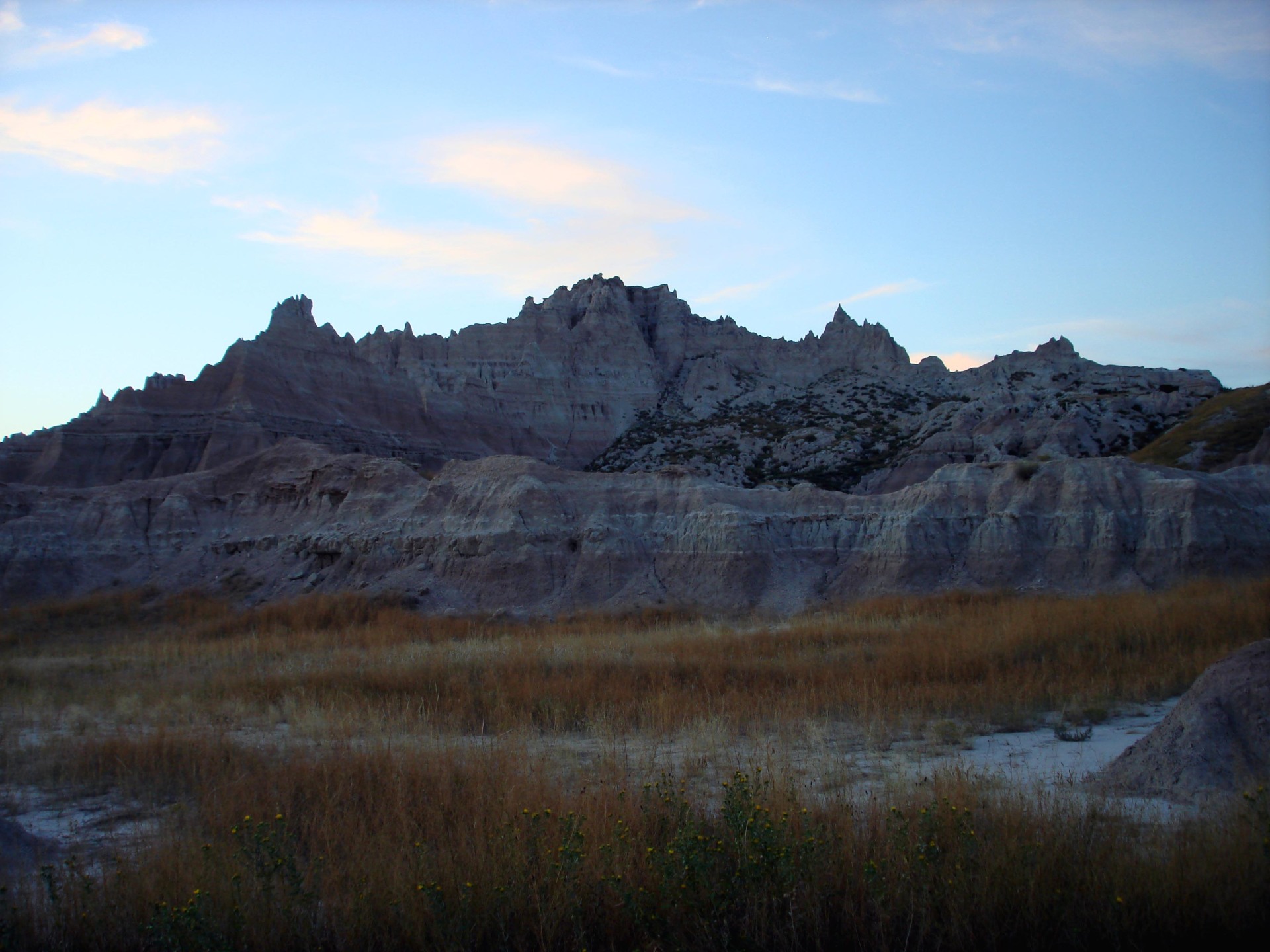 With the sun down, the formations turned purple
               
​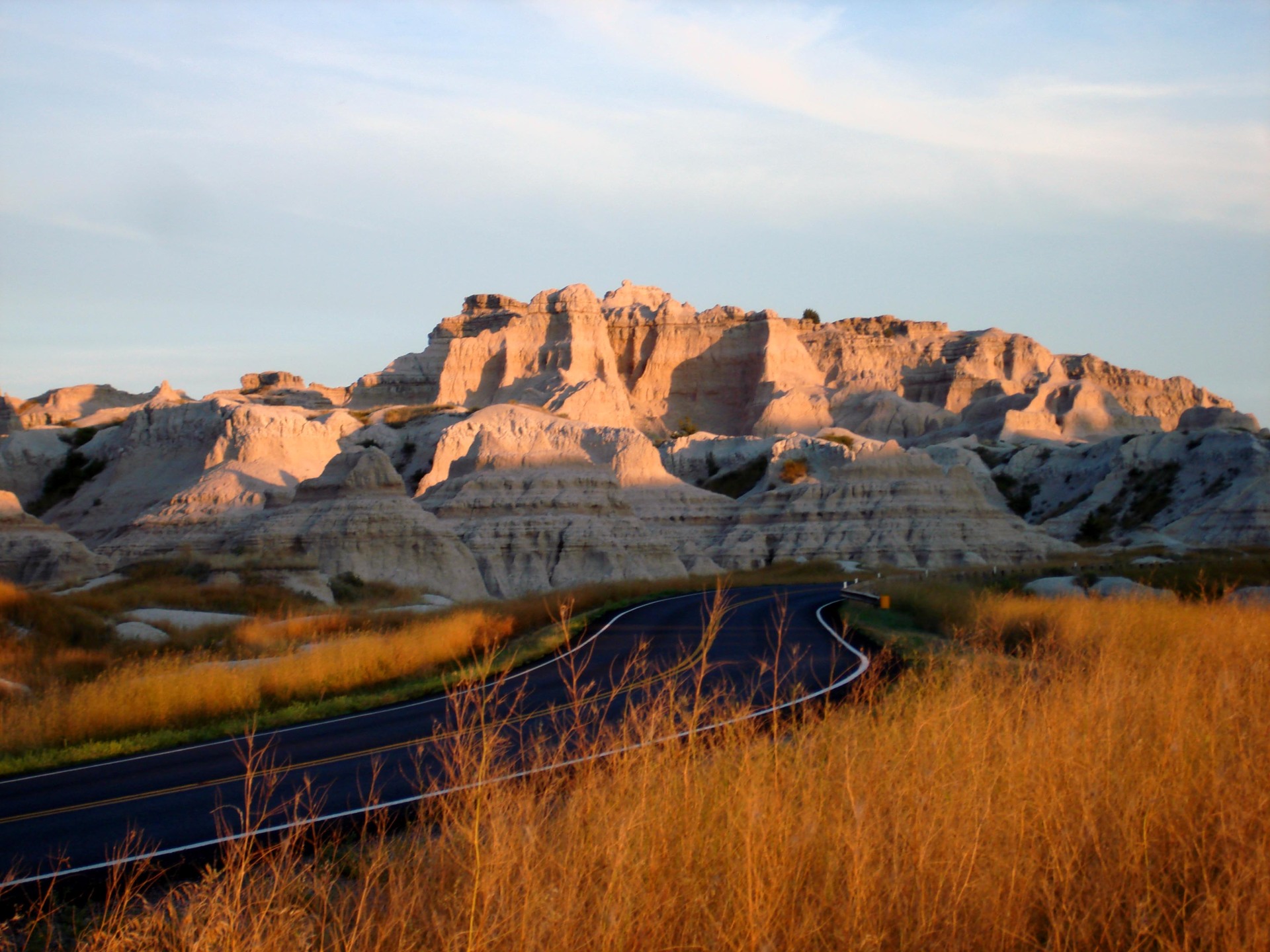 ​The quiet beauty of the Badlands.     
​​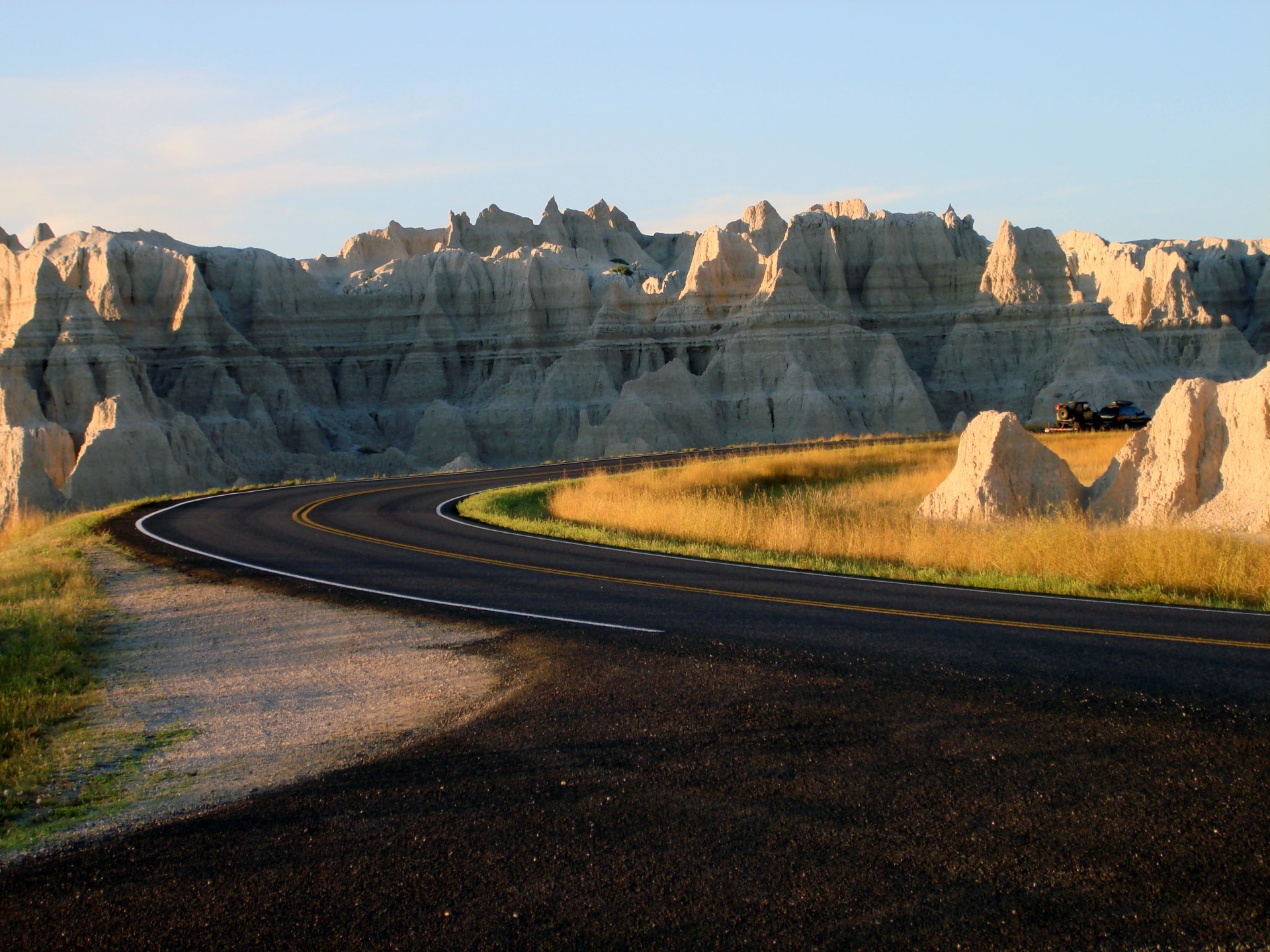 ​
                   SR 240 through the Badlands
               
​​​

I took some of the best pictures of my Long Riding career at the Badlands.  My timing was perfect and I didn't feel rushed.  The park was virtually empty.  I felt so very lucky riding through the park.  My years of Long Riding have given me a love of the National Parks that heretofore didn't exist.  All of us should be appreciative of those that came before us who had the foresight to make sure these places are preserved.

With darkness about to cover the land, I left the Badlands for the KOA.  Interior is a few stores at the crossroads just outside the park.  I stopped at a less than busy store for a Mountain Dew and candy bar for later back at the tent.  I wasn't hungry enough for supper, but I really didn't see a place for that anyway because it was end of season and everything was closed.


On the ride back to the tent I felt the tour had peaked.  I'd seen Rocky Mountain and Badlands National Parks.  I got in some great riding, had quality riding all over the Midwest.  Summer was also coming to a end, and soon bitter cold winds would be blowing across the High Plains.  I'd be long gone by that time.


The campground was dark when I arrived, and the bright lights of the FJR made the RV guys squint when I came by.  I took a shower and called Debbie, telling her what a good day I had, and was on the way home in the morning.
In the tent I was able to stay awake long enough to watch one of the tv shows I had downloaded to my Ipad, then I rolled over and went to sleep.
​
                                                     
Next- riding south for home!  Long day in the saddle