Day 3
August 23, 2014
Glen Elder State Park
Near Cawker City, Kansas

 
I poked out of the tent soon as I had enough light to see.  I was still reeling from the storm.  I put my wet boots on and stood up.  The Eureka looked pitiful with poles sticking out the top, with torn outside fabric, but I was thankful  just be ok.


All my gear was soaking wet.  My schedule today puts me in Colorado Springs by mid afternoon at friend's home.  " I can regroup at Pete and Nora's, wash my clothes, dry my gear out and try to fix the Eureka."  I was looking at 350 easy miles across the balance of Kansas, and Colorado Front Range to get to Colorado Springs.


My clothes were wet, but had no dry to change into.  The Roadcrafter was soaked also.  I went over to the FJ, and turned the switch to check air temp.  It sat on 59 degrees.  A little cool to be in wet clothes, but could have been worse.  "The only way I can dry out is to get riding, I'll just have to pack all this stuff wet."  I couldn't find the can of Plexus I left on the table. I scanned the area and spotted it 25 yards away in some brush.  Wind blew it off the table and rolled it till it found resistance.


I zipped into the wet Roadcrafter and it felt awful.  I had no signal to check current weather, but I was more interested in last night's weather.  I wanted to see what kind of storm came over me last night and were it was going.  I could see dark clouds in the East.


My Rand McNally Road Atlas was wet, "not sure if it's gonna make it."  I packed it under the flap of the Motofizz.   With everything packed and ready, I hit the starter on the FJR and reset trip meters 1 and 2.  With the bike warming up, I went back over the campsite to make sure I didn't leave anything.


At last I was ready to roll out and get back on the road, and leave the misery of Glen Elder behind.  One thing I've learned about being on a long ride, there's always the next day.  From the campsite back to the highway close to 2 miles.  When I got to the highway the GPS directed me to turn left and keep riding west on US 24.  It was 7am, under partly cloudy skies.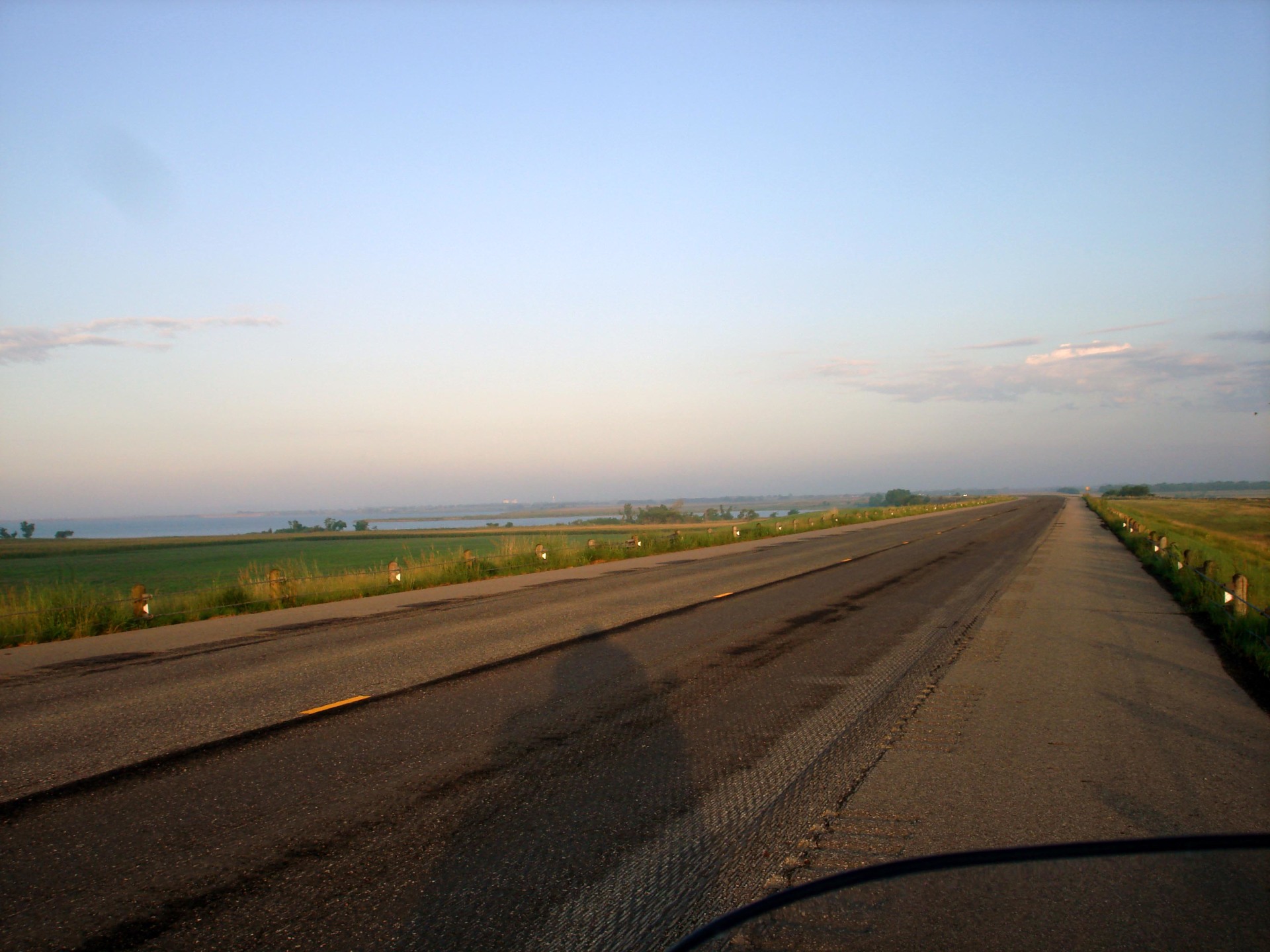 ​U.S. 24 East near Glen Elder State Park
​
The Yamaha was quickly up to the 73 mph cruising speed I was using on the Kansas prairie  The speed limit is 65, but I always take a little extra, and so far no one has said anything.  I was chilled in the wet clothes, but I had no crosswind out of the south like I did yesterday, and that was a good thing.  For the first time this tour I had on the leather gloves instead of the summer.  I had a few miles of fog but the sun burned it off rather quickly.

I settled in for the ride West.  Most think of Kansas as plate glass flat, but that is not the case on US 24 near Stockton, as I rose and dipped with the contours of the land.  The sun projected my shadow on the pavement in front of me.  The feejer has distinctive mirrors that makes its profile easily identifiable. 


The Roadcrafter dried out quick in the winds of Kansas, and it was a fast ride into Stockton where I decided to take my morning break earlier than normal.  The city is more than what you usually find out here.  US 24 was Main Street through a rather long business district.   Traces of cobblestone are still in use.  I spotted a con store a block off Main Street so turned left to get gas and a snack.  Having not eaten since lunch yesterday, I was a little hungry.


The J Mart only had 85 octane.  It would have to do.  I topped off and moved to the side.  A bank was across the street, and I walked there to pull out a little cash, then went back across the street to the store and bought a cliff bar and a drink.  It was Saturday morning and the good folks of Stockton were busy.  I took a seat on the pavement on the north side of the building, and proceeded to a well deserved snack and Mountain Dew. I had a 4G connection so first thing I did was pull up the AccuWeather app to see what happened last night.  "No rain in the area?  Can't be."  It was then I noticed the app failed to refresh the map.  I was looking at a map from 2 days ago.  It did the same thing yesterday, and why I didn't see all that rain to the west of Elder.  When the map refreshed I saw a huge storm covering half of Kansas and into Iowa.  East Kansas was getting hammered by the rain that went over me last night.  "No wonder it lasted 90 minutes, system is HUGE."  The map did show rain in the mountains west of Colorado Springs.


I sent Debbie a text, in lieu of getting into a long conversation.


"Halfway across Kansas this morning"


"weather good?  I thought I saw some rain there on a weather map on tv"


"weather is good."  I didn't want to worry her so didn't go into last night.


"how's your new motorcycle doin?"


"awesome so far, its a great bike"


"I'm worried more cos ure on a bike not familiar with"


"don't be, its not a big deal for guy with all my miles."  Didn't tell her how I kept hitting the cruise switch to raise the screen.


"when will you get to Pete and Nora's?"

About 3 pm Alabama time, but I'll call ya at lunch"
"Ok, please be safe"
"I will"

If you've been to Stockton, you've been to America.
​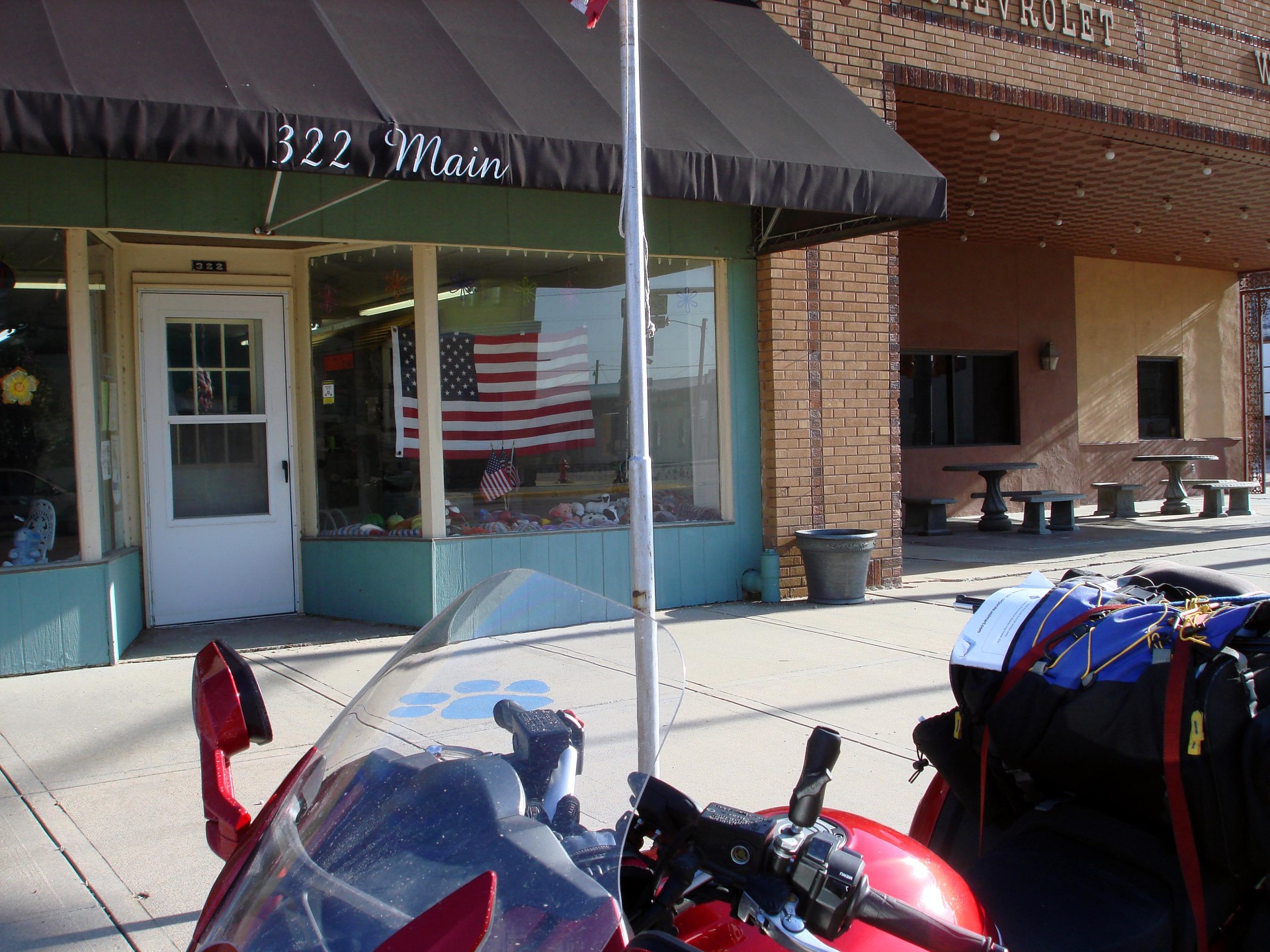 "If you've been to Stockton, you've been to America"
​
The ride across the prairies seemed to go on forever.  I kept my mind occupied with things I only think about while riding.  In between, I toggled the handlebar controls through the FJR's computer displays.  Stuff like the mpg from my last tank of gas.  It was showing 46 something and the current mpg was 48.  Temp was in the low 80s and no humidity.  I broke through the humid line somewhere in South Kansas yesterday.
A strap from the Motofizz was flapping in the wind, it wasn't hurting anything, but it annoyed me.  I left the road in Menlo when a local store came into view.  I pushed the signal right and came in to a stop.  An old man was sitting on a bench out front.  I fixed the strap then went inside for a gatorade.  When I came back the old man invited me to sit down next to him.  He proved to be one of the most interesting characters I'd ever come across
.
"Pull up a seat young man" 
 
"alright"

"where ya headed?"


"Colorado then South Dakota"


The man had a stub where his right hand use to be.  His eyebrows kind of bent around his head.
  
I asked, "so you sit here often?"


"yeah I come into town to pick up my mail everyday and usually come by here"
​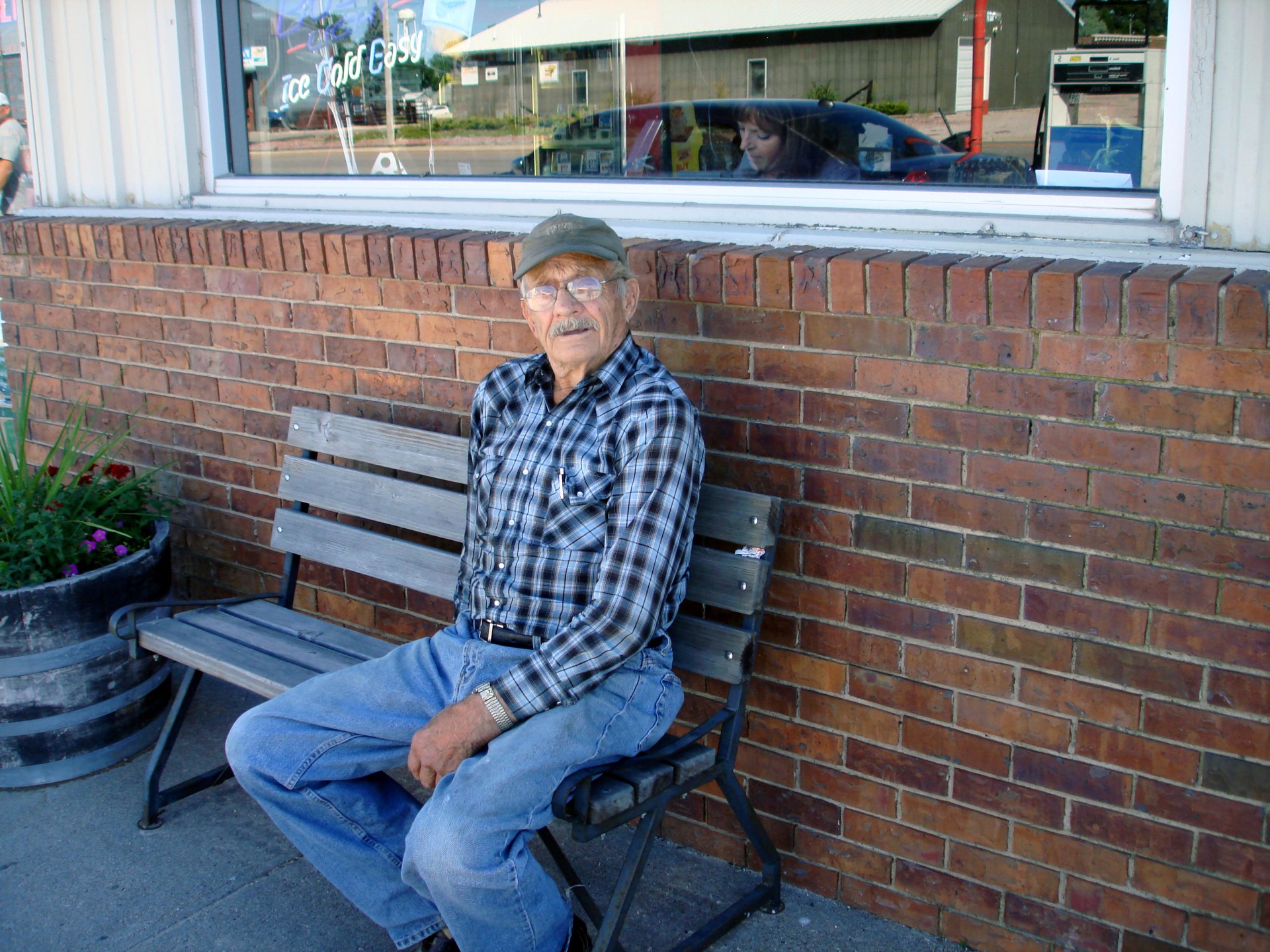 The People along the way are important to the Long Rider.
​
He went on to tell me his life story but he was short about it.  He'd been a farmer, then dairy business, worked for the city of Menlo and a few other jobs.  His wife died 6 years ago. He was 87 years old.  But my curiosity got the best of me and I asked-

"So how'd ya lose your hand?  Accident or something at birth?"  If I had to guess it was going to be a farm accident. I was right.


"I lost it back in the 50s in a corn picker"  He then went on to tell me one of the most harrowing stories I'd ever heard.
"I stuck my hand in and in a second it was gone.  I yanked it out it was hanging on by 2 cords.  Not much blood and no pain.  When I looked down and saw it I almost passed out.  I gathered myself, wrapped it my coat and staggered across the field to get on tractor.  From there I made it back to the house, where my father threw me in the truck and took me the doctor here in Menlo.  We had one back then.  He did everything.  He was closest thing to a emergency room we had.  He unwrapped it and told me he was going to cut the cords.  They were some kind of nerves and when he touched it I almost shot through the roof.  He gave me a shot to put me down and removed it."


"He amputeed your hand in the office?"


"yeah"


"you know if that happens today good chance they coulda saved it,"  I said.


"yeah but back in them days amputations were a way of life on the farm.  There were no safety shields or anything like that on equipment.  There are/were dozens of men with something missing walking or hobbling around here.  I wasn't alone."


"I'm sure"


I knew farms were dangerous from my years in the fire department.  I'd seen several amputations, but oddly more fatalities by overturned equipment.


"well it looks you went on to have a long, good life"


"I did, no complaints"


"I better get going, you take care"


"Sure thing, becareful out there"


Colby is the last place of any substance on the Kansas side of 24, and soon after the highway merged onto I-70 and the race was on.  Speed limit across the Front Range as posted is 75mph.  The unique Colorado State Line Marker on I-70 has a turnout for folks to stop to get their picture.  I passed on it and motored West.


I was running 85 mph and confident nobody cared.  With the screen low the FJR has a lot wind bucking around the head in the wakes of 18 wheelers.  I put the screen high and rode with it like that on I-70.

Even though I was running 85, a SUV from NY shot by me.  I gave him some room and fell in behind him.  If he wanted to shake the leaves, I'd let him.  I gave him enough leash for the cops to get him and not me.  He was doing 100.  "Man this joker can't be gettin 25 mpg, but I'll ride with him till 1,-he gets pulled over, or 2, he needs gas."

We took I-70 on in tandem.  It was the first time this tour I felt like I was really getting somewhere.  The West is so vast and open, it can absorb 80 mph easily, but at 100 you can feel the land passing around you.  We remained a duo all the way to Burlington, where I exited for lunch.  I was surprised at having to stop before him.  I was now on the FJR long enough to figure out normal cooling temp is 163-170.  On the open highway with good wind flow where it settles.  At 100 mph and better, for 40 miles or so, the coolant didn't budge of 165.


The Pizza Hut was a half mile off I-70.  I had the buffet.  The store had just opened so everything was out fresh and good going down.  I had 3 slices and some pasta.   On ESPN, Hoover, Alabama was playing a team from Miami.  The temp in Hoover was 95 degrees, so add about 3 for Prattville and I could see it was really hot and sticky there.  Here in Colorado it was 77 perfect degrees.  Accuweather put the dewpoint (which is more of guide to moisture in the air than humidity) at a ridiculous 30.  In Alabama it will be in the 70s this time of year.


My phone buzzed with a incoming text.  It was from Nora-


"where R U?"

"Burlington"


"where's that?"


"Front Range"


"?????, just tell me when ya think you'll get here"


"about 2pm"


"you have my address in your GPS?"


"ok sounds good, look forward to seein u"

"same here"


I knew Pete and Nora from their time in Prattville.  They went to church at St. Joseph's and Debbie and I became good friends with them.  Pete was assigned to Maxwell AFB for a few years before being sent to Colorado Springs in 2012.
I was sitting at my table when a young man with his girlfriend came in and stopped by.  "That's your bike out front?"


"oh yeah"


"that's a dam nice bike, I bet it'll go"


"you have no idea, and what makes it so good its comfortable"


"yep thats a nice motorcycle, I have a FZ but that FJ is something else."


His girlfriend pulled on his arm, signaling she wanted to go.  He responded by saying- "hold on a minute."
"you rode it from Alabama?"


"Yeah, and I came the long way"


His girlfriend said, "Mister don't give him any ideas, all he wants to do is ride"


"dang baby, just look at his helmet!"  It was the first time I've ever had a comment on a helmet.  But it would not be the last.


"It was good talking to you, maybe someday I can ride cross country"


"you hang in there bro"  And he went to his table.


It was time to get to Colorado Springs.  I brought up the address tabbed it, and had my route in a few seconds.  I knew how to get to Colorado Springs, but once there I'd need the details on how to find the house.


I went back on I-70 West, with half tank of gas.  In Limon US 24 peeled from I-70 for the final run into the city.  Riding 24 West the mountains came into view.  I still get chills when I see them, it lets me know my long ride across the Plains is almost over.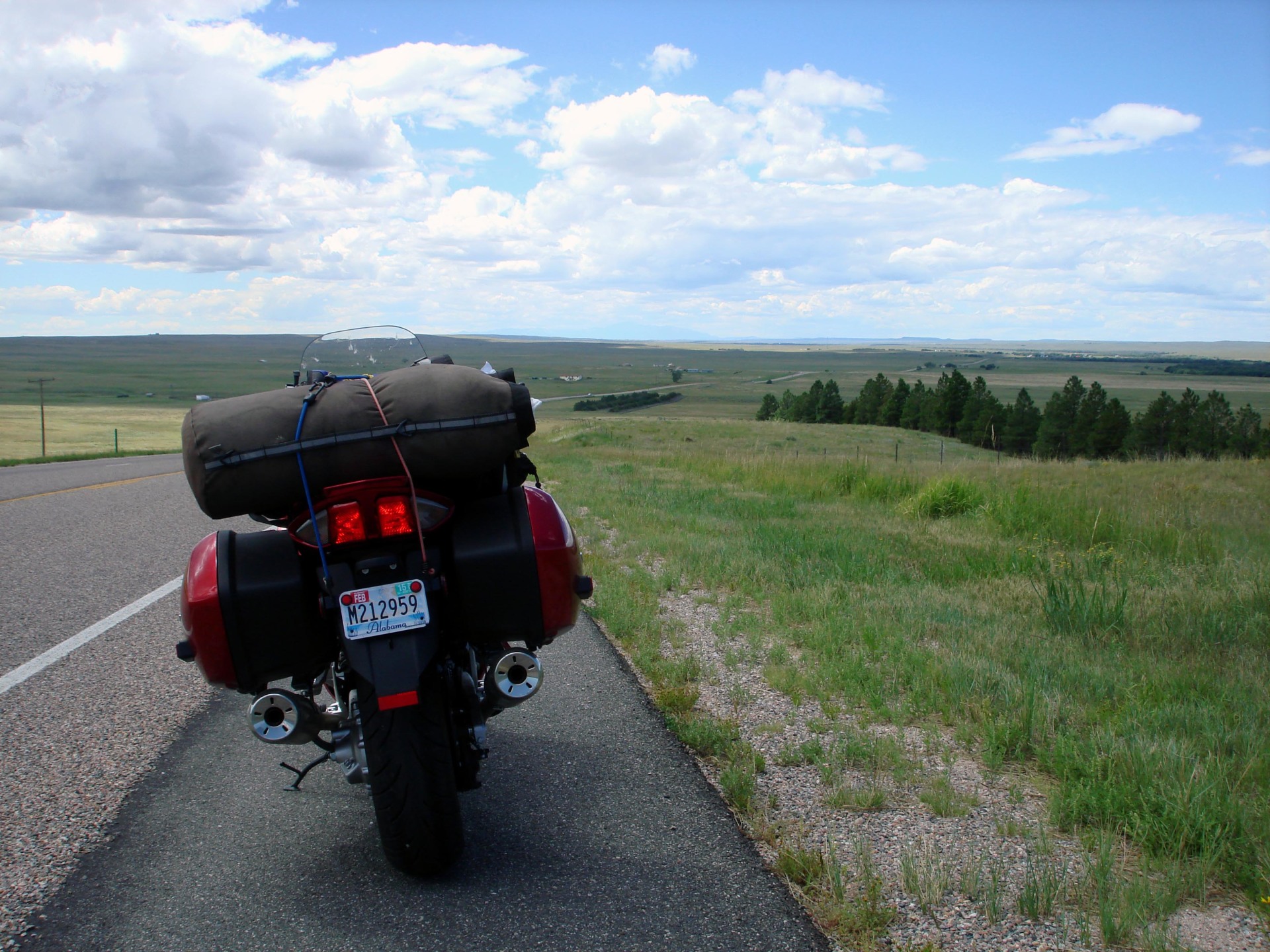 ​  I love the open space of the West.  The Yamaha FJR taking on the Colorado Front Range.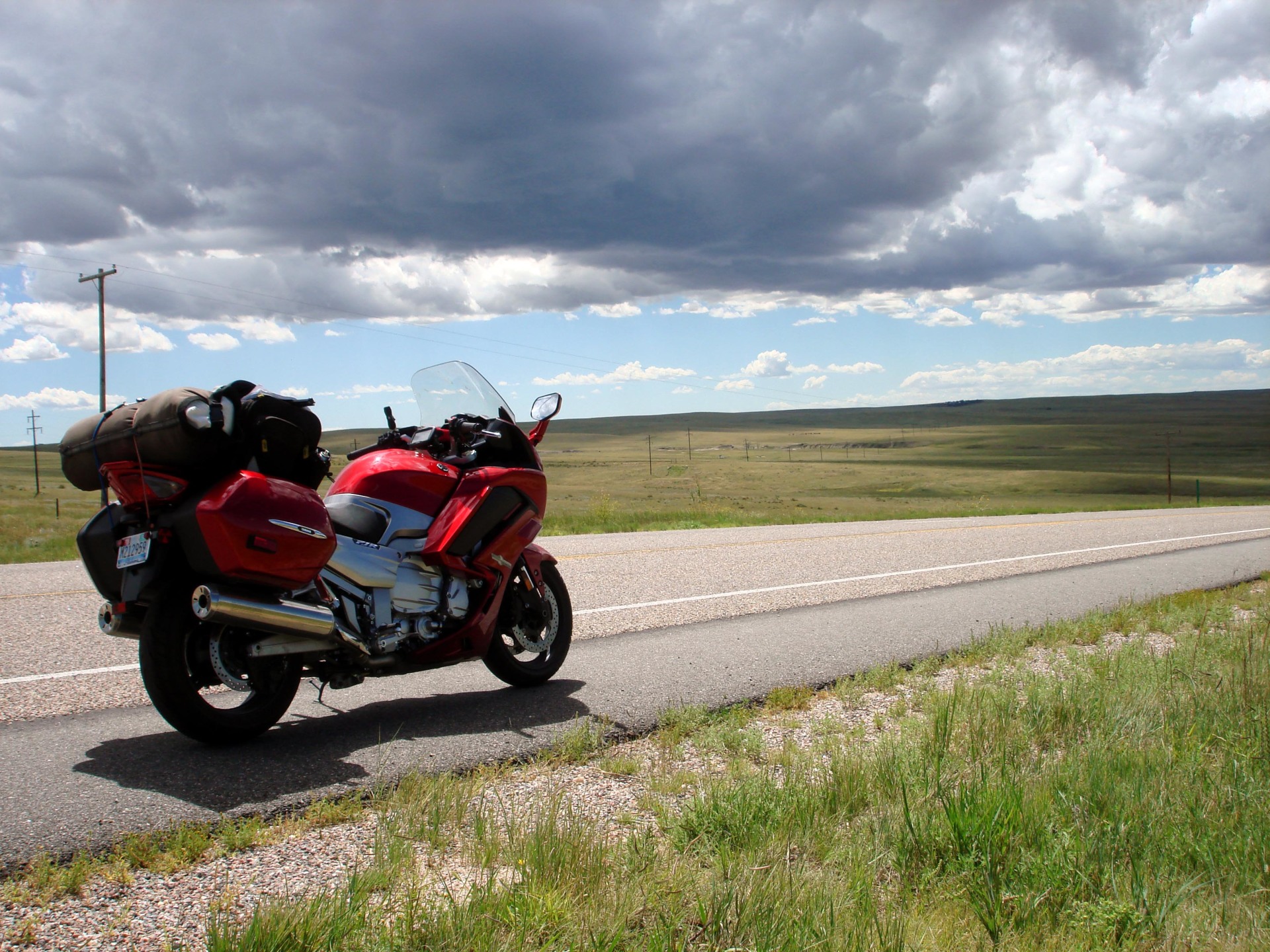 ​                     The ride across the Front Range was the stuff of legends.
Land out here is not measured in acres but in miles.  I enjoyed the final few miles of the Front Range.  Coming in from the East there was no suburbs, it was WHAM, Colorado Springs City Limits.  The Zumo directed me off the highway to surface streets.  I made several turns and twists.  Never would've found the house without GPS, it was complicated.  Turn right here, left there, red light go straight etc.  The 390 took me right to it, and Pete saw me when I pulled up and came out to welcome me.
​​

We shook hands and I told him about last night.  Nora said I was early as she stepped out.  We had a nice reunion.
"lets get you unloaded, and dry your stuff out."  Pete announced.


I unpacked my tent, and bed roll and went out back and spread it.  "It will dry quickly in the warm Colorado sun and thin air."  My tent and flap were still soaked and my sleeping bag, and pad were too.  We spread all that over some lawn furniture to let the climate do its thing.


Next I unloaded the Motofizz and turned on the washing machine.  While my clothes were washing I relaxed with Peter and Nora in the family room.  They have a great place in Colorado Springs.  They had planned on coming back to Prattville when Pete retired but after a couple of months in the Springs, that is not going to happen.


Pete made room for the Yamaha in his garage, and while I was in the shower he fixed my tent pole.  He reinforced the broken pole with new metal sleeve, it will be a little longer, but that shouldn't matter.  He's such a great guy and handy with his hands.


By the time I was out of the shower all my camping gear was dry.  It would take 2 days in the humid air of Alabama to do the same.  We inspected the ripped tent.  It would be a major operation to try to repair it. "I think I can finish this tour with it, only need it 2 more nights, the last 2 I'll be in a motel room."


I called and had a long chat with Debbie.  She told me she had a talk with Nora and if I made a mess to let her know.
Our plan is the 5pm Mass and then a outdoor function at friends.   After the long, hot shower and dry clothes.  I felt human again and ready for whatever the evening might bring.


I finished the day at 380 miles.


The service was over at 6 and we drove to their friend's house who were hosting the patio party.  They had just remodeled their backyard and were anxious to show it off, and for good reason, it looked outstanding.


About 50 people were on the scene, and though I knew no one, I felt at home.  A few learned I'd come from Alabama on a motorcycle and came over to chat.  They thought it fascinating I was a Long Rider.  I told a few stories from the road, and seemed to have their attention.  It was great.


Supper was by a catering company hired by the hosts.  Not the best but ok.  It was some kind of chicken.  A musician, who reminded me of James Taylor, 
did a good job keeping us entertained.  Almost everyone there from my generation so the soft rock and folk he was playing went over well.

When the sun went down I was cool in my shorts and polo shirt.  The weather reminded me of Redwood City, California when I visited Dennis Ryan.  No heat, no humidity and no bugs or mosquitoes.  The house was totally open, all the doors and windows were open.  You don't even think about that this time of year in Alabama.  You don't have patio parties in August back home.  Heat and humidity will melt you, and what's left the mosquitoes will feast on.


I watched 2 middle aged ladies who had a little too much wine dance.  They were funny.  All in all it was a nice diversion from the road.  When Pete and Nora asked me to stay another night I seriously thought about it.  If this was a few years ago and I didn't have a certain date to be back, no question I lay over a day.


But as it was I have a short ride tomorrow so plan to sleep in a little late, and continue my ride. 


We left the party about 10pm and returned home, where we spent time talking about things in Prattville and of course long riding.  Pete seemed excited by that.  Pete and Nora are enamored with the fact my son is in the seminary.  Both are devout Catholics.  I apologetically dismissed myself and went upstairs to bed.  I was tired, and it hit me all at once.
                                                                  


Next Day 4- and into the mountains.