In the beginning I wasn't much of a camper, but over the years I've become pretty good at it.  I like camping, not only is it a great way to extend a tour, but it just seems to go with Long Riding.  Staying in motels every night up to 3 weeks gets expensive quickly.  Not only does camping save me a lot of money, it allows me to witness beautiful scenery, and enjoy some peace and quiet.


There is nothing like a peaceful campsite in the Sawtooths next to a mountain stream, plus my tent and sleeping bag, are clean, that is not always true of motel rooms.  Camping is not for everyone, and the related equipment takes up a lot of room on the bike.  If I'm camping it takes me 30 minutes to break down camp and load the bike, from a motel room about 15 minutes, most of the extra time is due to repacking the tent.  The tradeoff is the bike is right there in front of you and easy to load.


Tent- Update 2014- A Kansas thunderstorm in 2014 killed my long serving 2 man Eureka, so it was time to seek a replacement.  I shopped the internet for a few days, and decided on the 2 man Marmot below.  There were many good options to choose from, and each of the major brands are good choices, so it just came down to the fact I liked the look and color of the Marmot, and all the positive reviews the unit had from backpackers.  I limited my shopping to the specialty stores that sell backpacking equipment.  Any equipment used by serious backpacking folks will work well in the world of moto camping.  There is no need to reinvent the wheel on this.  Backpackers only use light, and easy to pack items.


I find the Marmot to be a excellent choice.  Snap to set up, and packs easily into my right pannier.  The unit has 2 inside pockets that I make good use of.  Also has several loops on the ceiling to tie various things to like a flashlight.  I had no problems with water in 2 rain storms.


I recommend sizing up 1 size in tents.  Meaning if you're a solo rider, buy a 2 man.  Riding 2 up?  Buy the 3 man etc.  Go with the 2 door tent.  Trust me, it will make your life much easier having 2 doors.  Make sure any tent you buy has at least 1 outside vestibule, preferably 2.  Outside vestibules are great for storing your dirty boots, and other gear you want to keep close and out of the morning dews, but not in your living space.


Marmot includes the footprint pad with the tent, so figure that in when shopping.  A footprint pad keeps the floor of your tent from being punctured by stuff on the ground, and generally makes the tent last longer.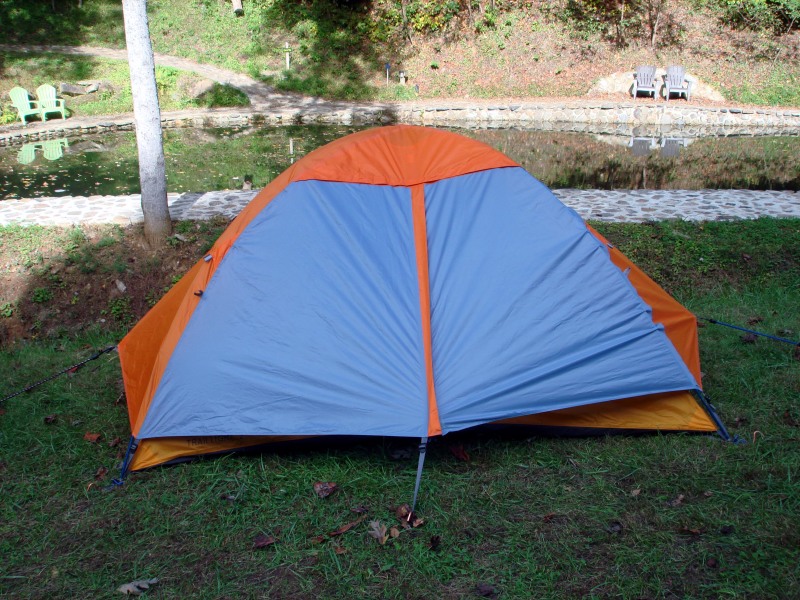 ​The 2 man Marmot Trailight in the Blue Ridge Mountains
Sleeping Bag-  I'm still using the original sleeping bag from my first West Coast Tour of 2001.  It is a Wiggy, by Grand Junction, Colorado and rated to 30 degrees.  I'm NOT going to camp if its any colder than that, so I'm not carrying the extra weight and bulk of negative 10 degree bag.  I camp in summer, the nights are warm.  Out west, where I do most of my camping, the temps might dip into the 50s and the Wiggy is just right.  I have had a few cool nights in the mountains, but not ever had anything I'd call cold.  The only exception is the Blue Ridge in fall.  It seems the weekend I'm there a cold snap always rolls in.  When that happens I rent a blanket from the campground for a dollar, throw it over my sleeping bag, and I'm plenty warm.  I stuff my sleeping bag and pillow in the hole of the rolled up sleeping pad in the H2W bag.
Sleeping Pad. 
Update 2014- I used the first generation Therm a Rest over 10 years.  It finally gave up the ghost in 2014, when it would no longer hold air.  I upgraded to the Exped Synmat 9.  Beds have come a long way from 2001, when I took my first long ride.  There is no comparing a generation 1 pad to the latest.   The Exped is far superior to any old fashioned therm a rest.  The Exped is thick and comfortable.  If you can't sleep on a Exped, then I don't know if anything will work for you.​


The unit is easy to roll and store, and takes up much less room than my old therm a rest.
  
I sleep in the fetal position and the Exped works for me.  The therm a rest was better than the ground, about all I can say after using the Exped.  Noway I could ever go back.  It takes a little work to inflate the bed, but the reward is worth it.  If you camp out often, or you demand a good nights sleep, the Exped is the way to go. 
 
The unit has excellent insulation value on a cold night, but I haven't used it on anything less than 38 or so.  Look, I'm not camping when its 25 degrees no matter what pad I have.  I'm a southern boy and don't like anything cold or close to it.
I also have the exped pillow.  Pricey, but worth the money in my case.  I have to have my head higher than my shoulders when I sleep.  That use to mean 2 pillows from home, that took up a lot of space on the bike.  But with the exped pillow I can leave them at home.  I can deflate the Exped and place it my pocket if want.  The pillow works well, and my head is comfortably off the pad.
There are several gen III pads to choose from.  Once again, check the backpacking stores and shop the various options.  I went with the Exped because it was on sale, but there were several good choices out there.

My pillow and bed come in for 200 dollars, but I consider it money WELL spent.  I made the money back in one tour by skipping 60 dollar a night motel bills a few nights, that didn't sleep any better than my tent.  When the weather is good, I'd say I sleep better in my tent than most any motel, that just might give me bed bugs.
​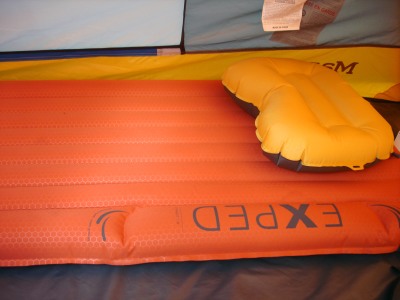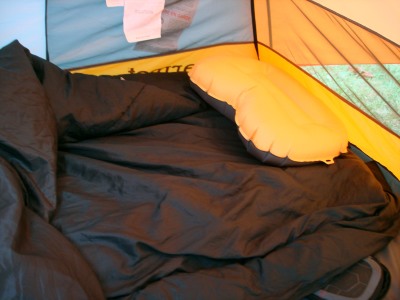 And with the sleeping bag pulled up and in position 

 Here you see the Exped deployed in the Marmot  

Campgrounds- What do I look for in a campground?  Mostly quiet and a shower, but not always possible finding them.  State Parks seem to be the most quiet, many are seldom used.  For the most part they are scenic, but the facilities are a crap shoot.  Meaning you could have a shower but no hot water.  I've camped in some pristine Federal Parks, but I was void a shower most of them.  Look for campgrounds in the National Parks such as the Grand Canyon, Yosemite, and Yellowstone to be crowded.

I like KOA, more expensive than government parks, but clean bathrooms and showers.  The trade off they can be noisy and not very scenic.


Trip Planning-  Planning a trip is one of the fun things about Long Riding.  To pull out a map and say I'm going to ride from here to there, fires me up.  I get my atlas out and see the places and roads I'd like to ride.  I look for interesting roads and link them to the places and things I'd like to visit.  Once I have the basic route, I fine tune it in the Garmin software, then download it to the unit.  You can learn more about that on the GPS page.


Some freelance, and tour with no real plan, others have every detail down to what time they're going to eat lunch and where.  I like having a plan of where I want to go, and what I want to see.  Just riding around can cause you to miss some really nice things.  However I am flexible, if the weather is bad where I had planned to go, I'll do something else, and if I find myself in a really great place, I might hang around an extra day.


Other Notes Update 2016-   Years ago I use to cook when I camped out, but found it to be too much trouble.   Buying supplies and the clean up was more than it was worth.  Packing the stove and utensils took up vital space was another factor.  In 2016 I revisited that thought.  Over the years I'd sometimes find myself in a isolated camping site with nothing to eat, unless I got the bike back out and rode 25 miles to a cafe.   After riding all day, setting up camp, I was loathe to gear back up, and ride.

I shopped for a new state of the art stove and found one, much smaller than the old Coleman from years ago.  I found the stove on Amazon -the Etekcity.   The unit is fueled by butane and it did a excellent job.  Best part is the size-folds small enough to fit in any pocket.  It lit right up when I hit the switch.  Do a search on Etekcity Camping Stove on Amazon to read more about and details.

​


​  The EtekCity Camping stove 
​      Mallome Camping Cookware
Ok so I had a stove, next I needed some cookware.  Back to Amazon for some shopping where I found this unit.  The Mallome.  Non stick, nests up tight for packing, right size, with a spoon fork.  I read the reviews and saw they were 9-1 positive, so went for it.  After all it is Amazon, they'll take anything back, but no need for that with the Mellome.  Performs as advertised.  I carry the stove in the nest, which packs easily in my right saddlebag.  A 12oz can of something works well in the Mallo but more than that it will be too small.  So if you're going to cook a big pot of chili you'll have to do something else.  But I'm a solo rider, and that is not a issue.  It will cook enough for 2 guys, but if you have a group, you'll need more than the Etek and Mallo.  In the case of the latter you're going to need a campfire and big pot.  Both products fullfilled my list of desires- small easy to pack, functional, and durable.   Price?  Not expensive, but price is last on my list.  I buy equipment that works, and price comes second (within reason).  Both units were well reviewed by hikers, and that was all I needed to know.  Again a search on Amazon Mallome Cookware will provide ordering and product details.
​
​Next item I tried on the Southwest Tour were MREs and had great success.  An MRE will provide a tasty meal no matter where you find yourself.  Lunch in a rest stop on I-70?  No problem a good hot meal is right there.  Lonesome camp site in the Sawtooths?  Don't worry.  I bought 4 MREs for the Southwest tour, ate 1 and gave one away.  I had the beef stew and my buddy the meatballs.  Both of us enjoyed our supper.  Pricey at 12 dollars a pack, but you're paying for the convinience, and in that regard it can't be beat.  Four is all I can carry, (right saddlebag).  I left for the Southwest Tour with 4 MREs, 1 can of raviolli, and 1 can of corned beef hash.  You have to remember space comes back as you draw from your stash.  I still had 2 left when I returned home, so have them stored with the rest of my gear for the next time.  Make sure to look for genuine military issue MREs.  There is a difference.  A youtube search will return several videos on MREs and how to preparte them.  All you need is a cup of water.  I ordered mine off Amazon.
​. 
 
 
​